Luke Walton wants Lakers to use pain of two losses to 'redeem ourselves'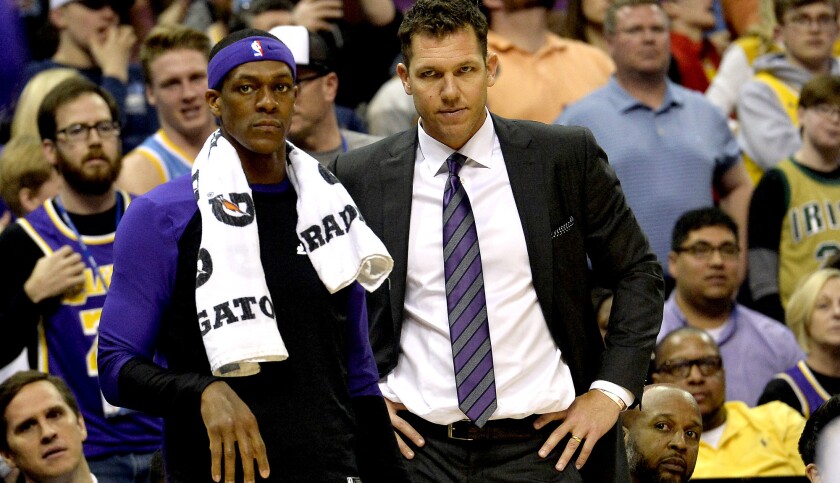 Lakers coach Luke Walton wants his team to embrace the sting of back-to-back losses at New Orleans and Memphis and let those disappointments push the group forward.
"Feel this pain," Walton said late Monday night after the Lakers lost 110-105 to Memphis. "Let's not try to run from it. It should hurt that we lost, that we went 0-2 on this trip.
"But the only thing that matters is the next game, the chance to redeem ourselves against New Orleans. We don't need to look further than that. That's all that we can control as a group. So that's where we need our mind-set to be."
The Lakers were far more upbeat after the loss to Memphis because they actually gave a better effort, particularly on defense, than they did against the Pelicans on Saturday night. They encouraged each other rather than sulk as they did against the Pelicans, who were without All-Star forward Anthony Davis.
Even LeBron James expressed a more positive tone after the defeat in Memphis. He had been critical of his teammates after the loss in New Orleans.
With 22 regular-season games left, James doesn't want his teammates to look any further ahead than Wednesday night's rematch with the Pelicans at Staples Center.
"That's what you got to do. You always got to stay in the moment. You got to stay in the moment and see how you can get better in that very moment," James said Monday night.
Sign up for our Lakers newsletter »
"So, right now, like I said, I'm replaying the game right now in my head — staying in the moment. And tomorrow I'll wake up fresh and start preparing for New Orleans and as we get to [Wednesday], when we get there, we'll prepare a little bit more."
The Lakers said they are trying to not look at what it's going to take to reach the playoffs.
That conversation is never far away because the media broaches the subject frequently, reminding the Lakers that they have dropped to 10th in the Western Conference, tied with the Minnesota Timberwolves at 29-31, and are three games behind the San Antonio Spurs for the eighth and final playoff spot.
Brandon Ingram, who scored 61 points and shot 22 of 36 from the field while making six of seven from three-point range in the last two games combined, will take the same approach as James.
"While we keep talking about the playoffs, we need to worry about the present time of how we can win these games and how we can just be locked in on the one day and the one game and the one practice that we have before the game and our preparation," Ingram said. "Just take it day by day, game by game, possession by possession, quarter by quarter, whatever it is, and just go from there."
UP NEXT
VS. NEW ORLEANS
When: 7:30 p.m., Wednesday.
On Air. TV: Spectrum SportsNet, ESPN; Radio: 710, 1330.
Update: Davis didn't play against the Lakers on Saturday because it was the second night of back-to-back games, but the Pelicans All-Star forward played 21 minutes against Philadelphia on Monday night. Davis, who is fourth in the NBA in scoring at 27.4 points a game, is expected to play 20-24 minutes against the Lakers.
Twitter @BA_Turner
---
All things Lakers, all the time.
Get all the Lakers news you need in Tania Ganguli's weekly newsletter.
You may occasionally receive promotional content from the Los Angeles Times.