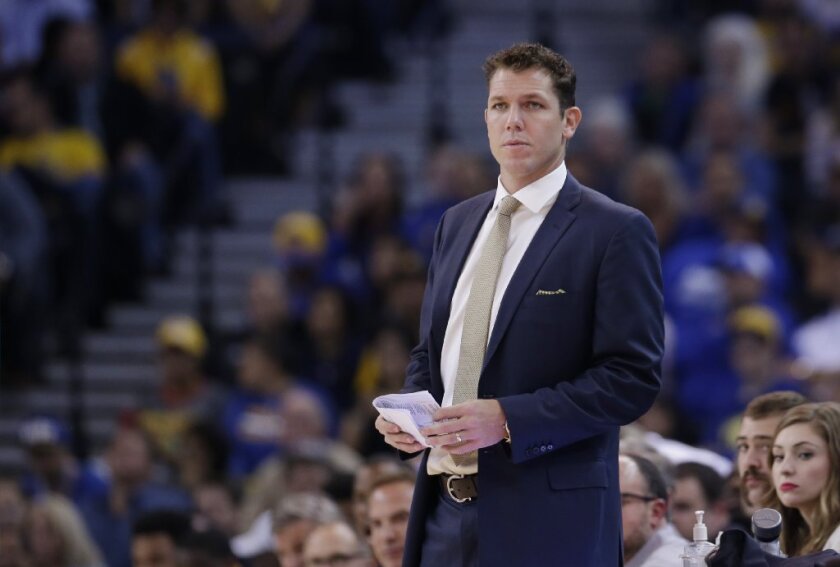 Luke Walton was talking on the phone about his job as the interim head coach with the NBA champion Golden State Warriors, when the cries from his 18-month-old son drowned out everything.
His wife, Bre, was attending a volleyball game, and Walton was taking care of their son Lawson.
"I guess you can't really say I'm babysitting," Walton said, his baritone voice unable to stop laughing. It was more like he was "daddy sitting," he said.
He has a similar arrangement with the Warriors, as the guy currently in charge of running the team. Head coach Steve Kerr is on a leave of absence to recover from back surgery.
Walton, 35, has guided the Warriors to a 4-0 record in Kerr's absence, including a 50-point win over Memphis on Monday. Up next is a game against the Warriors' bitter rivals, the Clippers, Wednesday night in Oakland.
For Walton, the longtime Lakers forward, it has been a whirlwind career change in the last few years.
Walton played most of his 10 NBA seasons with the Lakers, with whom he won two championships, but finished his playing career with the Cleveland Cavaliers, retiring after the 2012-13 season.
He got his first NBA coaching job in 2014, when the Warriors hired him as an assistant. The Warriors won the championship last June, and soon after Walton was promoted to top assistant when associate head coach Alvin Gentry left to become the head coach of the New Orleans Pelicans.
Then two days into the Warriors' training camp in October, Kerr's back pain was unendurable, so he called Walton and told his young protege that he was in charge of the team.
Walton hung up the phone, called the other Warriors' coaches and they had a meeting to "figure out what the heck we're going to do today in practice," he said. "We all drove in to the facility, came up with a practice plan and we've kind of had to do it like that ever since."
The goal, Walton said, is "keeping things moving in the right direction" until Kerr is healthy enough to return.
And some of that means being prepared to play a Clippers team that has a total disdain for the Warriors — and vice versa.
Eight technical fouls — five on the Clippers, three on the Warriors — were assessed when the two teams met in an exhibition game last month.
"You can guarantee when we play the Clippers, both teams are going to play it like a playoff game," Walton said. "The atmosphere and the overall energy of the game is going to be a lot of fun to be a part of.
"We know that they're a very good team and they know we're a very good team. We don't like them and they don't like us as a team. It's not on a personal level, but that's just where it got to the last few years."
It was during the 2009-10 season when Walton said he first considered coaching. He was playing for the Lakers, but his career was in jeopardy because of a persistent back injury, which limited him to just 29 regular season games.
So Phil Jackson "invited me to start hanging around the coaching staff," Walton said.
"I think he did it for me more to mentally help me out because he saw that I was pretty out of it and just depressed," Walton said. "Just sitting around all day getting [back] treatment wasn't a healthy thing."
During the NBA lockout in 2011, Walton also took a temporary job as an assistant coach with the University of Memphis.
As it turned out, the coaching bug stuck.
Walton is in his second week of the season as interim head coach, but having MVP Stephen Curry, and the leading scorer in the league this season (37 points per game), has helped Walton enjoy his new role.
"The transition has obviously been a challenge and it's been exciting and it's been a great learning experience," Walton said. "But having, Steph. … Not just him, but we have great guys on our team. We have Andre [Iguodala] and Draymond [Green] and [Andrew] Bogut, Shaun Livingston, these guys are professional. They want to work. They want to get better. They take pride in what we're doing."
Follow Broderick Turner on Twitter @BA_Turner
---