Lakers officially acquire Jeremy Lin from Houston Rockets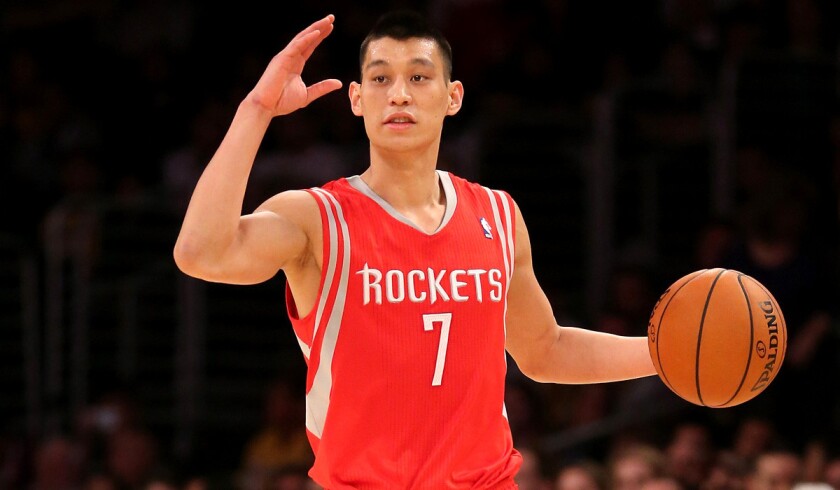 The Lakers officially acquired Jeremy Lin from the Houston Rockets on Sunday.
"This trade allows us to acquire a solid player who will make us a better team, as well as draft picks to improve our team in the future, while at the same time allowing us to maintain financial flexibility," said General Manager Mitch Kupchak in a statement. "In addition to what he'll bring us on the court, we think Jeremy will be warmly embraced by our fans and our community."
The Lakers also acquired the Houston Rockets' 2015 first-round pick, along with a heavily protected 2015 second-rounder from the Clippers which was previously traded to the Rockets. The Lakers should only receive the pick from the Clippers if it's in the 51-55 range.
Lin has averaged 11.9 points and 4.8 assists a game over his four-year career. Last season with Houston, Lin shot 44.6% from the field and 35.8% from three-point range.
In return, the Lakers will send the draft rights to Sergei Lishchuk — the 49th pick from the 2004 NBA draft, originally selected by the Memphis Grizzlies under the name Sergei Lishouk.
Lishchuk had previously been traded to the Rockets in 2008. He was acquired by the Lakers in a 2011 deal sending Sasha Vujacic to the New Jersey Nets (now Brooklyn), with Joe Smith coming to the Lakers via Houston.
To make room for Lin, the Lakers ventured below the NBA's salary cap ($63.1 million) for the first time since 1996.
The Lakers will lose Pau Gasol to the Chicago Bulls in free agency, but since Gasol's contract has yet to be signed, the Lakers renounced their rights to the two-time NBA champion. Even as an unrestricted free agent, Gasol took up $20.6 million of the Lakers' salary cap.
Once a player becomes a free agent, the team holds their rights until they re-sign, leave for another team or are renounced.
On Sunday, the Lakers also renounced the rights to a long list of players who lingered on their books including Karl Malone, Horace Grant, Theo Ratliff, John Salley, Brian Shaw, Joe Smith, Shammond Williams, Jim Jackson, Ira Newble, Mitch Richmond and Ron Harper.
The Lakers have agreed to re-sign Nick Young to a four-year contract, reportedly at $21.5 million. Jordan Hill will also be kept at approximately $18 million over two seasons, but that deal is still pending.
Email Eric Pincus at eric.pincus@gmail.com and follow him on Twitter @EricPincus.
---
All things Lakers, all the time.
Get all the Lakers news you need in Dan Woike's weekly newsletter.
You may occasionally receive promotional content from the Los Angeles Times.