Brandon McCarthy, Scott Kazmir miss the Dodgers, but they're happy to be in Atlanta
Reporting from LAKE BUENA VISTA, Fla. —
The Atlanta Braves haven't made the playoffs since 2013, when they lost to the Dodgers in the first round. The Dodgers have a playoff run of five straight years that started in 2013.
Not particularly viewed as rivals, both teams saw an opportunity to help each other in very different ways, and they did.
In mid-December, the Braves traded 33-year-old former Dodger Matt Kemp back to his first team, ostensibly to shed the remaining two years and a $43-million salary and make room for 20-year-old top prospect Ronald Acuna in the outfield.
The Dodgers sent $50 million in salary in the form of Adrian Gonzalez, Brandon McCarthy, Scott Kazmir and Charlie Culberson in order to clear space for next winter's enticing free-agent class.
Sometimes it works out that both teams can benefit in unexpected ways. Kemp has surprised most in that he is expected to be a starter on the Dodgers opening-day roster and McCarthy and Kazmir may form two-fifths of the Braves starting pitching rotation. Gonzalez was immediately released by the Braves.
McCarthy and Kazmir, both with the seventh team in their careers, seem comfortable in their new spring training home at Disney World's Wide World of Sports.
McCarthy, when asked how the clubhouses were different, said the Dodgers' was "much bigger and this one has a big wall in the middle," amused at his twist on the question.
Kazmir, who didn't play at all last season because of injury, says he misses Southern California but is more tortured by his inability to help the team last year.
McCarthy is set to be the third starter for the Braves. His three years with the Dodgers were beset by injuries as he made only 29 starts during that time. He started last season winning five of his first six decisions before injuring his shoulder weightlifting. He struggled throughout the season, going on and off the disabled list, and was left off the roster for the first two rounds of the playoffs. He made a World Series appearance in the 11th inning of Game 2, giving up a two-run homer that lost the game.
"It was a big accomplishment to get myself on the roster and be a part of it," McCarthy said. "What actually happened when I was out there, was making a not very good pitch. I end up losing a World Series game and that's a tremendous [disappointment]."
McCarthy says it hasn't been a burden he's carried with him to his new club.
"The offseason started to move along, progressing into a new season, that I haven't had a lot of time to reflect on that," McCarthy said. "I won't [think about it] for a while. But it might hit me when I'm retired."
McCarthy, 34, says this spring has been nothing out of the normal, "nothing earth-shattering." But he does have fond memories of his time with the Dodgers.
"There are certain things I'll miss and I truly loved the guys over there, the coaches, scouts, organization, everybody there was really good at what they do, good people," McCarthy said. "There weren't any negative feelings where I might say, 'Boy, I'm glad to be away from that.'"
With the Braves, McCarthy will settle behind opening day starter Julio Teheran and No. 2 pitcher Mike Foltynewicz. Sean Newcomb likely has the fourth spot locked up leaving the final spot open after the ankle injury to Luiz Gohara.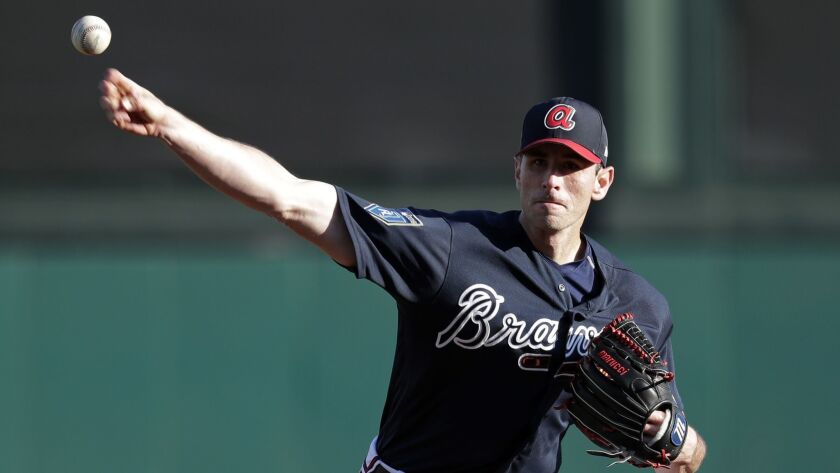 Kazmir, 33, is definitely in the mix for that spot, especially because he can't be sent to the minors without his permission, unlike others in contention — Anibal Sanchez, Matt Wisler, Lucas Sims and Aaron Blair. In addition, the Braves would have to pay almost all of Kazmir's $17-million salary if he were released.
Kazmir missed all of last season because of injuries, starting with a hip problem that never seemed to get better.
"It was very difficult, especially with the team playing as well as it was and I wasn't able to contribute," Kazmir said. "That was very tough. At the same time, I knew I had to get healthy, get right. It was just unfortunate that I wasn't able to get ready for September and the playoffs."
The left-hander says he's been pleased with the injury-free spring except missing a start when he was hit in the jaw by an errantly thrown ball.
"I'm going to keep working hard to get back," Kazmir said. "I feel confident I can go out there and then who knows? Right now the focus is staying healthy and continuing to progress."
The clubhouse is a bit of a haven for expat Dodgers. In addition to the two pitchers and infielder Culberson are two other pitchers — Grant Dayton and Josh Ravin.
"It's like going to a new high school," McCarthy said about being traded to the Braves. "You're meeting all new people but if there are a few people who came over from the last high school, then you can talk about that because I know them. … It helps smooth that transition a little bit."
The Braves are expected to be mid-division and considered to still be in the rebuilding phase. Veterans such as McCarthy and Kazmir are not considered in the long-term plans, both being in the last year of their contracts.
But for one season, they can be a stabilizing factor on a team that is more about the next year than the current one.
---
Get our high school sports newsletter
Prep Rally is devoted to the SoCal high school sports experience, bringing you scores, stories and a behind-the-scenes look at what makes prep sports so popular.
You may occasionally receive promotional content from the Los Angeles Times.