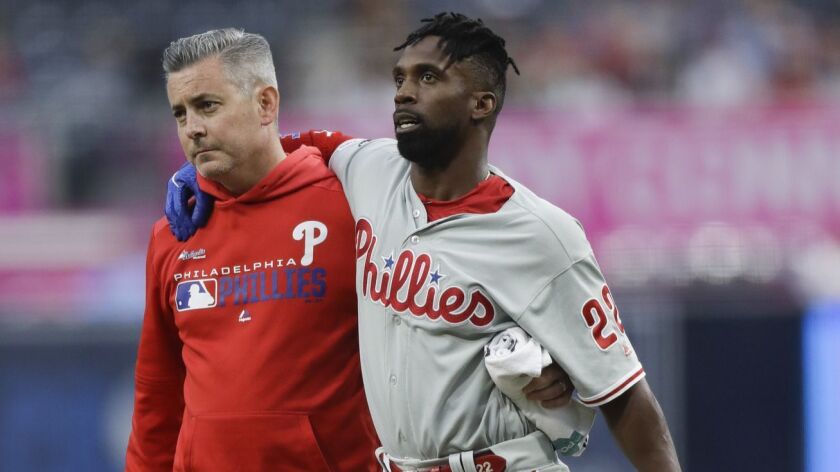 Andrew McCutchen tore his ACL in a rundown and will miss the rest of the season, causing the NL East-leading Philadelphia Phillies to again reshuffle their outfield.
McCutchen hurt his left knee during Monday night's game against San Diego and an MRI revealed the injury.
"It's not the news I wanted to hear," McCutchen said Tuesday.
McCutchen said he hopes to be OK for opening day next season. Manager Gabe Kapler said he didn't have the date for McCutchen's surgery.
"I just need to take the steps I need to take to get myself back and ready for next year," he said.
The 32-year-old McCutchen was hitting .256 with 10 home runs, 29 RBIs and an NL-high 43 walks. The 2013 NL MVP was in the first season of a $50 million, three-year contract.
McCutchen had been on the injured list only once before, back in 2014 when he starred for Pittsburgh.
"It's really disappointing. Andrew has not just been a catalyst at the top of the lineup but also in our clubhouse," Kapler said.
"Even at the outset of the season when he wasn't as productive as he has been recently, he was still a really good baseball player for us. He got on base consistently and did the job of seeing pitches and setting the tone for the rest of the lineup," he said. "He's a weapon for us because he can play center field and left field, is a very aggressive baserunner and through the entire season he has unquestionably been one of our better players. So it is a loss."
The injury came a week after Phillies outfielder Odubel Herrera was put on administrative leave by Major League Baseball, a day after his arrest in a domestic violence case at a casino in Atlantic City, New Jersey. Herrera's leave has since been extended through June 17 — he cannot play until MLB lifts the restriction.
Last weekend, the Phillies acquired outfielder Jay Bruce in a trade with Seattle. Bruce was expected to fill the role as a left-handed hitter off the bench, and get some time in the outfield.
The Phillies also called up Adam Haseley from the minors. The 23-year-old was set to start in center field against the Padres on Tuesday night in his major league debut.
Haseley was hitting a combined .275 with seven home runs and 23 RBIs at Triple-A Lehigh Valley and Double-A Reading.
Etc.
Third baseman Hunter Dozier, who is hitting .314 with 11 home runs and 33 RBIs, was put on the injured list by the Kansas City Royals because of an oblique strain. ... New York Yankees slugger Giancarlo Stanton, sidelined since March 31, batted in a simulated game at the team's complex in Tampa, Fla. ... Plate umpire Tom Hallion left the San Francisco Giants-New York Mets game after being hit in the mask by a foul ball in the fourth inning. ... Second base umpire Scott Barry left the Miami Marlins-Milwaukee Brewers game because of an apparent leg injury.
---