MLB: Ichiro Suzuki agrees to minor league deal with Seattle Mariners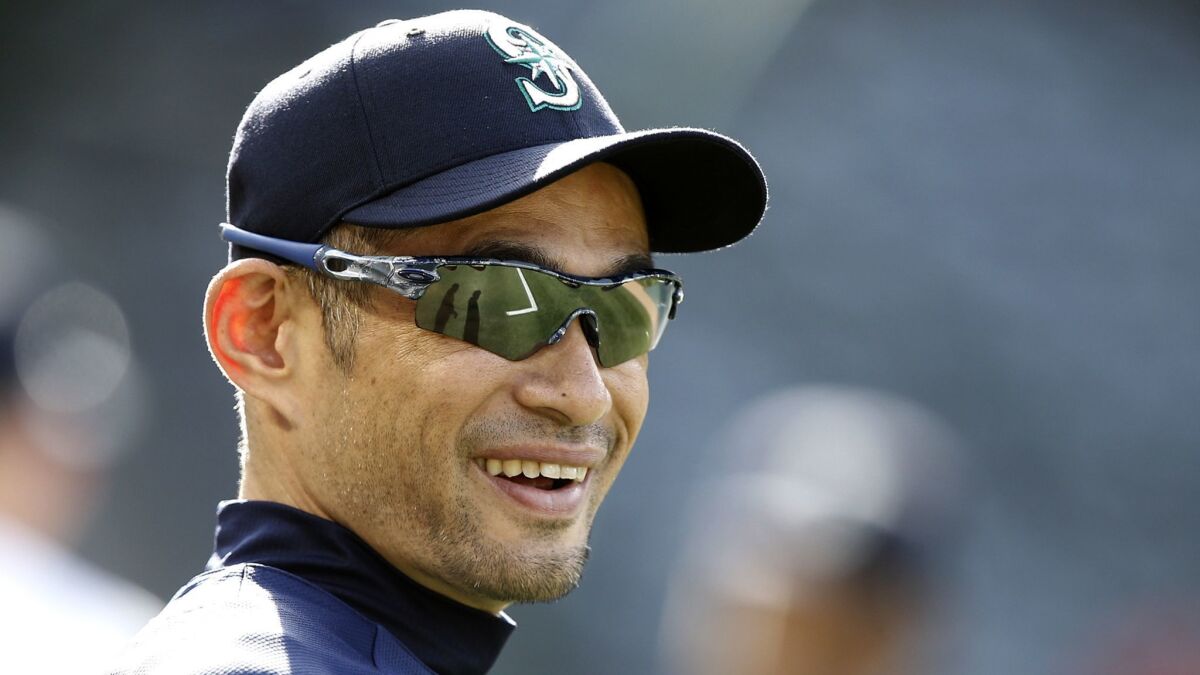 Ichiro Suzuki has agreed to a minor league deal with the Seattle Mariners, paving the way for the 45-year-old to play in the Mariners' season-opening series in Japan.
Suzuki's agent, John Boggs, confirmed the agreement on Wednesday and said Suzuki's deal would become a major league contract if he is added to Seattle's expanded roster for the two games the Mariners will play against Oakland to open the season in March in Tokyo. Seattle general manager Jerry Dipoto has said Suzuki is expected to be on the roster for those games.
Suzuki started last season playing for the Mariners but transitioned into a front-office role as a "special assistant to the chairman" that allowed him to take part in pregame workouts and batting practice but not to be in the dugout during games. The move ended his season abruptly but with the knowledge that Seattle was opening 2019 in Japan, which would be a highly anticipated opportunity for him to play in his home country. Suzuki was hitting .205 in 44 at-bats during his limited action in 2018, and all nine of his hits this were singles.
But Suzuki has worked out through the offseason with the intent of being ready to open the 2019 season with the big league club. He is expected to be on the list of spring training invitees the Mariners will release on Thursday.
Suzuki was named both the 2001 AL Rookie of the Year and MVP with the Mariners and won a pair of AL batting titles. He was traded to the Yankees midway through 2012, played parts of three seasons with New York, then spent three seasons with Miami.
The 10-time All-Star has a .311 average and 3,089 hits, not including the 1,278 hits he amassed in nine seasons in Japan.
"One thing I've learned about Ichiro, his preparation and focus is the best I've ever seen in any player I've ever encountered," Dipoto said earlier this month when Seattle introduced new pitcher Yusei Kikuchi. "His single-mindedness in achieving a goal is so real that I won't put anything past him."
Lefty Drew Pomeranz agrees to $1.5M, one-year deal with Giants
Left-hander Drew Pomeranz has agreed Wednesday to a $1.5 million, one-year contract with the San Francisco Giants, a deal that includes $3.5 million in possible roster and performance bonuses.
He is very familiar with the NL West, having pitched for Colorado and San Diego, and also knows the Bay Area. He spent the 2014-15 seasons with Oakland.
Pomeranz pitched the past three years with Boston. He won a career-high 17 games for the Red Sox in 2017. But he went 2-6 with a 6.08 ERA last season and was limited to 11 starts and 26 appearances for the World Series champions because of two stints on the disabled list — first with a strained left forearm followed by biceps tendinitis in his pitching arm.
He did not pitch in the World Series but was on the roster. If he can stay healthy, Pomeranz gives the Giants a reliable arm in the rotation after two injury-plagued years by starters Madison Bumgarner, Johnny Cueto and Jeff Samardzija.
Pomeranz can earn $1.5 million in active roster bonuses: $500,000 for opening day, $250,000 each for 90 and 120 days and $500,000 for 150 days.
He also has $500,000 in innings bonuses: $250,000 each for 25 and 50. And he has $1.5 million in bonuses for starts: $125,000 each for two, four, six and eight; $100,,000 apiece for 10, 14, 16, 18, 20, 24, 27 and 30, and $200,000 for 32.
Brewers promote GM Stearns, Schlesinger after big year
The Milwaukee Brewers have promoted general manager David Stearns, adding president of baseball operations to his title and giving him a contract extension after the team came within one win of the World Series.
The Brewers also elevated chief operating officer Rick Schlesinger to president of business operations and boosted his contract. The club announced the moves Tuesday without detailing the length of the extensions.
Stearns joined the Brewers in September 2015, hired at 30 as the youngest GM in the majors. The team finished out a 68-94 season, and has increased its victory total each year under his leadership.
The Brewers went 96-67 last season, including a win over the Chicago Cubs at Wrigley Field in an NL Central tiebreaker, and reached the playoffs for the first time since 2011. Milwaukee swept Colorado in the NL Division Series, then lost Game 7 of the NL Championship Series at home to the Los Angeles Dodgers.
Stearns traded for eventual NL MVP Christian Yelich before the season and also signed star outfielder Lorenzo Cain to a long-term deal.
Schlesinger is going into his 17th season with the Brewers. He is overseeing the $60 million-plus renovation of the team's spring training complex in Arizona.
---
Get our high school sports newsletter
Prep Rally is devoted to the SoCal high school sports experience, bringing you scores, stories and a behind-the-scenes look at what makes prep sports so popular.
You may occasionally receive promotional content from the Los Angeles Times.