Dodgers' Dave Roberts: "Every team in baseball would want Yu Darvish"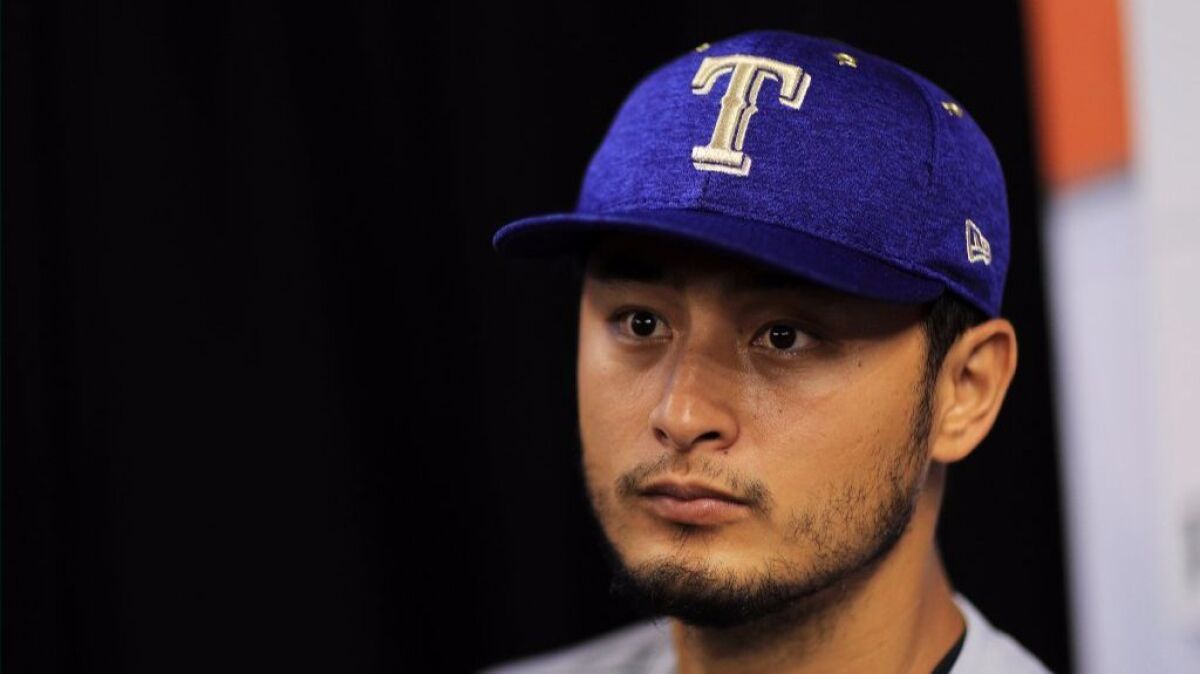 On the first day of an indefinite number of days without Clayton Kershaw, the manager of the Dodgers volunteered the name of a pitcher the team might do well to acquire.
Kershaw is expected to sit out four to six weeks because of what the team called a lower-back strain, according to a person familiar with the matter. The Dodgers did not release an official timetable for Kershaw's rehabilitation, and team executives do not plan to discuss the issue publicly until Tuesday.
Three players largely dodged questions about whether the Dodgers front office needed to trade for reinforcements. But manager Dave Roberts, the man designated to speak for the organization, did not.
Roberts was asked whether he would pressure the front office to add a player. The question did not name a player, but his answer did.
"I can't put the pressure on," Roberts said. "I'm not going to put the pressure on.
"Every team in baseball would want Yu Darvish. That's easy. Whether it happens or not, I just can't speculate. It's a fact we would be better with him, as would 29 other teams. If it happens or not, we're still going to keep winning baseball games."
The Dodgers are interested in acquiring Darvish, who could be the best starter on the trade market. The Texas Rangers have yet to commit to trading him and, if they do, they reportedly would want two of the Dodgers' top four prospects.
Dodgers closer Kenley Jansen said "it's not my job" to say how the front office should respond to Kershaw's injury and directed questions to Andrew Friedman, the Dodgers president of baseball operations, and general manager Farhan Zaidi. Neither executive was available to speak Monday, team spokesman Joe Jareck said.
"Everybody wants to drive, one day, a Ferrari. Why not, if you get a guy like Yu Darvish?" Jansen said. "But it's not our decision. We believe in this team. We know we've got a great team that can do the job and win a World Series."
Still, Jansen said, he felt uncomfortable when he learned of Kershaw's condition.
"Anytime when something happens to Kersh, you're going to feel sick in your stomach," Jansen said. "That's how I feel. I guarantee all the other people feel the same thing too."
Kershaw sat out 10 weeks last season because of a herniated disk in his lower back. Roberts said he is confident Kershaw would return this season because a scan had confirmed this year's injury does not involve the disk, which the manager said "was our biggest concern."
If Kershaw were to sit out six weeks, he would return in the first week of September. If he were to sit out 10 weeks, the regular season would be over, making it unlikely Kershaw could have any effect in the postseason, if he could build up his arm to pitch at all.
"You look at the calendar, and you're talking about a strain, I think that him making an impact on our club this year is a very safe bet," Roberts said.
"Hopefully, by the time he comes back, we still have a chance to get to where we want to get to," catcher Yasmani Grandal said. "We'll see what happens this year. Obviously, we've put ourselves in a really good spot.
The Dodgers were eight games out of first place in the National League West when Kershaw was injured last year. They had an eight-game lead when they clinched the division Sept. 25, and they have a 10 1/2-game lead entering play Monday.
"Knowing the way we responded and the way we played last year in his absence makes it a little bit easier pill to swallow, I guess," third baseman Justin Turner said, "but you don't ever not want him to take the ball every fifth day."
The Dodgers officially put Kershaw and Brandon McCarthy (blister) on the disabled list Monday and optioned outfielder Trayce Thompson to triple-A Oklahoma City. They activated pitcher Hyun-Jin Ryu to start Monday and called up relievers Edward Paredes and Josh Ravin from Oklahoma City.
Reliever Brock Stewart took batting practice with the starters Monday; he could take what would have been Kershaw's next turn.
Follow Bill Shaikin on Twitter @BillShaikin
Get our high school sports newsletter
Prep Rally is devoted to the SoCal high school sports experience, bringing you scores, stories and a behind-the-scenes look at what makes prep sports so popular.
You may occasionally receive promotional content from the Los Angeles Times.