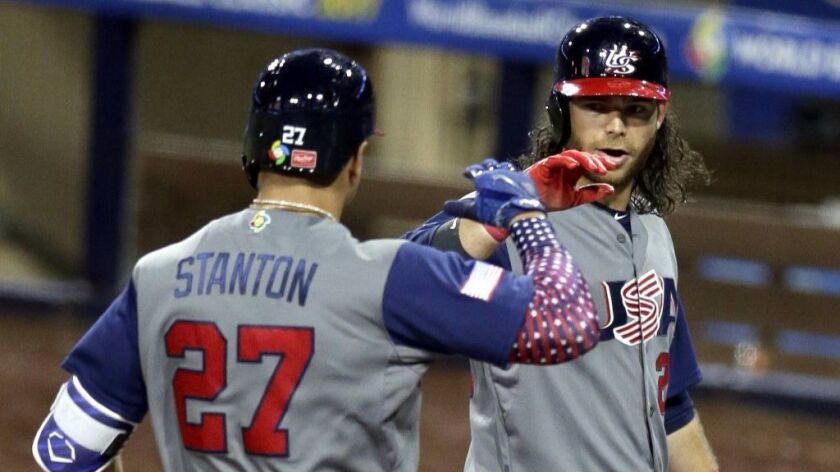 The Los Angeles area has long been a hotbed of baseball talent, so we wondered: what would an All-Star team comprised of locally produced players look like. Here's the answer:
Catcher
Kurt Suzuki, Atlanta
(Cal State Fullerton)
He is going into his 11th season and was an All-Star with Minnesota in 2014.
Backup: Chris Stewart, Pittsburgh (Canyon Springs HS). Has been a capable backup catcher for 10 seasons in the majors.
::
First base
Freddie Freeman, Atlanta
(El Modena HS).
Finished sixth in MVP voting last year after hitting .302 with 43 doubles and 34 homers for the Braves.
Backup: Mark Trumbo, Baltimore (Villa Park HS). Former Angels slugger has found new life with the Orioles, for whom he hit 47 home runs and drove in 108 runs last season.
::
Second base
Chase Utley, Dodgers
(UCLA)
Popular veteran will be in his 15th season. Six-time All-Star is now a reserve, but his next stop could be the Hall of Fame.
Backup: Chase D'Arnaud, Atlanta (Pepperdine). Utilityman who played six positions for the Braves last season.
::
Third base
Nolan Arenado, Colorado
(El Toro HS)
Considered by many people the best third baseman in the game, he has hit more than 40 homers and driven in at least 130 runs in each of the last two seasons. He has won four Gold Glove awards.
Backup: Justin Turner, Dodgers (CS Fullerton). Rejuvenated a stalled career when he joined Dodgers in 2014. Slugged 27 home runs last season, then signed a four-year, $64-million contract. For this team, might also play second base.
Backup: Evan Longoria, Tampa Bay (Long Beach State). Three-time All-Star had a resurgent 2016, hitting a career-high 36 homers.
::
Shortstop
Brandon Crawford, San Francisco
(UCLA)
Key member of two World Series title teams. Has won Gold Glove awards the last two seasons and has improved greatly as a hitter.
Backup: Troy Tulowitzki, Toronto (Long Beach State). One of the game's premier shortstops when he is healthy. A five-time All-Star and two-time Gold Glove winner.
::
Left field
Ryan Braun, Milwaukee
(Granada Hills HS)
Former NL MVP, a six-time All-Star, is still producing well even while passing PED tests. He hit 30 home runs and had 91 RBIs last season.
::
Center field
Kevin Pillar, Toronto
(CS Dominguez Hills)
Has had more than 30 doubles each of the last two seasons. He had 25 stolen bases in 2015.
Right field
Khris Davis, Oakland
(CS Fullerton)
Normally a left fielder, but he hit 42 homers and drove in 102 runs last season, so he switches to the other corner in this lineup.
Outfield backups:
Christian Yelich, Miami (Westlake HS). Had 62 extra-base hits last season and received some MVP votes.
Chris Parmelee, New York Yankees (Chino Hills HS). Has spent six seasons in the majors, mainly as a backup, for three teams.
Anthony Gose, Detroit (Bellflower HS). Known more for his defense and speed than for his bat.
::
Designated hitter
Giancarlo Stanton, Miami
(Sherman Oaks Notre Dame HS)
Injuries have made him not quite the hitter he once was, but he still slugged 54 homers over the last two seasons. And he's known to hit looong ones.
Backup: Lucas Duda, New York Mets (USC). Injuries curtailed his 2016 season, but he has 30-homer power when healthy.
::
Starting pitchers
Gerrit Cole, Pittsburgh (UCLA)
Won 19 games and had a 2.60 earned-run average in 2015. Former top overall pick has gone 47-30 in four seasons with the Pirates.
Marco Estrada, Toronto (CS Long Beach)
Was a member of the All-Star team last season and has been a solid starter the last two seasons, winning a combined 22 games with a sub-.3.50 ERA.
Kyle Hendicks, Chicago Cubs (Capistrano Valley HS)
Finished third in Cy Young voting last year, when he won 16 games with a 2.16 ERA during the regular season and helped pitch Cubs to a World Series title.
Ian Kennedy, St. Louis (USC)
Was a Cy Young candidate in 2011 and won 11 games for Kansas City last season. Former first-round pick will be pitching for his fifth major league team in 2017.
Jason Vargas, Kansas City (Apple Valley HS)
Was a starter for the 2015 World Series champion Royals before undergoing elbow ligament replacement surgery. Pitched well in his comeback at the end of 2016.
Relief pitchers
Joe Kelly, Boston (UC Riverside)
Had an off season last year, but has a record of 35-22 in his big league career.
Bryan Shaw, Cleveland (Long Beach State)
Has led the American League in appearances in two of the last three seasons.
Jared Hughes, Pittsburgh (Long Beach State)
Has a record of 15-13 with a 2.82 ERA as a setup man for the Pirates the last six seasons.
Brad Boxberger, Tampa Bay (USC)
Before an injury-marred 2016, he had 41 saves with the Rays in 2015.
Addison Reed, New York Mets (Los Osos HS)
Pitched in 80 games and had a 1.97 ERA last season. Has 106 career saves.
Twitter: @latimeshouston
---