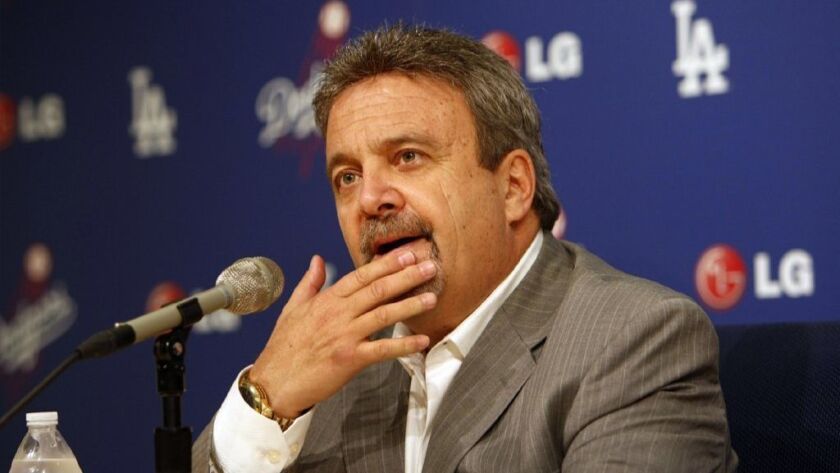 Ned Colletti was at the World Series, but not as the Dodgers' general manager. This was two years ago, and two years after the Dodgers' ownership had replaced him.
The Cleveland Indians had advanced to the World Series, a promised land to which Colletti had failed to lead the Dodgers. The Indians' best hitter ran into Colletti and looked him straight in the eye.
"Are you sorry?" Carlos Santana asked.
There is a long answer and a short answer. We'll get to the long answer. The short answer is no.
This is the time of year when prospects are in the news, when the trade deadline prompts well-meaning fans to scrutinize prospect rankings and wonder if their team is giving up too many good young talents, mortgaging the future, surrendering too many years of too many players for too few months of one.
We have reached the point where it is not just the prospects that are overhyped. The hype itself is overhyped.
You will never hear of most of these so-called prospects again.
The Dodgers last month traded 10 minor leaguers — five alone for infielder Manny Machado, two for infielder Brian Dozier, two for reliever Dylan Floro, one for reliever John Axford. If more than one or two of those 10 develop into anything beyond bit players in the major leagues, the Dodgers screwed up.
In his eight years as the Dodgers' general manager, Colletti made 44 trades, sending 71 players out of town -- not all of them minor leaguers, to be sure.
But, out of the dozens of minor leaguers Colletti traded, how many came back to burn the Dodgers?
One.
That would be Santana, who signed with the Philadelphia Phillies last winter for $60 million. And he would not have been included in that 2008 trade had owner Frank McCourt — in an ominous foreshadowing of his taking the Dodgers into bankruptcy three years later — not forbidden Colletti from adding payroll in midseason trades.
The Dodgers did get Manny Ramirez for free that summer, because the Boston Red Sox had so exhausted their patience with him that they were willing to pay another team to take him. The Dodgers also had a deal in place with Cleveland for defending Cy Young winner CC Sabathia and infielder Casey Blake but, when McCourt refused to add payroll, the Indians traded Sabathia to the Milwaukee Brewers.
Blake was still in play, but the Indians said they would pay off his contract only if the Dodgers traded an elite prospect in return.
That elite prospect was Santana.
Nathan Eovaldi is pitching well now, for the Boston Red Sox, but he has been traded three times and had Tommy John surgery. Besides, by trading Eovaldi, the Dodgers got shortstop Hanley Ramirez.
The rest? You might recall some of these names, and you might have been anguished to see some of them go, but none had a distinguished major league career: Joel Guzman, Chuck Tiffany, Jon Meloan, Andy LaRoche, Bryan Morris, Lucas May, Blake DeWitt, Andrew Lambo, James McDonald, Trayvon Robinson, and the two tip-top prospects in the trade that landed Adrian Gonzalez from Boston: pitchers Rubby De La Rosa and Allen Webster.
"They were the headliners of the deal," Colletti said. "Every team I talked to, it was these two guys. They were atop every list. And I just kept thinking, 'Just don't ask me about Ross Stripling.'
"I was glad they all stayed away from Ross Stripling. He was a guy that was under the radar. And he's had a longer career than almost all of them."
In an era when the general manager has become more of an asset manager and a risk manager, owners have become increasingly reluctant to trade the elite prospects, the ones that might deliver all-star performance at minimum wage for three years, then have to wait an additional three or four for free agency.
The rest, the ones fans fret about when they hear their team has traded its 24th-ranked prospect? That guy might as well be a body to dress up the purpose of the trade for the other team, an out-of-contention team primarily interested in saving two months of a veteran's salary.
"Some publications rank the top 30. You don't really have 30," Colletti said. "Some of those guys are there to play catch with the guys that are going to end up playing in the show."
The goal should not be to hoard minor leaguers. The goal should be to identify the very best ones, then consider trading any of the others for players that could help the major league team.
Colletti said he depended in part on the insights of six former major leaguers he hired to travel around the Dodgers' minor league system and supplement the reports from executives in the home office and the coaches of each team.
"I know who throws 95. I know who's got power. I know who's got speed," Colletti said. "I need to know how the young players react to coaching, what time they get to the ballpark, are they clowning around, have they matured since you saw them in rookie ball?
"I traded one player and there was a big uproar, but Aaron Sele said, 'I don't think this player is ever going to make it. I've been on him for three years, and that hole in his swing is still there. He'll make it to the big leagues, but he'll make it for a minute or two.'
"And he was right." (No, Colletti wouldn't name the player.)
The very best ones? Over the years, Colletti said, he and his staff identified a core of players they determined would not be traded: Clayton Kershaw, Matt Kemp, Russell Martin, James Loney, Jonathan Broxton, Chad Billingsley, Cody Bellinger and a kid shortstop named Corey Seager.
"One team, Seager was in every conversation," Colletti said.
How many conversations did it take until that team finally understood the Dodgers would not trade Seager?
"About 12," Colletti said. "Six one year, six the next."
And that brings us back to the 2016 World Series, when Colletti came face-to-face with the one truly legitimate prospect he actually did trade, for a player that helped the Dodgers reach the National League championship series for the first time in 20 years.
"Are you sorry?" Santana asked.
"I'm proud of you," Colletti told him. "I'm glad you have been able to do what you've done. But, when you sit in that seat, sometimes you've got to think about the big-league club ahead of what might happen three or four years down the road."
Santana is the exception that proves the rule: Three or four years down the road, no one will remember most of these so-called prospects.
Twitter: @BillShaikin
---