Column: Busting some myths: No need to trade Mike Trout for now; Shohei Ohtani is the rookie of the year
On the day after, the Angels rested, the calm before what could be a franchise-defining storm.
On the day after the news that was heard around the world — Shohei Ohtani needs surgery to reconstruct a ligament in his pitching elbow — the Angels did not play. Mike Trout hopped a plane to Philadelphia to watch his Eagles open the NFL season.
Ohtani still can hit while his elbow heals. On Wednesday, with an elbow ligament shredded, he hit two home runs. His once-in-a-century ability to hit and pitch at the world's highest level of baseball led to curiosity and speculation about his future, the future of Trout, and the future of the Angels.
With apologies to educational television, welcome to this two-part episode of "MythBusters."
Myth: If Trout won't sign a contract extension this winter, the Angels should trade him.
On the surface, this makes sense. Trout has two seasons left on his contract. The closer he gets to free agency, the less another team might offer in return and the more the Angels risk losing Trout for nothing more than a draft choice. With the revival of the Angels' minor league system, the additional infusion of young talent from a Trout trade could open a window of success from 2021 to '25.
In reality, there is absolutely no reason for Trout to sign an extension this winter. He has not confronted the Angels with any ultimatum. He likes playing in Anaheim. But he burns to win, and the proof can come only on the field, not in a negotiating session.
In his eight years in Anaheim, this is the Angels' stubbornly mediocre scorecard: four winning seasons, four losing seasons if they don't get to .500 this September, zero postseason victories.
The Angels can sit down with Trout this winter and offer him the key to Arte Moreno's vault. This is not about the money. Trout will get his, from Moreno or another owner. Barring a serious injury, he loses not a penny by waiting.
He would not be turning down a contract. He would be challenging the Angels to get better.
They should get better with him, not without him. And, if they do, there is no reason to believe he would not consider signing an extension next winter, perhaps one that would make him an Angel for life.
Trout has $67 million left on his contract. That would be attractive to clubs hesitant to pay perhaps five times as much for Bryce Harper or Manny Machado in free agency this winter, but much less attractive if the asking price in a trade is the top five prospects in your farm system. And, from the Angels' perspective, prospects might never prosper.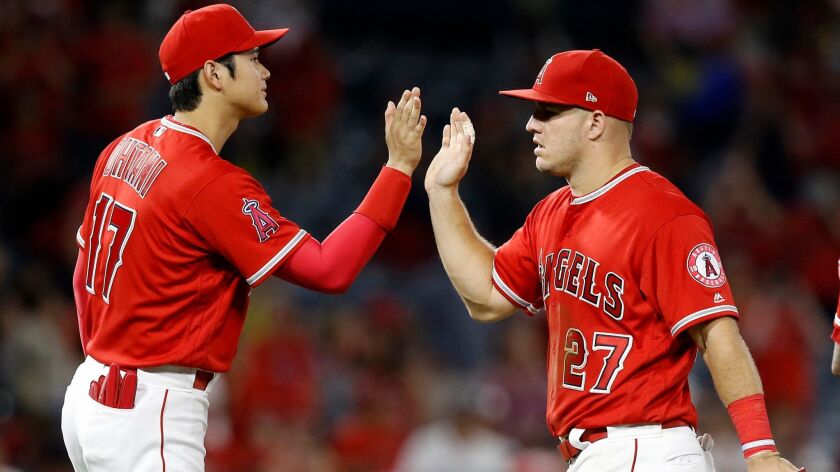 When the Boston Red Sox two years ago traded for pitcher Chris Sale, who has started three consecutive All-Star games, they assumed $38 million and sent four prospects to the Chicago White Sox. The headliners: infielder Yoan Moncada, regarded as baseball's best prospect at the time of the trade and now batting .222 and leading the majors in strikeouts, and pitcher Michael Kopech, who might never throw enough strikes to harness the power of his 100-mph fastball and is facing his own decision on Tommy John surgery.
The Red Sox were assured of three seasons of Sale. A team trading for Trout would be assured of two seasons at almost $30 million more than Sale. Would the Angels get that much better of a package?
The Angels should try to win now with Trout, not later without him. They have a vacancy at catcher and questions at first base, second base, third base and on the pitching staff.
They also have Ohtani to hit next to Trout every day next season. They have some $40 million coming off the player payroll this winter, plus $6 million more from the contract of manager Mike Scioscia, who is expected to retire. In addition, teams can spend up to $207 million next season without incurring a luxury tax, although that should not be a consideration if the Angels go all in to win with Trout.
The trade market for Trout would not evaporate, even if the Angels fail to win the following two seasons and trade him on July 31, 2020. They would get more if they traded him this winter, or even next winter, but they would not be able to say they had taken their best shot with him.
In this analytic era, general managers are asset managers, manipulating the disabled lists, the waiver wire and service time, trying to control as many players as possible for as long as possible. But try explaining that to the kids who flocked to Angel Stadium this summer for the best promotion in baseball: a free Trout shirt to every kid, every Sunday.
To hell with asset values. To hell with betraying your fans. You win with the best player in baseball or you go down trying.
Myth: Ohtani missed too much time to be considered as American League rookie of the year.
On the surface, this makes sense too. Ohtani dazzled as a pitcher, but his only start since June 6 will be the one in which his elbow blew up last Sunday. He was the Angels' best pitcher, with a 3.31 earned-run average and 63 strikeouts in 52 innings, but you can't be the rookie of the year if your year basically lasted two months.
In reality, there should be no question that Ohtani is the rookie of the year. He took a month off from hitting so his ill-fated therapy could take hold in his pitching elbow, but otherwise he has dazzled at bat.
The consensus alternative to Ohtani is Miguel Andujar, the third baseman for the New York Yankees. Andujar is batting .296, with 23 home runs in 494 at-bats. Ohtani is batting .287, with 19 home runs in 251 at-bats.
Ohtani has more home runs than anyone on the San Francisco Giants. He has stolen more bases than Andujar, and he has a sizable advantage in on-base percentage and slugging percentage.
The Yankees' partisans would say: So what? Percentages be damned, Andujar played every day. He has twice as many hits.
The snarky response would be: So what? How many batters has he struck out?
Here is a non-snarky response: Andujar has 523 plate appearances. Ohtani has 284, plus he has pitched to 211 batters. Look at it this way: That totals 495 plate appearances for Ohtani, as a batter or facing one. It's a wash.
Baseball, at its core, is about the batter-pitcher matchup. Ohtani has had just about as many of those matchups this season as Andujar. So Ohtani did not miss too much time after all, because of his two-way abilities.
And those abilities sparked interest in the Angels and in baseball, in Southern California and around the world. In a sport that struggles to market itself and its best players, that is no small consideration. With all due respect to Andujar and his impressive season, does anyone really watch the Yankees to see Andujar, or to see Giancarlo Stanton, Didi Gregorius, Masahiro Tanaka or the injured Aaron Judge?
From here, Ohtani is the winner, in a runaway.
Follow Bill Shaikin on Twitter @BillShaikin
---
Get the latest on L.A.'s teams in the daily Sports Report newsletter.
You may occasionally receive promotional content from the Los Angeles Times.