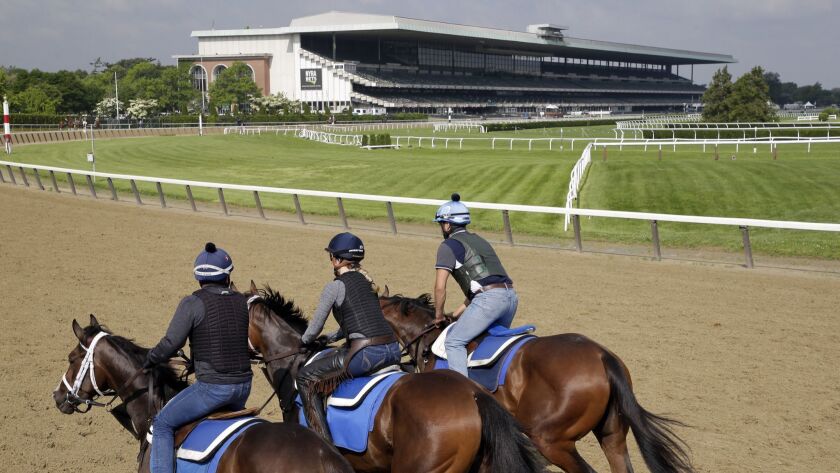 Reporting from Elmont, N.Y. —
So, we've gone through two races of horse racing's triple crown and you just have to know when the third one, the Belmont Stakes, is scheduled to start.
If you remembered that the first two started between 3:30 and 4 p.m. in Los Angeles, you would be on the right track, so to speak. Saturday's Belmont Stakes starts at 3:37 p.m. in the City of Angels, Angel Stadium and Angels Flight, if your Wi-Fi is good enough. (Loved that book, as all the books, by former L.A. Times staffer Michael Connelly.)
Let's do the usual roll call.
That's 4:37 p.m. in the Rocky zone, so we'll just say Denver.
How about 5:37 p.m. in Chicago and the rest of the central time zone.
And, 6:37 p.m. local time in Elmont, N.Y., or a couple of hours before the Flo Rida concert at the track.
Now, I have to ask, whatever happened to the "B" when the city was named? Of course, the city came a few years before the race track, but not many, so what made the track add the "B." (We could not reach Beyonce to find out the magic of the "B," but to be honest, we really didn't try and reach her.)
We're guessing the "B" was added when the idea to develop a race track was partly the plan of August Belmont Jr. Now how weird is it that a guy named Belmont would want to develop land in Elmont?
The town is located right on the border of Queens and Nassau counties, which puts it about seven miles from JFK Airport and 13 miles from LaGuardia. That raises a bigger question: Why did I fly into Newark?
OK, enough of that. So, you want to watch on TV? The baby NBC (NBCSN) has coverage between 11:30 a.m. and 1 p.m. (those are L.A. times) and the big boys take over at 1 p.m. and go until 4 p.m. or later if needed.
Here's the best programming tip you're going to get. The best race on the card may be at 1:46 p.m. in L.A. (or 4:46 p.m. local). It's the highly competitive Metropolitan Handicap, headed by Santa Anita-based McKinzie. Lots of good horses in it and it's only a mile, so action will not be slow.
Sign up for our horse racing newsletter »
Finally, the important stuff. What's the official drink of the Belmont?
It's currently (it has changed three times) the Belmont Jewel, which is bourbon (preferably Woodford Reserve, because it no doubt paid for that right), lemonade and pomegranate. Never had one, but it's guaranteed to taste better than the worst race track drink ever: the mint julep.
---