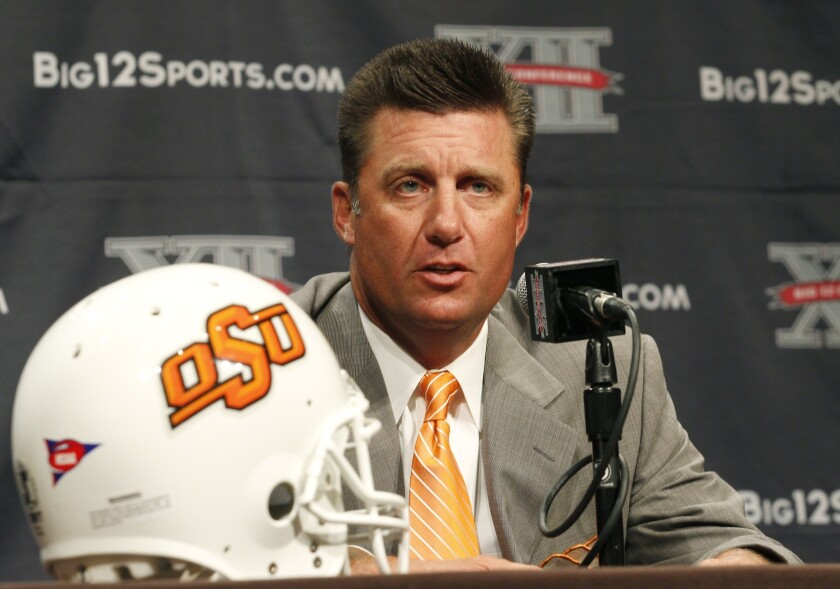 Oklahoma State President Burns Hargis says the school will conduct an investigation into possible rules violations by the football program that have been alleged in a series of stories by Sports Illustrated this week, and will ask the NCAA to join in the review.
In a video statement posted online Friday night, Hargis calls the allegations "very disturbing."
The series of stories included numerous former Oklahoma State players making allegations of cash payments to players, academic misconduct, inconsistent enforcement of drug policies and some of the schools recruiting hostesses having sex with prospects from 2001-10.
Hargis says: "We must review these accusations expeditiously, but thoroughly, determine the truth and take whatever measures are appropriate."
He says the school is "engaging an independent expert in NCAA matters" to assist the review.
Boise State pulls away to beat Air Force, 42-20
Jay Ajayi rushed for four touchdowns and Joe Southwick threw for one score and rushed for another to lead Boise State to a 42-20 victory over Air Force on Friday night.
The Broncos (2-1, 1-0 Mountain West Conference) pulled away in the second half, outscoring the Falcons, 21-3, and shutting down their running game — which rolled up 139 yards on the ground at the half.
Ajayi rushed for 125 yards on 17 carries, the sophomore's second game with more than 100 yards rushing. He scored on long runs of 35 and 20 yards.
Southwick was sharp throughout, finishing 27 of 29 for 287 yards and spreading the ball around to six different receivers.
Air Force (1-2, 0-2) stayed close in the first half thanks to the rushing of quarterback Jaleel Awini. Making his second career start, Awini led the Falcons with 107 yards in 23 carries.
Etc.
Texas quarterback David Ash will miss Saturday's game against No. 25 Mississippi. Ash has been held out of practice since leaving in the fourth quarter of last week's loss against Brigham Young with head and shoulder injuries. The school said senior Case McCoy will start. … Quarterback Munchie Legaux had surgery Friday to repair torn ligaments in his left knee after being injured during Cincinnati's 45-17 loss at Illinois last weekend. The senior is finished for the season, but hopes to play eventually.
---