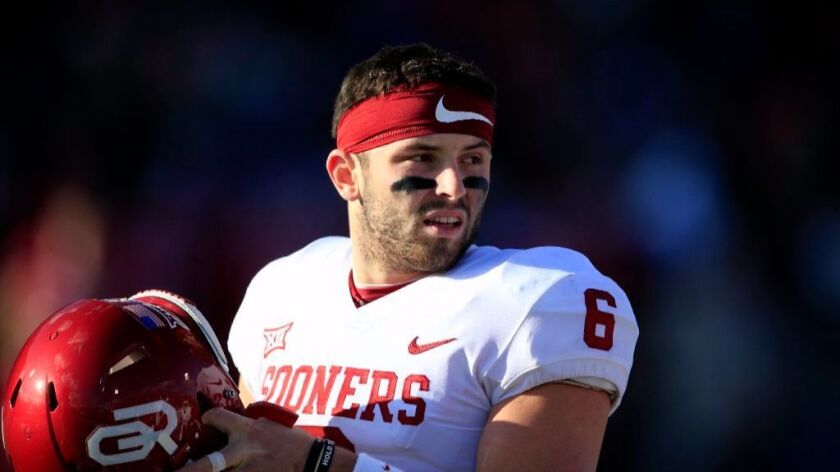 The Big 12 race began the day as clear as the Beijing skyline. Things were so confusing that even Texas had a path to the title.
There were six teams with a decent chance to make the conference championship game on Dec. 2. It still could end up a bit messy, but some things are clear by the end of conference play Saturday.
Oklahoma will play in the conference championship game and quarterback Baker Mayfield likes shaking hands.
The No. 4 Sooners clinched a title game spot by beating 1-10 Kansas 41-3. But there was no brotherly love in this game, even though Oklahoma coach Lincoln Riley and Kansas quarterbacks coach Garrett Riley are actually brothers.
Before the coin toss, Kansas captains Daniel Wise, Dorance Armstrong Jr. and Joe Dineen Jr. would not shake Mayfield's hand. So Mayfield let his play do the talking.
Well, maybe in another universe.
At one point during the game, Mayfield made an obscene gesture augmented by colorful language toward the Kansas sideline. ESPN reported that he also shouted at Kansas fans, "you have one win, stick to basketball."
So Mayfield found himself apologizing again postgame.
"I got caught up in a competitive game, a chippy game, and what I did was unacceptable," Mayfield said. "I apologize not just to the Kansas people, but the Sooners' fans ... I really do mean that. No disrespect to Kansas athletics ... the position that I'm in, I have to lead by example and I did not do that."
Mayfield, a front-runner for the Heisman Trophy, completed 20 of 30 passes for 257 yards and three touchdowns, giving him 35 touchdown passes for the season.
Lafayette, we are better
The most played rivalry in college football gave it another go sturdily when Lafayette and Lehigh met for the 153rd time with a chance to share the Patriot Conference championship.
Lehigh came away with a 38-31 victory for its eighth conference title in the last 17 seasons. The Mountain Hawks, despite a 5-6 overall record, advanced to the Football Championship Subdivision playoffs.
The series began in 1884 and the teams have played at least once each season except in 1896. Lehigh refused to play the game because George Barclay, Lafayette's star player, had played for the Chambersburg Maroons, a progression baseball team the previous summer.
Barclay, nicknamed "The Rose" because of his concerns about his looks, is also credited with inventing the football helmet. He had one fashioned out of leather by a saddle maker to prevent cauliflower ear.
Ah, but a rose by any other name doesn't always smell as sweet.
Sean O'Malley, Lafayette's current star player, had a rough day, completing six of 18 passes for 43 yards. His counterpart handled the wet field better. Brad Mayes completed 26 of 35 passes for 379 yards and three touchdowns to rally Lehigh from a 24-14 halftime deficit.
The upside for Lafayette is that the football program's Twitter account doesn't have to be updated. The program's Twitter biography — @LafColFootball — proudly states "home of the 2013 Patriot League Champions."
That would be 2013 and counting.
Frost warning
No. 15 Central Florida rolled to a 45-19 victory over Temple on Saturday to run its record to 10-0. It was a moment to savor, unless you're head coach Scott Frost.
Frost had to deal with a report that he was close to agreeing to a deal to coach Nebraska.
"That's just totally false," Frost told reporters postgame. "I haven't paid any attention to all of these whirlwind rumors and everything and I'm not going to. I got an unbelievable team I'm coaching and I can promise you that no decision has been made."
What he didn't say was that he would never agree to a deal with Nebraska.
Go Big Dead
Why Frost might end up coaching his alma mater was on display Saturday.
Nebraska was blown out early in a 56-44 loss to No. 10 Penn State. It was hard to decide what was more disturbing for the Cornhuskers fans longing for the days of Tom Osborne — that the Cornhuskers gave up 609 yards or that they passed for 399 yards.
Bling ding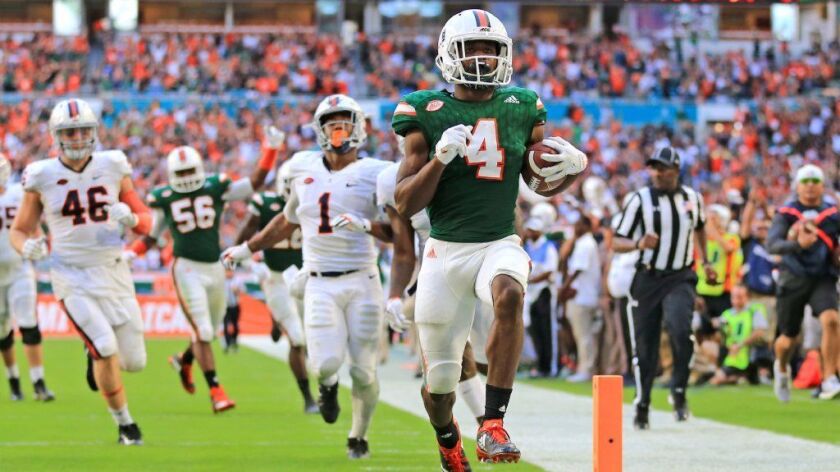 The Turnover Chain has become the shiniest bauble to hit Miami since Alex Rodriguez's one — and only — World Series ring.
The gaudy necklace is hung around any Miami player who creates a turnover in a sideline ceremony. Jaquan Johnson laid his hands on it for the fourth time Saturday with the latest big play in the Hurricanes' season.
No. 3 Miami had scored to cut Virginia's lead to 28-21 in the third quarter. Seven seconds later, Johnson picked off a pass and raced 30 yards for the score-tying touchdown.
It set things in motion for a 44-28 victory that kept the Hurricanes on the path for the College Football Playoff.
"We were talking about it on the sideline, that we needed a turnover, we needed a stop, we needed to get some momentum going," Johnson told reporters after the game.
Now someone might have to break the chain.
The Charlotte News and Observer reported Friday that Anthony John Machado, the jewelry store owner who created the necklace, was banned from interacting with North Carolina athletes in 2010 at the start of an NCAA investigation.
The news had Miami athletic director Blake James issuing a statement Saturday. In it, James said the necklace was purchased by a staff member and there was "no reason to believe that there is — or has been — any inappropriate conduct regarding Mr. Machado and the University of Miami."
Why would anyone worry about inappropriate booster contact at Miami?
Scoreboard
Memphis routed Southern Methodist 66-45 Saturday to clinch the American Athletic Conference West Division title.
The only thing that slowed down the No. 21 Tigers was the hourlong weather delay in the fourth quarter.
Quarterback Riley Ferguson threw for 320 yards, while two running backs topped 100 yards — Darrell Henderson (147) and Patrick Taylor Jr. (112). Receiver Anthony Miller had eight receptions for 163 yards.
"It's crazy how many playmakers we've got," Miller told reporters postgame.
Maybe they can lend a couple out. The Memphis basketball team scored 54 and 62 points in two losses to SMU last season.
That didn't seem to be a concern of Miller's on Saturday.
"I'm gonna go home, see my girlfriend, chill, cuddle up," Miller told the (Memphis) Commercial Appeal.
Buck-ing tradition
The annual body bag games reached Yellowhammer State, though it won't put the ledger in the red. Alabama's two most prominent college football teams forked over $2 million dollars to break a sweat Saturday.
No. 6 Auburn handed over $1.4 million to Louisiana Monroe and got a 42-14 victory in return. It was a much better deal than Mercer received, as No. 1 Alabama ponied up $600,000 and dished out a 56-0 beating.
The two teams now go from cash to clash this week. The winner of the annual Iron Bowl will face Georgia in the Southeastern Conference championship game.
Saturday's payouts were chump change. The Crimson Tide might have it in the couch cushions in coach Nick Saban's office (he will make $11.125 million this season). Forbes ranks Alabama sixth on its list of most valuable college football programs at $93 million.
Auburn isn't likely to feel the financial pinch, as it ranks ninth on the Forbes list at $88 million. It's enough money for Tigers/War Eagles to afford a third nickname — Auburn Debit Cards?
---