Stacy Lewis juggles golf and a baby and she shares lead at Wilshire Country Club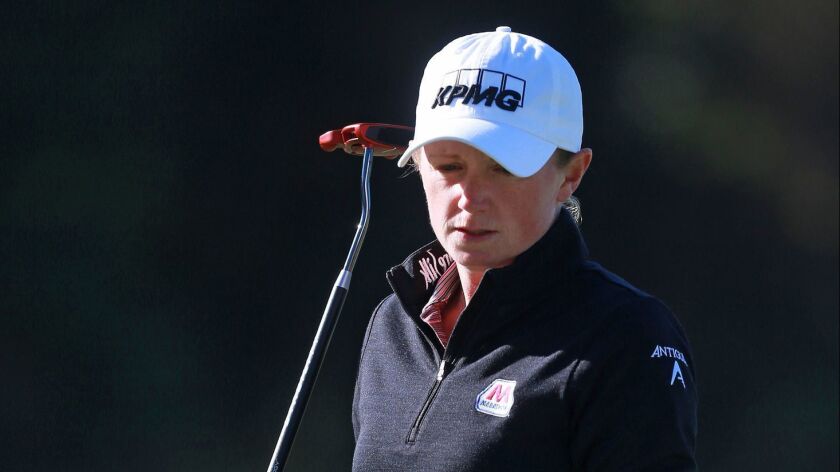 Sometimes golf is the easy part. String three birdies together? Sure, done it tons of times. Drain a curling downhill five-foot par putt to complete a six-under-par 65? Just another day at the office.
Comfort a wailing 6-month-old daughter who isn't interested in being comforted in the middle of the night and coax her back to sleep? Well, that's something else.
Stacy Lewis — a 34-year old, 12-time winner on the LPGA Tour, two-time player of the year and rookie mother — had everything under control at Wilshire Country Club on Thursday, when she shot that 65 in the opening round of the Hugel-Air Premia LA Open. She hit 13 of 14 fairways, 16 of 18 greens and needed only 28 putts on the way to her best score since shooting a 64 in 2017 at the Cambria Portland Classic, her last victory.
Lewis was tied atop the leaderboard with Australian Hannah Green, who fashioned the lowest score in her two years on tour.
Everything was new for Green a year ago, and the second time around is proving easier. She no longer feels the need to play courses repeatedly beforehand because she can remember some of the trouble spots to avoid and some of the nuances on the greens.
"I've actually decided to go back to Australia every six, seven weeks, and I think that will be the big difference from last year," she said. "I was over here four months and just didn't enjoy myself off the course."
Minjee Lee was one behind with a 66 and alone in third, a stroke ahead of Anne-Catherine Tanguay. Lewis, Green, Lee and Tanguay all benefited from early-morning tee times before the afternoon winds kicked up a bit. None of the four made a bogey.
Nine players stood at three-under 68, including former No. 1s Inbee Park and Shanshan Feng, former USC star Lizette Salas, eight-time winner Brooke Henderson and Sarah Jane Smith, who is playing in her final event before breaking from the tour to have her first child in July.
Lewis went on maternity leave last July and her daughter, Chesnee, was born Oct. 25. With baby in tow, she returned to the tour in January, suddenly living in a world filled not just with golf equipment and outfits, but Pack 'n Plays and pacifiers. She had plenty of experience working her game back into shape, and finished tied for sixth in that first event, the Diamond Resorts Tournament of Champions. But she had no blueprint for keeping Chesnee on schedule. Six-month-olds simply aren't that coachable.
"I mean, I think the last two nights combined I had about nine hours of sleep," she said. "We had a three-hour night two nights ago. …
"It's different every day. She could be in a great mood and all of a sudden she's screaming and you don't know why. And we're getting teeth, so it's just the age that she is."
Lewis' mother was with her until Monday; her husband was scheduled to come in Thursday night. In between, her plan was to play a solo act in the evenings. She has day-care while she's at the course.
"I wanted to just kind of see how it was by myself for a couple days," Lewis said, "and she chose to have her worst night in months right after my mom leaves."
Then Wednesday night, Lewis ended up at UCLA Medical Center because of her daughter's ear infection.
"Let's just say 8 a.m. came really fast," she said of her Thursday tee time.
"But I mean, it's really been OK. The lady at day care said if that happens again, 'You better call me,' and she would help me at night if I was by myself."
Still, the golf course does offer an opportunity where she's on familiar turf, and if anything is amiss, she knows how to fix it.
"It's a little hard right now," she said, "but I do feel like golf-wise I'm able to come out here and play and kind of focus on what I'm doing just knowing that she's OK and she's taken care of. I don't have to worry about her at all."
There wasn't anything unexpected on the course Thursday, certainly nothing Lewis worried about or couldn't handle.
"All in all," she said, "just a really pretty easy 65."
---
Get our high school sports newsletter
Prep Rally is devoted to the SoCal high school sports experience, bringing you scores, stories and a behind-the-scenes look at what makes prep sports so popular.
You may occasionally receive promotional content from the Los Angeles Times.