UC Irvine is making long-range plans heading into tournament opener vs. Kansas State
Reporting from San Jose —
She became the beloved face of the NCAA tournament last spring, an event played by the most athletic of college kids represented delightfully by a 98-year-old chaplain in a wheelchair.
Sister Jean emerged as a national sensation — and treasure — as underdog Loyola Chicago advanced all the way to the Final Four.
The Ramblers didn't make the tournament this year. But, only minutes after the 2019 bracket was revealed, Sister Jean was being talked about again.
UC Irvine coach Russell Turner, speaking to a group of boosters at a Selection Sunday viewing party at the school, compared his current team to Loyola's a year ago, noting their comparable records of 30-5 and 28-5, respectively.
"So you never know what might happen," Turner said. "They had somebody special in Sister Jean. Their secret weapon. Our secret weapon … is Uncle Blaine!"
The room erupted in laughter and cheers as all eyes darted to Blaine Taylor, Irvine's 61-year-old, gray-goateed assistant who won 380 games as a head coach at Montana and Old Dominion.
Taylor is affectionally known as the occasionally "crazy uncle" of this group, but Turner's suggestion was not intended to be the least bit nutty. In the 2018 Ramblers, the 2019 Anteaters find inspiration and a reason to ask why not.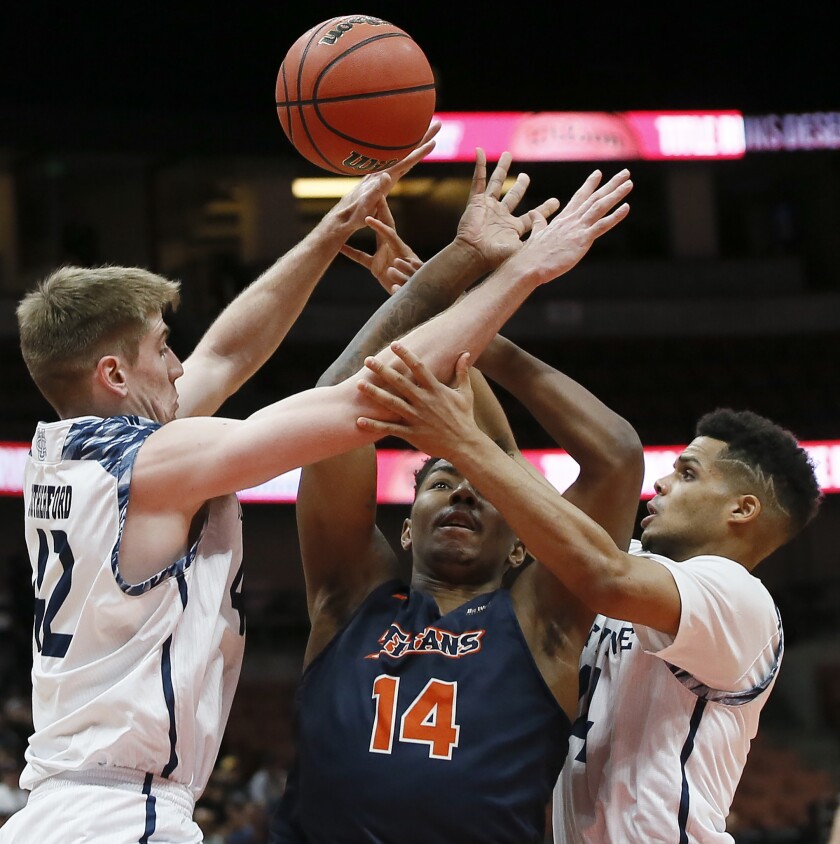 "We dream of that in our offices, having that type of run," Turner said. "A lot of people can relate to a Cinderella story in the NCAA tournament just like a lot of people hope to buy a ticket and win the lottery."
Irvine's shot arrives at 11 a.m. Friday at SAP Center against Kansas State, the regular-season co-champions of the Big 12 and a program that made it to the Elite Eight last season.
The Anteaters already have set a single-season school record for victories and won 16 in a row. They reached this game by beating Cal State Fullerton in the Big West tournament final — by 28 points.
They had the best regular-season road record (13-2) in the nation and are 8-0 in games decided by five points or fewer.
"We're not just blowing smoke around here," junior guard Max Hazzard said. "I like our team. I don't really see why we couldn't make a run. We're going to try to make some noise and shock the world."
A bold notion, to be sure, but it's unclear just how much of the world truly would be shocked if Irvine were to win.
The Anteaters have become the trendiest of picks nationally to prevail Friday. They are only 4 1/2-point underdogs, easily the tightest projected margin between fourth and 13th seeds in the opening round.
The Wildcats likely will be without two-time Big 12 first-teamer David Wade, the 6-foot-10, 228-pound forward expected to miss the game because of a foot injury.
Irvine is playing in its home state and normal time zone, while Kansas State had to travel nearly 1,400 miles to get here and, based on the Wildcats' body clocks, will be tipping off at 9 a.m.
"We have to flip the switch from being extremely excited about making it to, 'OK, now it's winning time,' " Hazzard said. "I guess for everybody else it would considered an upset. But we plan to win two games this weekend."
The first victory won't be possible without Irvine dramatically reversing what occurred when these programs met in mid-November of 2017 at Kansas. The Wildcats led 18-4 to start and sprinted away for a 71-49 victory.
They could avenge that result Friday.
Making just its second NCAA tournament appearance ever, Irvine was in a similar position four years ago, a 13th seed matched up against a highly regarded Power Five opponent.
Those Anteaters led Louisville in the final minute before falling 57-55 on a pair of free throws with nine seconds remaining.
Sign up for our daily sports newsletter »
The circumstances might seem the same this season. But, Turner said, they feel different.
"Our goal now is we want to advance in the NCAA tournament," he said. "That's not where we were before. When I got here, this place had never been to the tournament. So that was the Holy Grail.
"It was a real battle, once we got there and felt like we made history and all that, to then become competitive and try to win. I don't think we have that battle anymore."
The Anteaters are back in the big time and feel like they belong. They traveled here on a chartered flight. They were given a police escort to the arena Thursday for practice. Their starting five appeared together at a news conference.
As Turner said, "We're not staying at the Days Inn and eating Chipotle on this trip."
Now, all they have to do is win. Certainly stranger things have happened, things like Sister Jean and the Loyola Chicago Ramblers. And who'd they beat to make the 2018 Final Four? Kansas State.
Twitter: @JeffMillerLAT
---
Get the latest on L.A.'s teams in the daily Sports Report newsletter.
You may occasionally receive promotional content from the Los Angeles Times.