Bob Baffert could tie record for Kentucky Derby wins; he has three solid contenders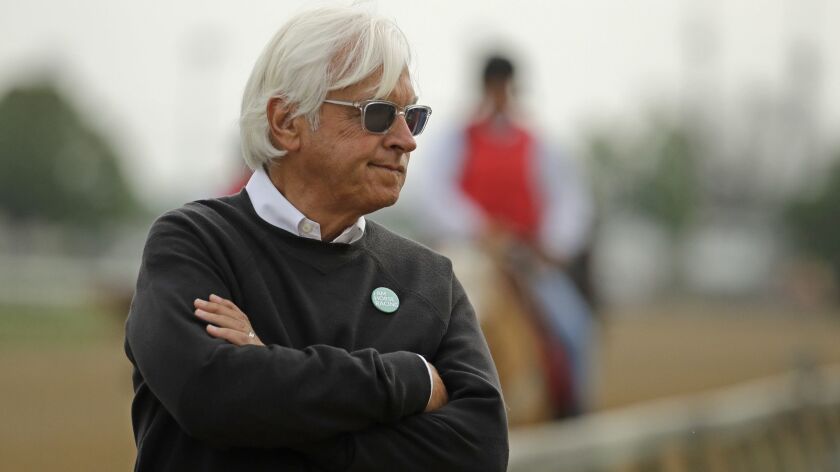 Reporting from LOUISVILLE, Ky. —
Bob Baffert has little to nothing left to prove in horse racing.
He is one of two trainers to have won the Triple Crown twice — with American Pharoah in 2015 and Justify in 2018.
He has won 15 Triple Crown races and has 15 wins in the Breeders' Cup. He's won the Dubai World Cup, the richest race in the world, three times.
He's the sport's unofficial ambassador.
Every day this week at Barn 33 on the Churchill Downs backstretch, he greets strangers like friends, poses for pictures, makes small talk.
"Where you from? Oh, Tennessee. Ever hear of Centerville? That's where my wife, Jill, is from."
He follows that with his daily visit with reporters, where not a session goes by without someone asking him about the possibility of tying the record of Ben Jones, who won the Kentucky Derby six times between 1938 and 1952. He did it with only 11 starters.
"The golfer?" Baffert asked back, making an intentional malaprop of the legendary Bobby Jones.
"I don't even think about it," Baffert said of tying the record. "It was a different era. Nowadays the Derby is bigger than it was then. Now it's pretty intense. Back then, horses ran 40 times a year. [The Derby] was just a race between other races. It's like comparisons of football players and baseball players from different times until now."
Baffert's Derby winners are Silver Charm (1997), Real Quiet (1998), War Emblem (2002), American Pharoah and Justify.
The added talk about tying the record is because Baffert has the top three morning line choices in Saturday's 145th running of the Kentucky Derby after Omaha Beach was scratched from the Derby late Wednesday afternoon with an entrapped epiglottis, a throat condition that can hinder breathing.
The top choice, at 9-2, is Game Winner, Eclipse Award champion for best 2-year-old and winner of the Breeders' Cup Juvenile.
"He's a champion, he's never run a bad race," Baffert summarized.
There is Roadster (5-1), who returned to racing after having a breathing problem corrected at the end of last year.
"Roadster was a little late to the party, but ends up winning the Grade 1 Santa Anita Derby and been doing well since," Baffert said.
And there is Improbable (5-1), who has the same ownership group as Justify. He started his career with three wins before a couple of second-place finishes in the Rebel Stakes and Arkansas Derby, where he acted up in the gate.
"Improbable was lucky just to get here after his gate antics, which could have been disastrous for him," Baffert said.
Baffert, like any proud parent, is loathe to say which of his equine children is his favorite. But, like a lousy poker player, he has some tells. The biggest is which horse he talks the most about.
After Roadster beat Game Winner by a half-length in the Santa Anita Derby, Baffert talked about how Game Winner got caught four wide in the turn and just ran a longer race than the winner. In the paddock before the race, Baffert spent almost all his time with the connections of Game Winner, rather than Roadster.
And, this week, when asked about his three horses, he almost always starts with Game Winner.
Still, he concedes that Roadster's performance in the Santa Anita Derby was remarkable.
"The track was really deep because they added a lot of sand," Baffert said. "For Roadster to close on a track that nobody was closing on that day was pretty impressive. And Game Winner was chasing a hot pace. In the end they are all good 3-year-olds."
Baffert has made a career out of running good 3-year-olds. This trio will up his Derby starts to 32, well behind Todd Pletcher (54 including this year) and Wayne Lukas (49). Between them, they have just one more win than Baffert.
"I've been blessed and lucky or whatever you want to call it," Baffert said. "I look back and can't believe it sometimes. I have to go to the Derby Museum to see what I really accomplished."
Sign up for our horse racing newsletter »
Having the favorite is nothing new to Baffert, having brought eventual Triple Crown winner Justify in here last year.
"We knew last year with Justify that it was my race to lose," Baffert said. "There was a little extra pressure."
Picking this year's winner is not as easy as last year.
"There are a lot of good horses in here," Baffert said. "Unless we see something different on Derby Day, this is a nice evenly matched group of horses. I don't see someone really popping off the screen. It reminds me of the Silver Charm derby [1997] with a lot of good horses in there. Whoever gets the trip is going to win it."
In the end, Baffert says, it's all on the horse, or as he likes to say "the horse has to show up."
"Great trainers and great jockeys keep a horse from getting beat," Baffert said. "That's our job. I think there are a lot of great trainers out there, but they don't get the chances."
Clearly, you have to make the most of your chances. And Saturday, Baffert has three good ones.
---
Get our high school sports newsletter
Prep Rally is devoted to the SoCal high school sports experience, bringing you scores, stories and a behind-the-scenes look at what makes prep sports so popular.
You may occasionally receive promotional content from the Los Angeles Times.