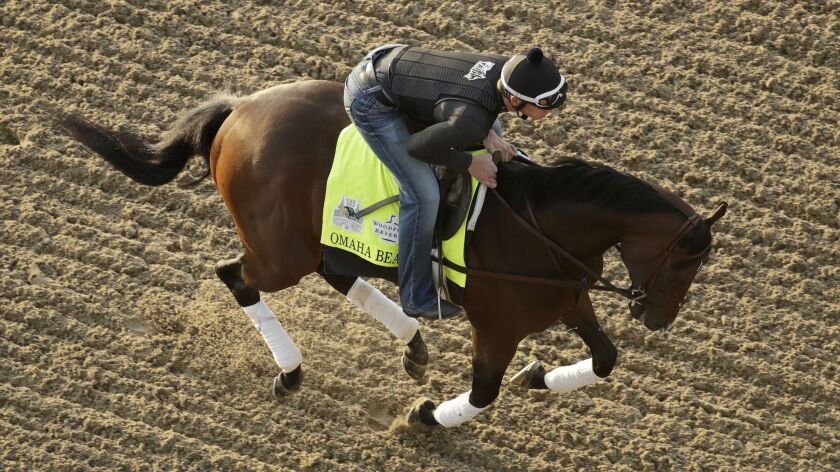 Reporting from LOUISVILLE, Ky. —
There were few reasons for alarm when post positions were drawn Tuesday for the 145th running of the Kentucky Derby. And it was also no surprise that the top four horses, according to the morning line, are all based in Southern California.
Omaha Beach, winner of the Arkansas Derby, drew the No. 12 post in the 20-horse field and was made the 4-1 favorite for Saturday's race.
"It's nice to be outside a little bit," said Richard Mandella, Omaha Beach's trainer. "You don't have to commit too quickly. It gives [jockey Mike Smith] a chance to size the race up. Couldn't be more happy."
Smith, who chose to ride Omaha Beach over Roadster, was also happy with the draw.
"I love it," Smith said. "I didn't want to be down inside. I think I'm in a great spot."
Trainer Bob Baffert, not surprisingly, has the the second, third and fourth favorites in Game Winner (post 16, 5-1), Roadster (17, 6-1) and Improbable (5, 6-1).
Game Winner won the Breeders' Cup Juvenile, losing to Roadster in the Santa Anita Derby. Improbable finished second in the Arkansas Derby to Omaha Beach, who shipped to Oaklawn after breaking his maiden at Santa Anita in his fifth career race.
Baffert shrugged off the fact that no horse has ever won the Derby from post 17.
"Not that many horses run out of there," Baffert said. "But I'm OK. We'll figure out a plan for them.
"The 17 has been 0-for-40, but it's like [Triple Crown winner] American Pharoah had the 18 and there was a scratch and he had the 17 for a day and then he went to the 16. At the end of the day, you have to have the horse. If your horse shows up, that's more important. After watching Big Brown gallop from the 20 hole [and winning in 2008] it really doesn't make a difference."
Conventional thinking is that the only post in the field that really makes a difference is the No. 1, because the horse has no room to maneuver to the inside once out of the gate. Mike Battaglia, who has set the Derby morning line since 1975, calculates all the odds before the draw and only makes adjustments after it's determined which horse draws the No. 1 post.
Sign up for our horse racing newsletter »
This year it was War of Will for trainer Mark Casse.
"I think we'll be on the lead and play catch me if you can," Casse said. "At least we have the shortest way around. I've thought I've had great draws before and gotten wiped out, so maybe this is the change."
There are two horses at 10-1: Maximum Security (post 7), undefeated winner of the Florida Derby, and Tacitus (8), winner of the Wood Memorial. At 15-1 is Code of Honor (13), third in the Florida Derby and winner of the Fountain of Youth, and Win Win Win (14), second in the Blue Grass Stakes.
The only other Southern California runner is Gray Magician, who qualified by finishing second in the UAE Derby in Dubai. The Peter Miller trainee drew the No. 4 post and was listed at 50-1.
Here are the starting positions with odds:
1. War of Will, 20-1
2. Tax, 20-1
3. By My Standards, 20-1
4. Gray Magician, 50-1
5. Improbable, 6-1
6. Vekoma, 20-1
7. Maximum Security, 10-1
8. Tacitus, 10-1
9. Plus Que Parfait, 30-1
10. Cutting Humor, 30-1
11. Haikal, 30-1
12. Omaha Beach, 4-1
13. Code of Honor, 15-1
14. Win Win Win, 15-1
15. Master Fencer, 50-1
16. Game Winner, 5-1
17. Roadster, 6-1
18. Long Range Toddy, 30-1
19. Spinoff, 30-1
20. Country Horse, 30-1
Click here to sign up for our free horse racing newsletter.
---