Many in horse racing agree with Maximum Security's disqualification at Kentucky Derby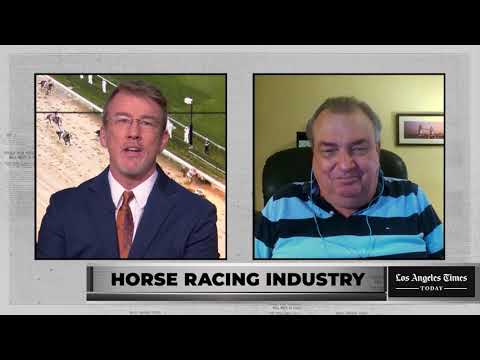 L.A. Times Today airs Monday through Friday at 7 p.m. and 10 p.m. on Spectrum News 1.  Maximum Security, right, has the lead ahead of War Of Will, who is next to Country House on the outside, at the top of the stretch in the Kentucky Derby on Saturd
Reporting from Louisville, Ky. —
A day after the most controversial finish in the 145-year history of the Kentucky Derby, one thing seemed resolute: There was near unanimity among trainers that the stewards made the right decision to disqualify Maximum Security and award the victory to Country House.
The 22-minute wait for the three Kentucky stewards to decide if they were going to do what had never been done before, disqualify the winner of the world's most famous race, was more baffling to fans than those who spend every day on the backstretch.
Even President Trump found reason to dispute the decision in a tweet: "The Kentuky (sic) Derby decision was not a good one. It was a rough and tumble race on a wet and sloppy track, actually, a beautiful thing to watch. Only in these days of political correctness could such an overturn occur. The best horse did NOT win the Kentucky Derby – not even close!"
But trainer Mark Casse, whose War Of Will was the most impacted by the actions of Maximum Security, painted a picture that was much more harrowing than bettors' winning tickets turning to losing ones.
Maximum Security won't run in Preakness; owner will appeal Kentucky Derby disqualification »
"The horse racing world should be very happy that it happened to War Of Will," Casse said, standing outside his barn early Sunday morning. "War Of Will is such an athlete, and he had the agility so that he didn't go down. Because if he goes down it would have been the biggest disaster in horse racing.
"And, who knows, he probably wouldn't be here today. [Jockey] Tyler Gaffalione might not have been here today. And who knows how many others would have gone down after him. I never for a second felt sorry for myself. I was just happy that I still have him."
Sign up for our daily sports newsletter »
Deep into the far turn, Maximum Security was in front and had a slight lead on the rail. Suddenly he veered into the path of War Of Will, who then bumped Long Range Toddy, who affected the run of Bodexpress. Even the declared winner, Country House, was compromised, according to jockey Flavien Prat.
A stark bit of evidence started to make the rounds on social media on Sunday showing that one of Maximum Security's back legs was squarely between the two front legs of War Of Will.
"Tyler came back to me [right after the race] and he was a little shook up," Casse said. "'We clipped heels and you can see our horse's legs hit the other horse's legs. We're lucky we didn't go down.' That's what he said to me."
While Casse believed the stewards were right, he didn't give them a complete pass.
"I absolutely, positively believe they were right in their decision," Casse said. "If they made a mistake, it's that they should have put an inquiry [sign] up. … If it were the last race, it would have taken about two minutes, if that long. Only reason it took so long is because it was the Kentucky Derby."
Trainer Bill Mott, who won his first Kentucky Derby, was obviously behind the stewards' decision.
"I really believe that the call that was made [Saturday] really shows the integrity of the sport," Mott said. "It wasn't an easy call, but if they let that go, I think it would have been much more talked about.
"I talked to Jose" Ortiz, who was riding Mott's other horse Tacitus, "who told me for sure that [Maximum Security] would come down. Jose being behind them had the best view of all. I sent Flavien to the phone to get in there and talk to [the stewards]."
Shug McGaughey, who trains second-place finisher Code Of Honor, also favored disqualification.
"I was looking at the pictures and they were pretty incriminating," McGaughey said. "To see the pictures, I can't doubt what happened. We got lucky that it wasn't worse. But I don't think it was [jockey Luis] Saez's fault. I think [Maximum Security] saw something and went out like that and almost caused a wreck."
Todd Pletcher, who had Cutting Humor (10th) and Spinoff (18th), drew an analogy to another sport.
"You can look at it this way," Pletcher said. "At the biggest moment, they made the toughest call. You can say that in racing we're not afraid to make the tough calls, no matter the circumstance.
"How often do we see a big moment in other sports — say a Game 7 in the NBA — where the referees swallow their whistles. That didn't happen [Saturday]. It was a tough call, but I think the right one."
It all leads to the obvious question. Will there be a rematch?
Even though Mott wouldn't commit to Country House running in the Preakness Stakes in two weeks, it would be shocking if he weren't there.
Country House, though, will have run four races in eight weeks if he competes in the Preakness. He ran in the Louisiana Derby (March 23), Arkansas Derby (April 13) and Kentucky Derby (May 4) before potentially traveling to Pimlico Race Course in Baltimore for the Preakness Stakes (May 18).
Jason Servis, trainer of Maximum Security, was not at the barns Sunday. He did not respond to texts seeking clarity on the horse's future.
Figuring that Mott will take Country House to Baltimore, he will be joined by War Of Will and Bodexpress. Bob Baffert, who also was not at the barns Sunday morning, said by text he hasn't made plans for any of his horses. You can logically expect at least one.
Pletcher does not like to bring horses back after two weeks unless he has the Derby winner, so he likely won't be there.
There are some fresh horses that should make the race interesting. There is Anothertwistafaith, who won the El Camino Real Derby at Golden Gate, and Alwaysmining, who won the Federico Tesio Stakes at Laurel and is undefeated this year. And, Keith Desormeaux has Sueno, who just fell short of qualifying for the Derby.
But the horse everyone wants to see is the one that won the Kentucky Derby before giving it up 22 minutes later.
Get our high school sports newsletter
Prep Rally is devoted to the SoCal high school sports experience, bringing you scores, stories and a behind-the-scenes look at what makes prep sports so popular.
You may occasionally receive promotional content from the Los Angeles Times.