Jason Day talks at the Masters after reversal of his mother's 'terminal' health diagnosis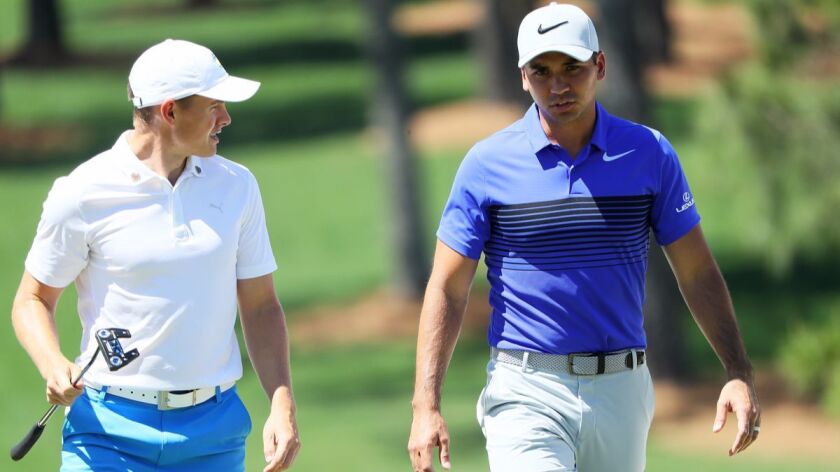 Reporting from Augusta, Ga. —
The mood matched reality, strangely light, like a clear dawn after a thunderous storm.
Jason Day, one of the best golfers in the world, was recounting the last two weeks since he walked off the course after six holes in the Match Play tournament in Austin, Texas, too consumed to continue.
About how it started when his mother was told she was terminal, with maybe 12 months to live. How he forced her to come from Australia to Ohio for second opinions. How, 11 days ago, they cut out about a quarter of her left lung in a five-hour surgery. And how on Monday he learned the operation was so successful that she won't even need chemotherapy.
He got to the phrase "live a very long life" and bit his lip, swallowed his emotions, looked briefly down and realized there is plenty of time left to talk about Dening Day.
Jason Day is here at Augusta National Golf Club to play in the Masters, something he wasn't prepared to do if the news about his mother was bad. By his own admission, he's not terribly well prepared, having not picked up a club in almost two weeks.
He thanked the fans, other golfers, sponsors, even journalists for their texts and emails of good wishes about his mother. The golf writers sent flowers.
"It's a very painful thing to go through and watch a loved one," Day said. "You really don't expect yourself or a loved one to go through it. I just wanted to say thank you very much for the support that everyone has given me and … especially my mom."
Understanding this heightened bond between mother and son is easier to understand with background.
Born to a Philippine mother and an Australian alcoholic father, Day claims Alvyn, his dad, would rough him up and intimidate him as a child when his golf game didn't perform up to already high expectations.
Some sense of both relief and panic came when Day was age 12 and his father died of stomach cancer. Day started getting into fights and using alcohol. Dening sold the house and borrowed money from relatives to get enough money to send her son to boarding school eight hours away that was known for its sports.
Day, 29, was only 18 when he played a handful of PGA Tour events. In 2007, he was on the secondary tour before rejoining the top level the next year. He has won 10 PGA Tour events, including the PGA Championship in 2015.
He was No. 1 in the world for 47 weeks before losing the spot to Dustin Johnson in February.
Day, having won more than $35 million, was in a position to do whatever it took to get his mom the best care possible after she was diagnosed at the beginning of the year.
"She was coughing up blood for three months and didn't tell anyone about it," Day said. "That's how stubborn she is. We knew there was a mass in her lung and I said, 'We're going to get you over here.'
"She said, 'Oh, no, we'll kind of do our thing over here.' When she heard the news about 12 months, I said, 'You're getting over here now. We're not messing around with this stuff.'"
Once in Ohio, near the Days' home in Westerville, a suburb of Columbus, the doctors at Ohio State James Cancer Hospital gave reason for optimism. The surgery was scheduled for a Friday and Day was in Austin.
He revealed his mother's illness at an emotional news conference on a Wednesday after withdrawing from the tournament. He flew home, picked up his 59-year-old mother from a hotel and took her to his house. At 3:45 a.m. on Friday, he got up and drove took her to the hospital.
Things went well, or so he thought at first.
"A day after she came out [of surgery] I visited and she wasn't quite there," Day said. "It almost looked like she was dying in a way. It reminded me of my dad when he went through cancer and it hit him pretty quick and he just like wasn't there. He was kind of loopy and would see things and hear things.
"That's what my mom was going through, as well. I know the surgery went well, but what was going on?"
After a couple of days she returned to normal.
Day smiled Tuesday as he recalled the nonplussed way in which she received this week's positive news.
"I talked to her [Monday] about the no chemo and she said, 'Oh, that's good news.'" Day said. "And that's all she said. She's a woman of very few words. She's only 4-11, so she's really tiny and she can be very intimidating. I don't say too much to my mom."
But Day makes up for any lack of verbiage from his mother.
"When you sit and think about it, I don't have a dad," Day said. "I don't have grandparents and if she goes, I've got no one, other than my two sisters. So you just forget that maybe you should have spent a little bit more time with your family and spending more time with them and just enjoying your life."
So, now, Day can put the uncertainty of the recent past behind him and look to be competitive in the Masters.
"Two things in my life, Tiger Woods and Augusta National — the Masters — is why I play golf," Day said. "And this is my favorite week of the year. It always is.
"It gets me excited thinking about the possibility of actually winning and obviously accomplishing one of my life goals. With that said, I can't get too far ahead of myself because it's only Tuesday and Sunday is a very, very long way away."
---
Get the latest on L.A.'s teams in the daily Sports Report newsletter.
You may occasionally receive promotional content from the Los Angeles Times.