Roy Emerson gets the royal treatment at BNP Paribas Open — and rightfully so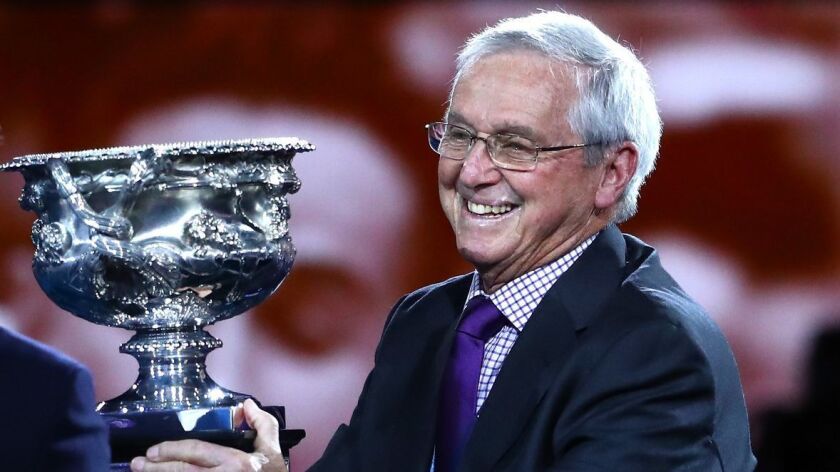 Roy Emerson may be 82, but that hasn't kept him out of the news recently. His neighbors in Newport Beach probably don't even know.
He was invited back to the Australian Open Tennis Tournament in January, and there was good reason. Some kid named Novak Djokovic had a chance to win a seventh Aussie Open title, possibly breaking Emerson's men's singles record by one. And when that did happen, Emerson was there to pose for a picture with Djokovic, along with three fellow Aussie greats from the past, Frank Sedgman, Ken Rosewall and Rod Laver.
After the picture, Emerson sidled over to Djokovic and whispered: "I'm pissed."
"I think he got it, that I was kidding," says Emerson, with that ever-present twinkle in his eye.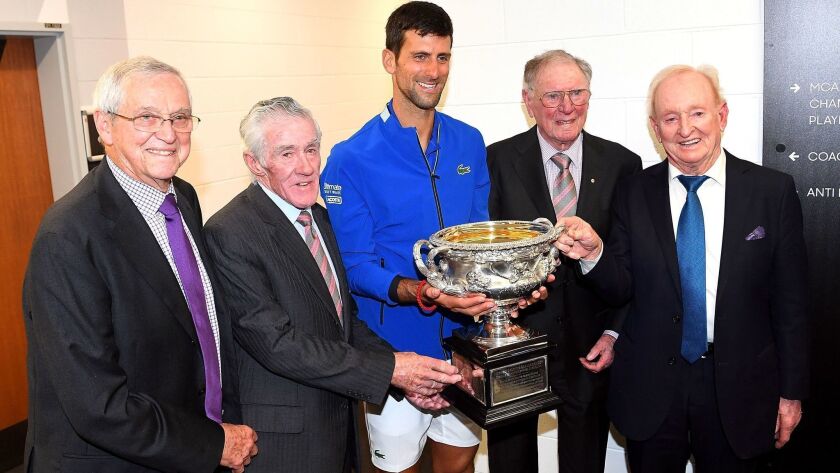 Around the same time, as part of the Jan. 26 Australian Day honors, Emerson was made an AC, which makes him a Companion of the Order of Australia, "for his eminent service to the sport of tennis." It sounds as if that's a little similar to an Englishman kneeling down and having somebody tap a sword on your shoulder. In any case, Emerson's daughter, Heidi, refers to him now as "Sir Dad."
In all ways, Emerson has long been tennis royalty. So, when he shows up to watch some of the BNP Paribas at Indian Wells, he is treated like that. Big suite. Great food. Rightfully so.
He has lived in Newport Beach since 1968. "Rod [Laver] was there, so we moved there, too."
By then, the open tennis era had begun, and while Emerson and Laver played on into their late 30s and Emerson won 20 more doubles titles, now he was getting paid. His main career as an amateur consisted of winning big tournaments and getting trophies only. But what an incredible amateur career it was.
He won 12 Grand Slam singles titles, and 16 doubles Slams. He is one of only eight men who have won at least one of each major singles title, a Career Slam. He is the only man who has won a Career Slam in singles and doubles. He is also the first male player to win each major twice. The other seven men in the Career Slam category are Don Budge, Laver, Fred Perry, Andre Agassi, Roger Federer, Rafael Nadal and Djokovic.
Emerson's career was as impressive as the list with whom he shares the Career Slam record. He won the Australian and U.S. Open finals in 1961, beating Laver each time. Then he lost his next three finals to Laver during Laver's first of two calendar Grand Slams in '62. After that, Emerson won his next 10 major finals. As recently as 2000, when Pete Sampras was dazzling the tennis world and winning majors, the record he pursued and eventually passed was Emerson's 12 Grand Slams. Emerson is still fifth on the all-time majors list, after Federer's 20, Nadal's 17, Djokovic's 15 and Sampras' 14.
Emerson's best overall year was 1964, when he reeled off 55 straight singles wins and finished the year with a record of 109-6.
"Everybody always said one of my best attributes was that I was always fit," he says now. "That year, I really got fit. I went to India to train first, and I didn't eat much of the food, so I was really fit."
He also played on eight Davis Cup champions, in a day and age when the Davis Cup was a huge deal in tennis.
"I think we lost the Cup in '54," he says, "and so I was sent off to train hard and improve my game. We won again starting in '55.
Emerson says he has no regrets about the timing of his career, as he now watches players win the titles that he did and get multimillion-dollar paychecks.
"We were paid, too," he says, the twinkle in his eye returning. "Like at Wimbledon. They didn't know who was going to win and they couldn't put a name on the trophy. So, they gave us like 75 pounds to go out and buy one."
He remains a tennis fan, and, like so many, a fan of Roger Federer and Rafael Nadal, whom he will watch play Friday in separate quarterfinals at the BNP Paribas.
"With Federer and Nadal," he says, "tennis is lucky. They are great talents and great ambassadors for the game. I'm glad young kids have them to emulate, on and off the court."
It has been a long journey for Emerson, from Blackbutt, Queensland, Australia, population around 1,500, to the bright lights of the tennis world.
"I grew up on a dairy farm a few miles outside Blackbutt, and went to school in nearby Nukku," he says. "Our farm had a tennis court. At our school a few miles away, we had another tennis court. Most of the farms had tennis courts in those days.
"We had 17 kids in our school, ages 5 to 14. I was a brilliant student. The last three years in my school, I was tops in my class. I was also the only one in my class."
In Blackbutt, there is a statue of Emerson, placed there recently after a local fundraiser. There is also a museum in his honor, as well as his image on a postage stamp.
If Federer and Nadal make it to a semifinal showdown, Emerson will be in the house. He says it is always an honor to watch them play. They should be honored to have him watch.
---
Get the latest on L.A.'s teams in the daily Sports Report newsletter.
You may occasionally receive promotional content from the Los Angeles Times.