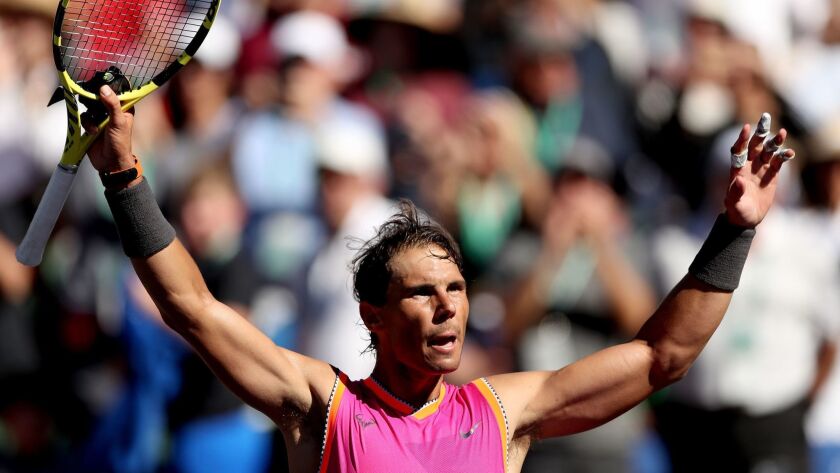 Reporting from indian wells —
Order was restored to the BNP Paribas proceedings at about 8:15 Tuesday night.
The 37-year-old Roger Federer, gliding over the court at the Indian Wells Tennis Garden like a 21-year-old, finished off his Swiss buddy, Stan Wawrinka, with a love service game in a 6-3, 6-4 victory. He went to the net, gave Wawrinka a hug and then turned and waved to his public, who made up the vast majority of fans in the 16,100-seat stadium, a place that defines the majesty of this tournament.
They stood en masse to applaud. More so, to adore.
Most likely, somewhere in that crowd was the person or persons whose job it is to sell tickets and generate revenue for an event that they now, unabashedly, call "Tennis Paradise." Most likely, they were applauding the loudest and adoring the most. Roger and his longtime rival, Rafael Nadal, the sport's now legendary R & R boys, had saved the day.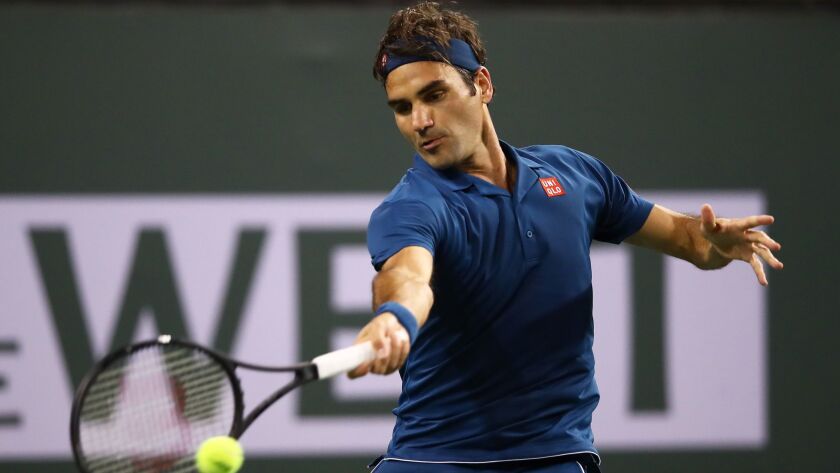 An hour earlier, the No. 1 woman in the world, young and popular Naomi Osaka of Japan, had been taken out by Belinda Bencic in a 6-3, 6-1 rout. There was no accounting for Osaka's lackluster performance, other than Bencic just started whacking her around and never let up. Nobody saw that one coming.
A few hours earlier, German journeyman Philipp Kohlschreiber took out No. 1 Novak Djokovic. The 6-4, 6-4 score wasn't quite the same whipping as Osaka got, but it was perhaps even more shocking. Djokovic and Kohlschreiber had played nine times. Kohlschreiber had won once. Djokovic had won his 15th Grand Slam event at the Australian Open in January and the word recently used in any journalistic description of the Serbian rubber man was "invincible." Oh, well. Nobody saw this one coming either.
But then, there was Nadal, who beat Diego Schwartzman of Argentina in an afternoon match, 6-3, 6-1, and Federer riding to the rescue. Without them advancing and keeping the tournament buzz alive, this day, March 12, 2019, would have gained a measure of lore here as "Bloody Tuesday." Certainly, many of the tickets for the upcoming championship weekend are sold. But this was only Tuesday, and the tennis public expects and deserves some star power on the closing weekend. And the tennis public, even here, often doesn't show up, even after purchasing tickets, if the buzz is gone. Bye bye concession revenue, parking revenue, etc.
The emphasis and expectation now will shift from the "invincible" Djokovic and the "stunningly talented and young" Osaka. Their departure easily could have left Indian Wells with zero story lines, or story lines that would need to be artificially pushed. But now, we are back to the story line that has lit up expectations at this event for years: a Rafa-versus-Roger match.
Often, the seeding puts them on the same side of the bracket and there is no chance for a final. This year, that is the case again. Nadal is seeded second, Federer fourth.
That makes a semifinal the best possibility and ticket-seller. The other thing is that, while they have played 38 times, with Nadal wining 23 of those, they have played only three times here, and only once in a match as late as a semifinal.
That was in 2012, when Federer won. They met in 2013 and Nadal took a quarterfinal match. Also in 2017, when Federer won in the round of 16.
Federer was congratulated by the courtside interviewer, after his victory over Wawrinka, on the 100th tournament victory of his career, achieved recently in Dubai. "Yes, it is pretty amazing," he said. "Something that started back in 2001. I'm just happy to be walking."
Nadal, who is also in the latter stages of his career at age 32 — but not as close to the twilight that Federer is — played a match to his satisfaction against Schwartzman, against whom he now holds a 7-0 record.
"I think I did a lot of things well. Started very well the match," he said in his always delightful broken English. "I saw him playing. Yes, he is in the big confidence. [So] I need to keep playing the way I'm playing."
Federer will next play Kyle Edmund of Britain. He said they have never played before and that "makes the match exciting."
Nadal will play Filip Krajinovic of Serbia, a qualifier who has won five matches in a row, including two in qualifying.
Then, one more victory each after that and we have a Rafa-Roger semifinal and a stadium full of giddy fans. Federer has a record 20 major titles, Nadal is second with 17. As tennis matchups go, this one still gets the fans' juices flowing.
Novak and Naomi who?
---