Santa Anita hopes to resume horse racing around March 22
Twenty-two horses have died at Santa Anita Park since Dec. 26. Experts are trying to figure out why.
In 1934, Santa Anita Park attracted large crowds and lots of attention when it opened and became the first big-time sports venue in Southern California. More than eight decades later, it's starting to make plans for an important reopening.
Faced with 21 horse deaths since Dec. 26, the horse racing mecca shut down its main courses from competition and training this week. Management now believes it can reopen for racing March 22. But there are many caveats.
"Everything is fluid," Tim Ritvo, chief operating officer of the Stronach Group, which owns and operates Santa Anita, said Friday as horses returned for light work to the training track for the first time in three days.
Ritvo was unequivocal that the track would not reopen until it was safe for both horses and riders.
When it does, it will have new safety protocols, including the addition of more veterinarians to locate "at risk" horses and changes to reduce traffic during timed workouts. The Stronach Group is also adding a position of Director of Equine Welfare, who will lead a rapid-response team in conducting transparent investigations. There will also be rules that veterinarian records become available to the public and follow a horse through trainer and ownership changes.
The proposed two-week return-to-racing timetable should also be enough to give the scientists and engineers who are looking at the racing surface to reach some conclusions and make whatever adjustments are necessary. It's also possible that no cause can be found that led to the fatalities. In that case, the track would rely on the expert judgment of Dennis Moore.
Moore, 69, was track superintendent at Santa Anita last year but decided to leave at the end of the year. He works for Del Mar and Los Alamitos, but now has been brought back to Santa Anita as a consultant.
"[Our plan works] only if we get approval from Dennis and the track team," Ritvo said.
In the last fiscal year, the track had 37 deaths either in racing or training over about a seven-month period, a record low over the last quarter century. Racing deaths in the state have declined 60% over the last 13 years, according to the California Horse Racing Board.
Moore was the track superintendent at all three Southern California race tracks.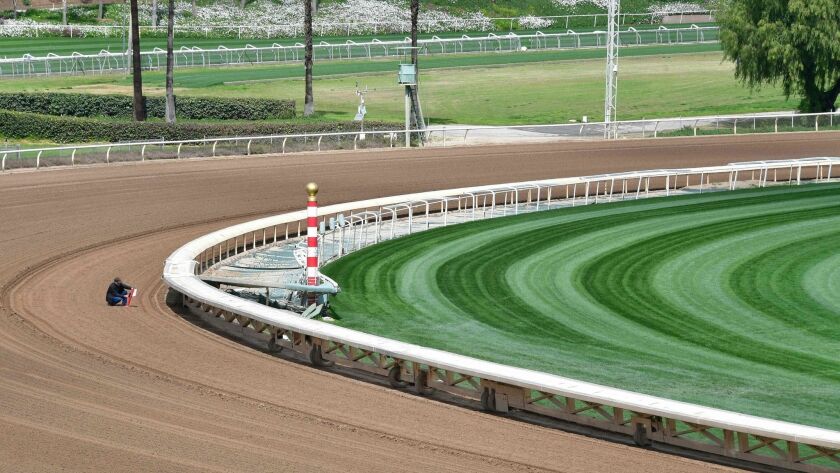 In 2017, he was brought in to fix the dirt surface at Del Mar for its summer meeting. The number of deaths went from 17 to five after Moore reworked the racing surface.
"I think 99% of the trainers are strongly behind Dennis Moore," said Jim Cassidy, president of the California Thoroughbred Trainers. "They have a lot of confidence in him. If Dennis says the track is A-OK then everyone is going to be fine with it."
Moore, who has a policy of not doing media interviews, has been asked to stay on at Santa Anita as a consultant until the Breeders' Cup on Nov. 1 and 2.
The trainers had a 1 hour and 15 minute meeting Friday to go over the tentative timetable and air other issues. They were informed of the track's plans and then engaged in discussions on a multitude of issues, including five-furlong racing on turf — some like it, some don't — and the ability to persuade management to take a different direction in how they are writing and filling races.
"That timetable is fine for everybody," Cassidy said. "It may even be too long for some people. … I'm sure management doesn't want people to think they are rushing into it or want people to say they are putting a Band-Aid on it. That's obviously not the case. They are trying to do everything they can to make sure the track is 100%."
The meeting was for licensed trainers and the media was excluded.
According to Ritvo, the main dirt track will open for galloping and exercising Monday. No workouts at full speed will be allowed. If there are no problems, the track could be opened to full workouts by the end of the week.
"You'll have to apply in the racing office to work out," Ritvo said. "We'll look to make sure the horse hasn't been off for too long or had any other potential issues. We'll be selective. When we feel comfortable, we'll allow them to work and we'll monitor that.
"We're being both proactive and cautious. We want to give the horses enough time to build their fitness back up. … If we don't like the way things are going, if we see some issues, we'll go an extra week [or longer]."
Of the 21 deaths, seven have occurred on the main dirt track, five on the turf course and nine during training on the main dirt track.
Saturday was supposed to be one of the biggest days of the year with the $500,000 San Felipe Stakes, a Kentucky Derby prep for 3-year-olds, and the $600,000 Santa Anita Handicap for older horses.
Because of the spacing between the proposed re-opening and the Kentucky Derby, the San Felipe will not be rescheduled. "It's gone," Ritvo said. "Timing wise and because of sequencing [races every four weeks until the Derby] we just couldn't make it work.
Ritvo said the Santa Anita Handicap might be moved to Santa Anita Derby day, April 6.
Horses returned to the training track Friday mostly to exercise and stretch their muscles after being cooped up in the barns since Tuesday. The training track sits inside the turf course next to the video boards. It has a soft cushion and has recorded no breakdowns this meeting.
There were some anxious moments late Friday morning when the track siren sounded, signaling that a horse had either been injured or was loose. Two 2-year-old thoroughbreds had bumped into each other, and Sudden Mitch, a filly, was vanned off the course.
However, Erin Riefenberg, an assistant exercise rider for trainer Paul Aguirre, said the horse was in no distress and was perfectly fine, suffering nothing more than a bruise. The horse was taken back to her stall and exercises resumed.
In anticipation of races resuming in two weeks, many trainers were going to take their horses to Los Alamitos over the weekend for timed workouts. Flavien Prat, who was scheduled to ride eight horses at Gulfstream in Florida on Saturday, decided to stay home so that he could work out the horses he normally rides, an indication of the expectation that things would soon return to normal.
---
Get our high school sports newsletter
Prep Rally is devoted to the SoCal high school sports experience, bringing you scores, stories and a behind-the-scenes look at what makes prep sports so popular.
You may occasionally receive promotional content from the Los Angeles Times.