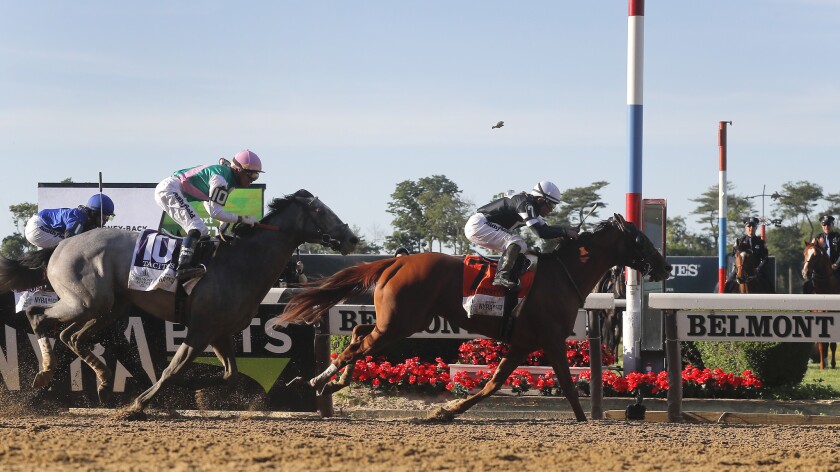 Reporting from Elmont, N.Y. —
Mark Casse has spent four decades in the horse training business chasing a dream. He wanted to be the best. Sure, he had seven wins in the Canadian Triple Crown and five Breeders' Cup wins. But that's not ultimately how your career is judged. He needed a Triple Crown win in one of the classics, the Kentucky Derby, the Preakness or the Belmont.
Saturday afternoon in front of 56,217 at Belmont Park, three weeks after winning the Preakness Stakes at Pimlico Race Course, he won his second American classic. This time there weren't the tears and emotion. He was very much in a been-there, done-that mode.
The other thing that was vastly different is it wasn't the horse most expected, the Preakness winner War Of Will. It was his "other" horse.
On the 100th anniversary of Sir Barton winning the Belmont Stakes, a second Sir, this one named Sir Winston, won the final leg of the Triple Crown.
"What can I say, it's just exciting," Casse said. "I could see where War Of Will was struggling a little bit [on the turn]. He looked like maybe he was a little flat [Saturday]. I saw [jockey] Joel [Rosario aboard Sir Winston] cut the corner a little bit. … So I went to riding Sir Winston."
Actually, it was Rosario who was doing the riding. Casse was just doing a little mental simulation.
It should have been a hint when Rosario got off Everfast, the second-place finisher in the Preakness, to ride Sir Winston, whose last race was a second in the Peter Pan Stakes. It was Rosario's second Belmont Stakes win, having previously won with Tonalist in 2014.
"He's a very nice horse and you have to let him do his thing," Rosario said of the colt he was riding for the first time. "I'm really happy. It seemed like he didn't mind [being] inside. I just took my time with him. … He was a little closer so I let him be where he was comfortable."
The start of the race was run in a very slow pace, not unusual for a 1 ½-mile race. Joevia and Tax went to the lead and loped along down the backstretch. Things started to get interesting midway through the far turn as the pack bunched up. Sir Winston was seventh after a mile and made it to third in the next quarter mile and moved to second entering the stretch.
Tacitus, the 2-1 favorite, was charging at the end but ran out of real estate, finishing a length behind Sir Winston. Because of the slow fractions, Joevia was able to hold on for third, followed by Tax, Master Fencer, Spinoff, Everfast, Intrepid Heart, War Of Will and Bourbon War.
Sir Winston, whom owner Tracy Farmer named after Winston Churchill, paid $22.40, $8.80 and $6.10.
"He's an amazing little horse," Casse said. "If at this time last year you had asked me to rate our top-20 2-year-olds, he would have been about 16th or 17th. But I'm very proud of him because he's kind of what our operation represents, and that is I feel like we develop horses.
"I have this philosophy. I start every horse out thinking that they are going to win the Kentucky Derby, or the Oaks. That's what I do. And I will try different surfaces. I will try different methods. With a horse like Sir Winston, you know, it paid off there."
Sign up for our horse racing newsletter »
Tacitus might have been slightly compromised by breaking from the 10 post. With a short run to the clubhouse turn he was three wide going around the big sweeping turns on this 1 ½-mile track, 50% bigger than Santa Anita and Del Mar.
"We did have a bit of a wide trip, which you never like," said trainer Bill Mott, who picked up his first Classic win this year when Country House was placed first in the Kentucky Derby after the disqualification of Maximum Security. "He came running and looked like he was traveling better than anybody. We planned to try and be in contention at the quarter-pole and he was. He just couldn't get there."
After the Triple Crown series, horses are given a short breather and pointed either to Monmouth, where they would run in the Haskell Stakes, or to Saratoga, where the Jim Dandy and Travers are the targets.
Casse said Sir Winston will be pointed to the Jim Dandy and he wasn't sure about War Of Will.
As for Casse, he's pointed to a legacy as a two-time Triple Crown race winner.
---