Kevin Anderson defeats John Isner in the longest Wimbledon semifinal; Nadal-Djokovic match suspended
Reporting from wimbledon, england —
They were supposed to be the warmup act, the undercard, the appetizer to a main course featuring superstars with 29 major championships between them.
But Kevin Anderson and John Isner — with zero Grand Slam titles to their name — doggedly refused to leave Centre Court.
Their relentless battle raged on so long, Isner became Wasner.
In a six-hour, 35-minute match between NBA-sized players whose serves could crack concrete, South Africa's Anderson finally pulled away to win 7-6 (6), 6-7 (5), 6-7 (9), 6-4 and a whopping 26-24.
"I tried as much as I could to just keep fighting," Anderson said. "I take a lot of pride in that. Fortunately, I was able to find a way over the finish line."
That secured him a spot in Sunday's final against either Novak Djokovic or Rafael Nadal, whose semifinal was suspended Friday night because of the 11 p.m. curfew at Wimbledon. That match will resume Saturday with Djokovic up 6-4, 3-6, 7-6 (9).
After that match is completed, Serena Williams will play Angelique Kerber in the women's singles final.
Isner's name was already synonymous with never-ending marathons. At Wimbledon in 2010, his first-round match against France's Nicolas Mahut was the longest in tennis history, lasting 11 hours and five minutes over three days.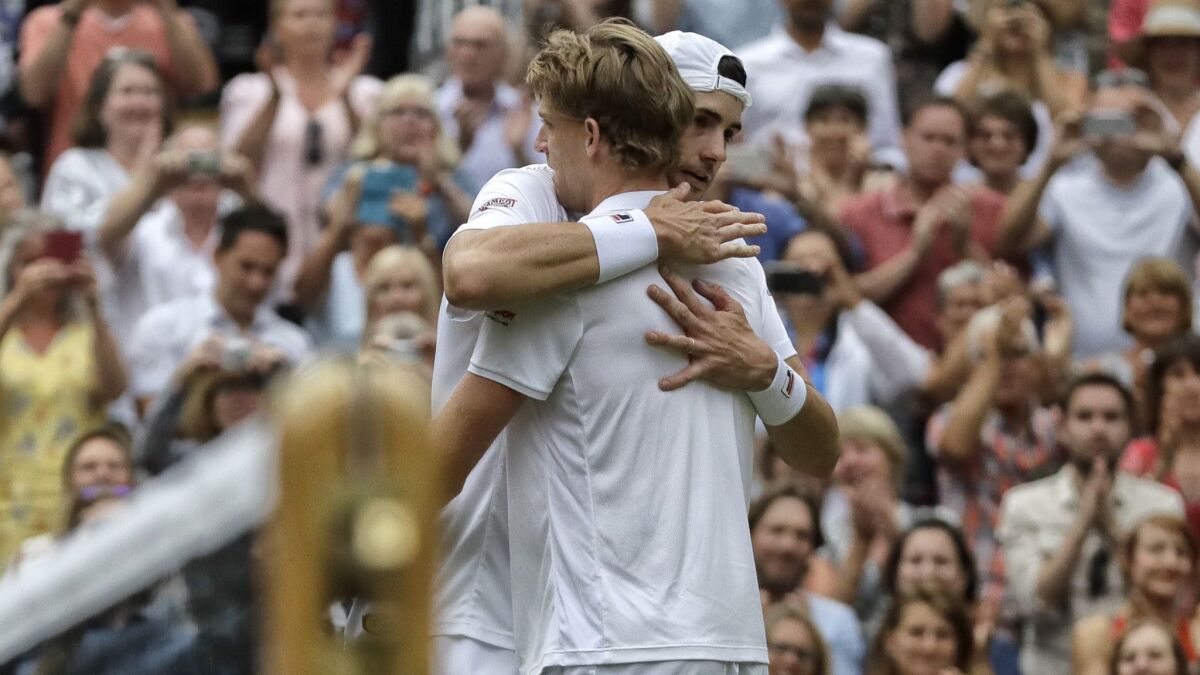 The fact that he has augmented his place in Wimbledon lore, with the two longest matches in the history of the tournament, means little to Isner.
"That's no consolation to me," he said. "I'm not going to hang my hat on that, for sure. It's more just disappointed to lose. I was pretty close to making a Grand Slam final, and it didn't happen … so that's that."
Nothing compares to that historic 183-game odyssey — the final set alone, at 70-68, went eight hours, 11 minutes — but people won't soon forget Friday's slog, which required officials to close the roof and turn on the lights for Djokovic-Nadal.
The 6-foot-10 Isner was looking to become the first American since Andy Roddick in 2009 to reach a Grand Slam final.
"I competed hard, that's what it comes down to," he said. "That's what I have to be proud of. It stinks to lose, but I gave it everything I had out there. I just lost to someone who was a little bit better at the end."
The signature moment for Anderson came in the second-to-last game of the fifth set, when he got jammed up on his backhanded return, stumbled and fell flat on his back. In the process, he dropped his racket. Instead of giving up on the point, he scrambled to his feet, grabbed his racket high on the neck with his off hand, and somehow kept the rally alive with a left-handed forehand. He wound up winning the point when Isner hit a shot wide.
That put Anderson ahead 30-love, and he ultimately broke Isner's mighty serve. One game later, the match was over.
"When I was younger, I had elbow surgery at a pretty young age. Actually played four or five months just with my left hand," Anderson explained.
"It was interesting because I hit it pretty well. I was reflecting that I wouldn't have thought back then that I was going to use a left-handed shot at the semifinals of Wimbledon."
Anderson came into the match 3-8 against Isner in the pro ranks, although the two played against each other in college when Isner was at Georgia and Anderson was at Illinois.
"He's one of the most professional players on tour," Isner said.
That's clearly paying off for Anderson, who has a chance to make good on something he was unable to do against Nadal in last year's U.S. Open — slam the door in the final of a major championship.
"Maybe I felt sort of my crowning achievement was actually getting to the finals," Anderson said. "Definitely hungry to go one step further."
The question for Anderson heading into the biggest moment of his career is, how does he recover after such a grueling match and be ready for Sunday? The semifinal came on the heels of a quarterfinal victory over the legendary Roger Federer that went to 13-11 in the fifth set.
"I actually went straight into the ice tank, then I did the stretching," Anderson said, referring to the Isner match. "I actually ate before stretching, as well. Obviously trying to get sort of food and nutrition back in my body is a challenge because you definitely don't feel like eating, but you have to somehow force it down. When I get back [Saturday], we have to sort of see. Obviously, I need a lot of treatment in terms of getting the body back balanced and stuff, but at the same time, obviously, sleep is important too."
Both Isner and Anderson said their match should rekindle the debate about having some type of tiebreaker in the fifth set at Wimbledon, perhaps one if the match is tied at 12-all.
"I mean, let's be honest," Anderson said, "I was thinking that during the match. I'm, like, 'It gets kind of ridiculous at some point in time when it's late in the fifth set, over 20-all.' I can feel the crowd, as I said earlier, they're pretty antsy for us to get off the court. They've been watching us for over six hours."
Now, Anderson has at least a few more hours to go. And he wouldn't trade them for anything.
Follow Sam Farmer on Twitter @LATimesfarmer
---
Get our high school sports newsletter
Prep Rally is devoted to the SoCal high school sports experience, bringing you scores, stories and a behind-the-scenes look at what makes prep sports so popular.
You may occasionally receive promotional content from the Los Angeles Times.