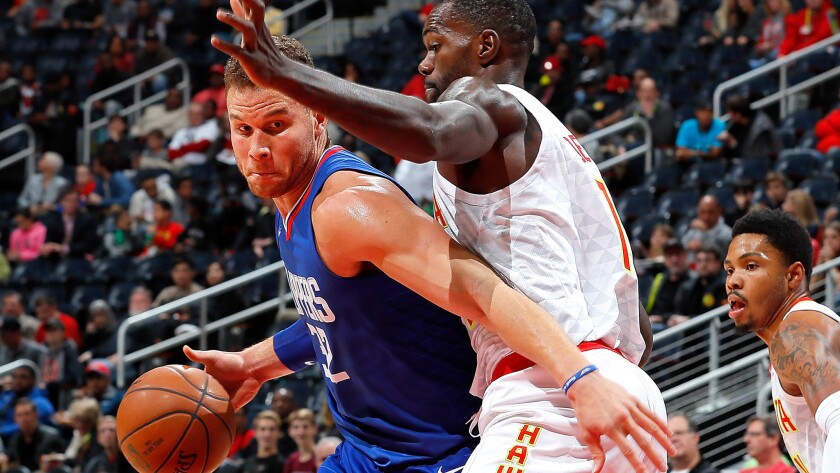 Reporting from Sacramento —
The first assist Blake Griffin delivered to a cutting Wesley Johnson in the first quarter might not have been an indication that a triple-double was on the horizon, but it was a signal of how the Clippers' best player was going to assert himself this night.
For those who have been around Griffin the longest, it was a sign of him demonstrating his leadership ability when the Clippers were in the throes of a losing streak and were in desperate need of a win.
Griffin rewarded his teammates' faith in him by producing the sixth triple-double of his career, a 26-point, 10-assist and 10-rebound virtuoso performance against the Atlanta Hawks on Wednesday night that couldn't have come at a better time.
"I thought Blake's leadership and the way he played was him showing his leadership ability," Clippers coach Doc Rivers said. "I told him, 'You don't have to talk. It's how you act and your actions.' And it was beautiful to watch.
"I thought DJ [DeAndre Jordan] followed and then Austin [Rivers] followed, and I thought they all followed each other. I thought that was really good."
It had been three weeks since the Clippers last won a game, a nine-game losing streak weighing on them. Then the news got worse before they broke the string of losses.
Point guard Patrick Beverley was lost for the season after he underwent an arthroscopic surgery to repair the lateral meniscus and a microfracture procedure on his right knee.
So the Clippers needed someone to uplift them.
And it turned out to be Griffin.
After his first-quarter assist to Johnson, Griffin found Austin Rivers for a dunk and then hit reserve center Willie Reed with a lob pass for a dunk.
"It's huge for us when he's scoring, he's rebounding the basketball and he's a play-maker," Jordan said. "When he's playing like that, we're clicking on all cylinders. So when he's out there scoring, being aggressive and finding other guys and getting other guys easy buckets, we're a really good basketball team."
Griffin had been upset with his play in recent games, saying he could and should have been better.
So he was intent on being better, much better, against the Hawks.
"That was my focus coming into this game," Griffin said. "I thought I did a really poor job in the Knicks game. There was time I should have passed the ball on the break or whatever it was. I was watching the film of that game a couple of times, and I was [mad] at myself. So I made a point of emphasis to really get guys going offensively, passing the ball. Rebounding the ball is always a big thing."
Griffin's teammates were fully aware that he was closing in on a triple-double as the game proceeded.
They wanted him to get it.
"They were all yelling at me on the bench to get one more rebound," Griffin said, smiling. "I almost turned around and told them to shut up. I mean, it's cool, but ultimately this win is the thing we were all chasing."
UP NEXT
AT SACRAMENTO
When: 7 p.m.
On the air: TV: Prime Ticket; Radio: 570, 1330.
Update: The Clippers have won nine consecutive games in Sacramento, their longest road winning streak against the Kings in franchise history. Sacramento has the second-worst record in the Western Conference at 5-13. The Kings are averaging just 94.3 points per game, last in the NBA, and are shooting 43.3% from the field, 26th in the league.
---