Column: From the back of the Lakers bench to center stage, Ivica Zubac gets his points across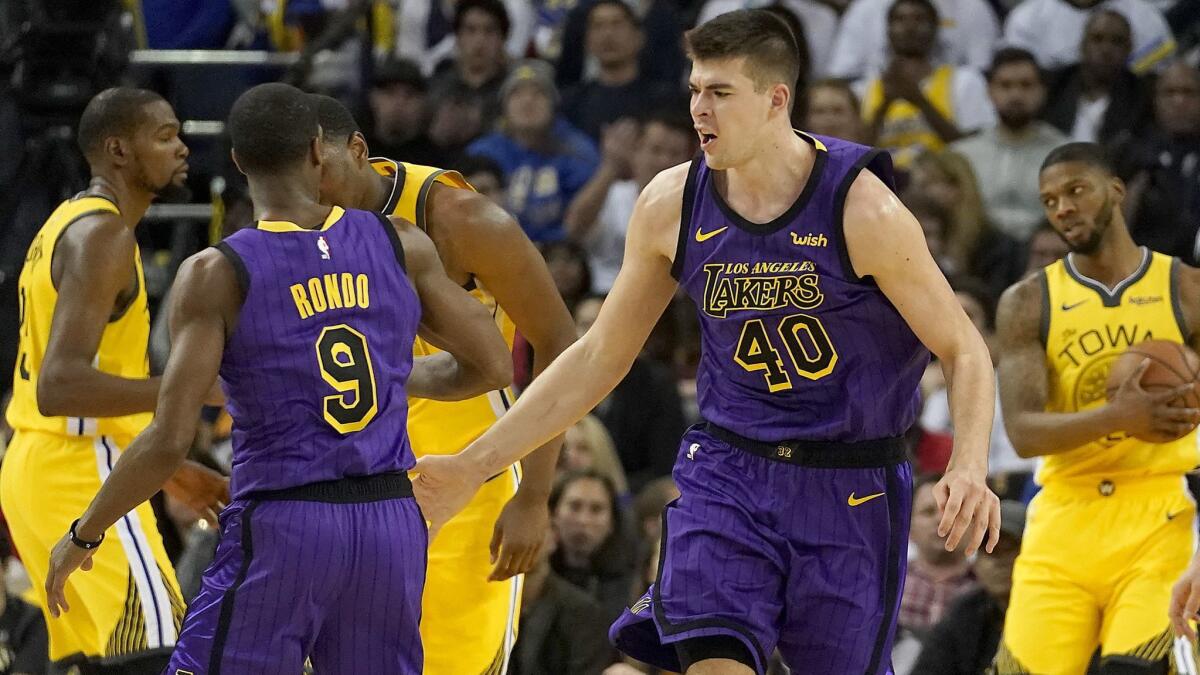 Reporting from Oakland —
A full month came and went, and if Lakers center Ivica Zubac didn't wear a uniform under his warmups, there was a good chance no one would've noticed.
Twenty times, Zubac came to the gym with the Lakers only to get as much run as the ushers. And when he did play, it was sparingly, either in specific situations or mop-up duty — never as a real part of the Lakers' plans.
But injuries and illness in the last week have put the Lakers' third-team — and sometimes fourth-string — center squarely in the mix, hungry for more minutes after three straight stellar games.
The most recent, Christmas night in Oakland, had the 21-year-old dominating the defending NBA champions, scoring 18 points (on nine of 10 from the field) to go with 11 rebounds and a pair of blocked shots. Stephen Curry, Klay Thompson and Draymond Green combined to score just six more points than Zubac.
But now, with JaVale McGee close to returning from pneumonia that sent him to the hospital, there's some strong data that suggests the Lakers shouldn't rush their old starter back.
"I think I'm doing good. It's not up to me, but I think I deserve some playing time," Zubac said after the Lakers stunned the Warriors127-101 on Tuesday.
Zubac was masterful in pick-and-rolls with Rajon Rondo, thrust into a more prominent role because of LeBron James' second-half groin injury. He scored on put-backs. He raced down the court and got an easy dunk.
So how was it that this third-year big man had one of his best games on the NBA regular season's biggest day against the league's best team with so many eyes watching? It happened because of the games he played when no one was around.
Zubac, like many reserves who don't get regular minutes, had to seek out three-on-three games to try to keep his legs ready. And during the last month of those games, he had the good luck to find himself teamed up with Rondo, who was rehabbing from a broken hand.
The two players, who developed chemistry early in the season before the team signed veteran center Tyson Chandler, pushing Zubac out of the second team, destroyed Golden State down the stretch despite having appeared in only five games together all season.
And those three-on-three games played a significant role.
"I know how to play the pick-and-roll game. And Rondo is one of the best guys to do it," Zubac said. "It feels like I've been playing with him for a long time. And I always know where to be and he knows where I'm going to be and he knows how to find me."
Rondo and Lonzo Ball both praised Zubac's hands — he can catch bounce passes in tight spots, a skill not every big man possesses.
Tuesday, the Lakers were 25 points better than the Warriors when Zubac was on the floor — his third straight game in the starting lineup with a plus/minus of better than 13 points. Rondo, in just his third game back, was second at plus-24.
"He took over the game," Golden State coach Steve Kerr said of Rondo.
With James down, the Lakers relied on the veteran point guard to stave off the Warriors' pressure, a kind that can build quickly on their home floor. But Rondo was there to sweep through the lane and start the fourth quarter with a right-handed hook high off the glass. And Rondo was there to sink an uncontested three-point shot after Zubac kicked the ball out.
The Lakers had hoped to keep either James or Rondo on the court at all times against the Warriors, a show of respect for the two-time defending champions and their ability to demand so much of opponents. But without James for most of the second half, it all fell on Rondo and he delivered.
"We're working on becoming a team that can handle that type of adversity," Lakers coach Luke Walton said. "But losing LeBron, playing the champs, them getting hot, Oracle [Arena] getting the way it did? Who knows [if we could've done it without Rondo]? But we're happy we have Rondo, and we didn't have to find out."
Rondo and Zubac have become efficient in their limited time together. According to two-man rotation data, the Lakers are 35.1 points per 100 possessions better than their opponents in the 61 minutes Rondo and Zubac have been on the court together. No other grouping of two players who have played that much or more this season has been better.
The three-on-three games on practice courts and in empty arenas before and after shootarounds helped Rondo and Zubac play with cohesion. They also aided Zubac's ability to take advantage of McGee's illness and Chandler's back spasms, the court time keeping him in shape and as sharp as possible.
"Mentally, it's the worst," Zubac said about being out of the rotation.
"Everyone is saying 'You've got to stay ready, you've got to stay ready.' And you know you can play. You know there are a lot of guys ahead of you in a rotation. And you've got to wait until someone goes down. That's your only chance and you've got to step up. If you don't step up in that time, then you're not playing the next 20 games."
He's certainly stepped up — and you could see it when he sat down Tuesday.
As he walked off the floor, his team having sent Warriors fans home early because of the lopsided fourth quarter, Zubac got his hand slapped by every coach and teammate as he moved past. Chandler rewarded him with a hug.
Zubac sat down and threw his arms over the empty chairs on each side. Soon, Rondo, after getting the same treatment from the Lakers' bench, sat down next to him.
Their work, for the day, was through. And this time, everyone got to watch.
Twitter: @DanWoikeSports
Get our high school sports newsletter
Prep Rally is devoted to the SoCal high school sports experience, bringing you scores, stories and a behind-the-scenes look at what makes prep sports so popular.
You may occasionally receive promotional content from the Los Angeles Times.