LeBron James is again the free agent who moves the NBA needle
Dirk Nowitzki was fast asleep, across an ocean and past four countries, when his phone came to life with the news the rest of the NBA anticipated in July of 2010. The key that unlocked all the rest of free agency had finally been turned. LeBron James made a decision.
Nowitzki's phone wouldn't be ignored.
So he woke up to the incessant buzzing around 3:30 a.m. in Germany and checked his messages. James was headed to Miami.
"It just came a little bit out of nowhere," Nowitzki said.
Nowitzki was a free agent that summer, but by the time James' ESPN special aired to announce his move, Nowitzki had already re-signed with the Dallas Mavericks, the team with which he has spent his entire career.
Nowitzki was curious then, and he's curious now about what James will do this summer.
"I mean I guess everybody is. Every team that has cap space has a little LeBron hope."
With that hope turns the future of the NBA's story.
James, now in his 15th season, still rules the NBA. Sunday he'll play in his 14th NBA All-Star game, this one at Staples Center. The mere thought of his free agency causes teams to salivate and covet salary cap space. The question of where he is headed, if he is headed somewhere, dominates the NBA landscape.
"Even if you don't like it, you gotta respect what he's doing because of the fact that he's doing it like it is a business and he's keeping all his options open," said Byron Scott, who officially became the Cleveland Cavaliers' head coach the day James officially became a free agent in 2010. "He's making sure he is holding the NBA, the teams, pretty much everybody hostage."
::
Whether the Lakers actually have a chance at James this summer or next summer is unclear. There is a sentiment in some circles, both inside the Lakers' organization and around the NBA, that the Lakers' young talent might need more time to mature before they can fully take advantage of the addition of a star like James.
But the Lakers have spent the last year preparing for the opportunity to try, and this year's trading deadline quickly became a day that was very much about James.
The Lakers haven't had a superstar since Kobe Bryant retired in 2016. They haven't had a superstar who could change the direction of the franchise for a few years before even that.
With the knowledge that James could become available this summer, president of basketball operations Magic Johnson and general manager Rob Pelinka laid out a very clear path — they would find a way to get enough salry cap space to have room for two superstars. It wasn't a decision only about James, but it was a plan with James in mind.
At the trading deadline, the NBA landscape shifted dramatically and two teams were clear winners — and both had helped each other get there.
The Cavaliers remade their roster to one that could better compete for a championship, and perhaps better convince James to stay. As part of their makeover they traded Isaiah Thomas and Channing Frye to the Lakers for young players Larry Nance Jr. and Jordan Clarkson.
The Lakers also got a first-round draft pick, which they didn't have before. Trading Nance and Clarkson allowed them to clear enough cap space that with a few more moves they would have the room to sign two players to maximum deals.
"More power to LeBron James," said Reggie Miller, the Hall of Famer who is now an analyst for TNT. "I don't think he's holding the league hostage. I think it's Cleveland and Dan Gilbert. … More power to LeBron. As a player you always want that power. Only a few in the game over the years have had this type of power. Why not exert it?"
It was like this in 2010. It was like this in 2014, when James' pending decision paralyzed the NBA's free-agent market.
"These guys, when they become free agents, the world stops until these guys decide," said one NBA coach, who can't speak publicly about free agency due to NBA rules. "Nothing will happen on any other teams most likely until he decides."
James ultimately chose to return to Cleveland, and announced the move in an exclusive piece in Sports Illustrated.
Last June, Forbes Magazine estimated James makes $86 million a year between his NBA salary, endorsements, his production company SpringHill Entertainment and his investment in Blaze Pizza. That estimate included the $31 million he made last season from the Cavaliers. This year James makes $33 million. While he hasn't changed teams since 2014, he has opted to become a free agent since then, having signed shorter deals that give him the ability to capitalize on his constant, and sometimes increasing importance.
"He's still the most sought after free agent?" said former NBA star Chris Webber. "That's ridiculous. Maybe a couple years ago I would've agreed with that. In full context the fact that he's a free agent that garners this kind of attention in his 15th season is flat-out ridiculous."
He has this power because he is still this good.
::
An entire decade separates Suns teammates Jared Dudley and Devin Booker, but both still have a vivid memory of the first time they faced James.
Booker was a teenage rookie in 2015 who saw James coming at him full speed and did the only thing he could think to do.
"He's a freight train," Booker said. "I had to stop him somehow so I gave him a hard foul. … I think he just looked at me."
Not long after that James would say in an interview that Booker was a future All-Star.
Dudley remembers the first time he faced James vividly too. He's only a year younger than James, but he came into the league four years later. He was a rookie for the Charlotte Bobcats and the Cavaliers were one of the better teams in the Eastern Conference.
"Athletic as he is right now, he was even more athletic," Dudley said. "His jump shot was streakier than it is now, but he was so explosive in transition off the pick and roll, getting downhill. He's so big if you don't have a good angle on him, when he gets you on his hip there's nothing you can do."
His mental acuity has only improved over the years. Physically, he's held off the kind of atrophy that naturally comes with age. The result: His 26.5 points a game are the most he's scored since the 2013-14 season. His 8.9 assists a game are the best of his career and his 8.1 rebounds a game rank among the top three averages in his career.
"One thing that's overlooked when it comes to guys like LeBron James is the mind and how smart he is," Dallas coach Rick Carlisle said. "And how he's learned to manage the game, manage making his teammates better, putting himself in positions to succeed wildly."
Booker might have been onto something about what it takes to successfully face James. One takeaway Lakers forward Luol Deng had from battling him in high stakes Eastern Conference games for years was that you can't let his physicality go unchecked.
"It's definitely one of those guys from the get-go you gotta let him know you're also physical," Deng said. . "If you're not, he's gonna take advantage of that."
He still does. It's why he is still this powerful.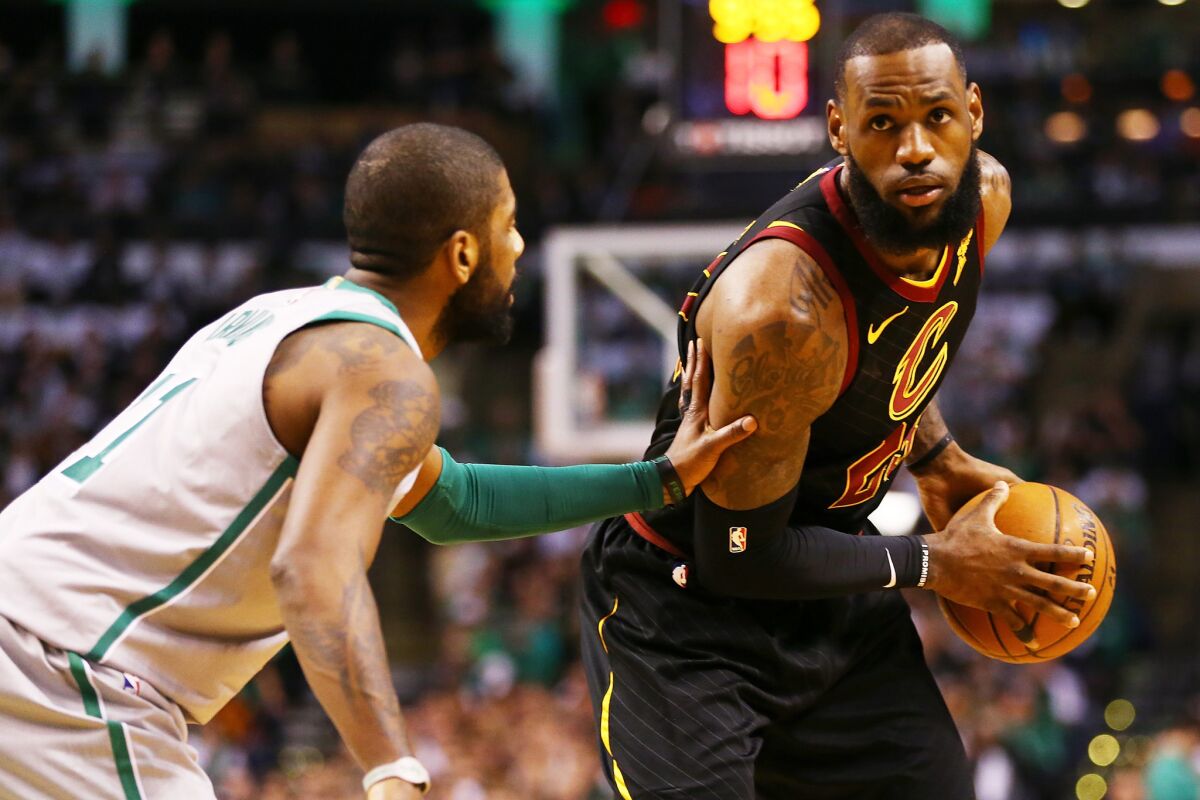 "For players like that who [people] constantly, every year talk about as an MVP candidate, you're always going to have that level where everybody wants you," Deng said. "And plus for what he created in his career, whether it's basketball or not, you want him on your team especially if you want to make money."
::
Scott still can't help but be impressed, even eight years later.
He entered the LeBron James sweepstakes in 2010 a little bit blind. He had coached at New Jersey and New Orleans before being hired by the Cavaliers. He didn't know James at all when they met during a workout that summer. He didn't know what James was thinking, what he planned for his future. Scott knew his Cavaliers had a chance to keep James, but he had no idea how good of a chance. And when he sat down with James and faced the man, when the Cavaliers asked their franchise player to stay, one thing stayed with Scott.
"He didn't show his hand, not one time," Scott said. "He was very businesslike in his approach. It wasn't people coming in there and he gave everybody hugs. You could tell this was all about making the right decision for him and his family. … I respected everything he did at that particular point."
They were one of six teams vying for James' services. Six teams who saved the cap space, who tried different ways to make themselves more attractive to the most dominant player in the game — a player around whom not just free agency, but the whole summer centered.
That was nearly eight year ago. LeBron James ruled the NBA. Barack Obama was president of the United States. Instagram didn't exist. The iPad had just released its very first model. Lady Gaga wore that dress made of meat.
Scott was at the Cavaliers' practice facility when he watched "The Decision." He turned off the television and turned his attention to a Summer League practice. When he drove home he found himself surprised at the anger over one man's free agency decision.
"Seeing people burning jerseys, seeing the big picture of LeBron on the side of the building being halfway down," Scott said. "I was a little surprised at how the people of Cleveland took that, because again he was, he had the right to make a choice to be able to go wherever he had to go."
That kind of passion surfaces only when a player means that much.
---
Get our high school sports newsletter
Prep Rally is devoted to the SoCal high school sports experience, bringing you scores, stories and a behind-the-scenes look at what makes prep sports so popular.
You may occasionally receive promotional content from the Los Angeles Times.