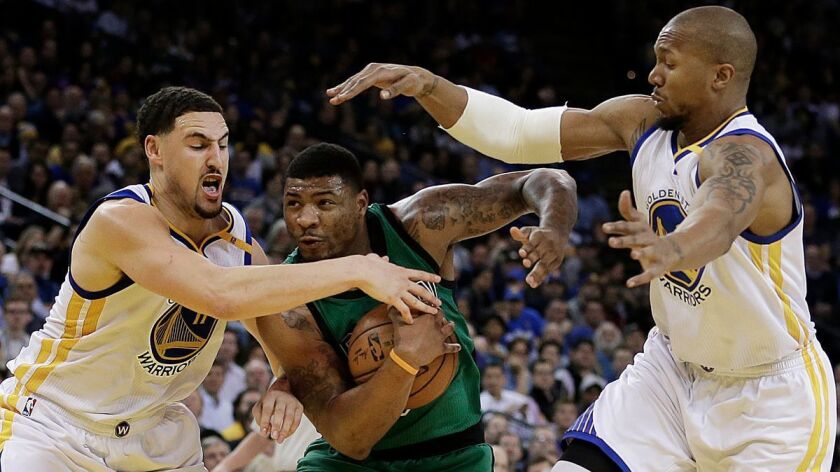 Golden State usually plays with impeccable timing for how the ball and bodies move on offense and how the Warriors switch and slide on defense.
Their timing of late has been more like getting a zit before the prom. The combination of losing Kevin Durant to a knee sprain at the tail end of a road-heavy schedule stretch brought out unseen Warriors blemishes.
After losing three times in 22 games, the Warriors lost three times in five games once Durant was hurt. The ultimate finishing crew digressed into their two worst fourth quarters of the season — 12 points vs. Boston and 14 points vs. Chicago. They failed to reach 100 points twice in 59 games with Durant and matched that in their first four full games without him.
A stretch of 17 road stops in 24 games ended Saturday night but figuring out how to get cleaner three-point looks, bench bursts and Klay Thompson's All-Star form is on the agenda to prevent a slip to the No. 2 seed. Such a fall could set up a made-for-television Warriors-Thunder series in the first round.
Boogie and Brow bedeviled
DeMarcus Cousins and Sacramento lost regularly for years. New Orleans has lost more than 60% of its games for two years with Anthony Davis.
Joining them has been no quick fix for either.
The early ratings on the Pelicans' "Boogie and The Brow" show are low. In a pace-and-space, three-spree league, pairing two big men on the fly has proven difficult for a New Orleans team that lacks perimeter players.
Initial optimism for a run at the Western Conference's eighth seed has been dissuaded by Davis' wrist injury, Jrue Holiday's steep drop-off since Cousins arrived and Cousins' inefficient, foul- and turnover-prone play. The Pelicans did down Detroit this month … on the night Cousins was suspended for his 18th technical foul of the season.
30K club
Now that Dirk Nowitzki has made the NBA's 30,000-point club a six-pack, who's next?
Barring serious injury, LeBron James will reach the mark next season and still only be 33 years old with time to chase down Kareem Abdul-Jabbar before he retires.
Beyond James, the candidate list gets sketchy. Paul Pierce and Vince Carter won't get there. Carmelo Anthony is the next closest with nearly 24,000 career points but he might need four or five more seasons to reach 30,000 in light of his recent performance and a 33rd birthday coming in May.
Dwyane Wade needs almost 9,000 points and seems closer to retirement after a 35th birthday.
Durant would have hit 20,000 points this season at age 28 if not for his knee injury, just as foot surgeries benched him for most of 2014-15. Barring continued health problems, Durant could reach 30,000 points with five more seasons.
Beyond that, it would probably have to be someone from the young guard, like Anthony Davis, who is nearly one-fourth of the way there at age 23. This season's scoring leader, Russell Westbrook, is not even halfway there and falls in a similar age range (27 to 28) as James Harden and Stephen Curry, making their chances less plausible.
Leonard's pHun advice
Reporters do not get many words and less insight out of San Antonio star Kawhi Leonard.
A GQ interview with Leonard on his diet was heading that way with revelations like Leonard tries to eat fresh food, chicken, fish, vegetables, fruit and egg-white omelets.
Then he closed with a gem.
"Stick to alkaline waters with a higher pH," Leonard told GQ. "Trust me."
"Stick to Antoine Walker" at the three-point line might have made more sense.
Brooklyn's B.I.G. honor
The Nets found a way to make one of their games a B.I.G. deal in this horrendous season.
Their Sunday game against New York is being billed as "Biggie Night" to honor Thursday's 20th anniversary of the murder of rapper the Notorious B.I.G. (Brooklyn-born Christopher Wallace). Sean "Diddy" Combs and Wallace's mother, Voletta, will participate in the festivities at Barclays Center, where Biggie Smalls' music has been a fixture at Nets games.
It is strange that the NBA-worst Nets will be playing the Knicks. In his 1996 song "I Got a Story to Tell," B.I.G. raps about having sex with a Knicks player's girlfriend while he was playing against Utah.
Looking ahead
Cleveland at Houston
Monday, 6 p.m. PDT. TV: ESPN
MVP candidate James Harden gets another crack at four-time MVP LeBron James, whose Cavaliers beat Harden's Rockets, 128-120, in Cleveland way back on Nov. 1 despite Harden's 41-point, 15-assist game. That was a rare Rockets loss during the team's 31-9 start but Houston has played roughly .500 ball since then. The Cavaliers had recent losses in games and personnel (Andre Bogut fractured his tibia in his team debut) but J.R. Smith returned from a 35-game absence. He adds to the duel between the NBA's most prolific three-point shooting teams.
---