What's trending this week in the NBA: DeMarcus Cousins, Jason Kidd and Andre Drummond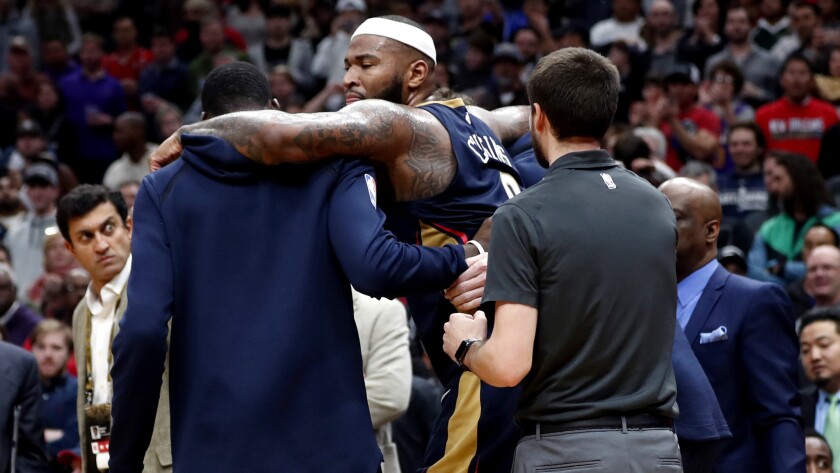 A look at what's trending this week in the NBA:
Cousins' and Pelicans' futures in peril
With a snap of DeMarcus Cousins' left Achilles tendon, his future and the New Orleans Pelicans' fate took ominous turns.
The NBA loses one of its most unique talents and the hope is that he can recapture it as he enters his prime. Cousins was averaging 25.4 points, 12.9 rebounds and 5.2 assists a games and had become the first NBA player in 50 years to post a line of at least 44 points, 24 rebounds and 10 assists on Monday. Only Wilt Chamberlain (three times) and Elgin Baylor had done it previously.
Cousins was on his way to his first All-Star start next month and an offseason payday as mammoth as his presence in the paint. He was refining his image from six Sacramento seasons just in time to be in line for as much as a five-year, $170-million offer from New Orleans as an unrestricted free agent this summer.
But that personality baggage now totes an Achilles injury. It could either go as well, as it did for Rudy Gay's comeback to career-best efficiency this season in San Antonio, or as poorly as it did for a somewhat comparable big man, Elton Brand, after he left the Clippers in 2008. Brand never recaptured All-Star form.
That brings up the future of the Pelicans, who are in a critical franchise position that was on the rise with the team's recent push. Cousins was the type of player who could help keep All-Star forward Anthony Davis in New Orleans, where the organization is handcuffed from doing much else after bad contracts for the likes of Omer Asik and Alexis Ajinca and excessive salaries for key players Jrue Holiday and Solomon Hill.
Cousins and Davis were on track to be the first frontcourt teammates to each average 25 points since Larry Bird and Kevin McHale did it for Boston in 1986-87.
The Pelicans were closer to the No. 4 seed than the No. 9 position, but losing Cousins will make it easier for the Clippers to climb back into playoff position now that Blake Griffin is back. The Clippers and Pelicans have three games left against each other.
Despite the injury, New Orleans might still be inclined to pay big for Cousins because it must capitalize on having Davis and show him its dedication to winning. New Orleans has only been in the playoffs once (2015) since Chris Paul departed after the 2010-11 season, which puts general manager Dell Demps and coach Alvin Gentry on watch.
Gentry made the unique Davis-Cousins pairing work brilliantly but now the Pelicans go back to having a substantial performance drop-off each time Davis gets a breather.
Kidd-like behavior
Jason Kidd's firing as Milwaukee head coach came as the Bucks slid to the bottom of the Eastern Conference playoff picture and before the return of Jabari Parker.
The timing of Kidd's firing and Parker's return appear to be related after reports of a strained relationship between the two.
Kidd had left his Brooklyn job for Milwaukee in 2014 because of his relationship with Bucks co-owner Marc Lasly, but the Bucks never delivered on Kidd's defensive vision. Milwaukee's defensive rating worsened this season despite improvement from All-Star Giannis Antetokounmpo and has been in the league's bottom half for each of Kidd's three season as coach.
Milwaukee had a losing record since mid-December and Kidd repeatedly made references to his "young team" and "kids that are thinking about trying to put the ball in the basket" as a reason. Milwaukee is young, but Parker, 22, has not played during knee rehabilitation and Anteokounmpo, 23, is the star surrounded by role players in their late 20s.
The Bucks were a playoff team with expectations for more, especially after trading with Phoenix for Eric Bledsoe. But given what the Journal Times in Racine, Wis., reported, Kidd would not have minded being included in the deal because he had shared internally that he was interested in coaching the Suns.
Number crunching
— Russell Westbrook and James Harden each have led his team in assists while posting a 40-point game 36 times, the most among active players.
— On Wednesday against Utah, Andre Drummond posted the first 30-point, 24-rebound game for Detroit since Bob Lanier had 40 points and 24 rebounds in 1974. He also was the first NBA player to have that line and six blocks since Shaquille O'Neal in 2004.
— On Friday against Indiana, LeBron James became the first player to have a conventional triple-double while also making at least 10 turnovers since Kidd did so in 2000.
— Before Saturday's loss to the Warriors, Boston was 24-0 when outrebounding its opponent this season.
---
Get the latest on L.A.'s teams in the daily Sports Report newsletter.
You may occasionally receive promotional content from the Los Angeles Times.