Reporting from Oakland —
When Golden State guard Stephen Curry touches the basketball on his court in his arena, the fans begin to rumble.
It starts with the first dribble and begins to build, like water coming to a boil. And when the ball finally leaves Curry's right hand, the Oracle Arena crowd is desperate to see the ball go through the basket so they can release the roar that's been built inside.
But he just couldn't get them there. He missed his first shot, and instead of a cheer there was a groan. Then a make — and a cheer — and four more misses and sighs.
But Curry was going to give the Oracle Arena fans their moment. They needed it.
And Sunday he needed it.
Curry's third-quarter explosion — three-pointers from so deep they should've counted for four, one-handed drives that ended with F-bombs and celebration shimmies — sealed the Rockets' Game 3 fate and put Golden State squarely in control after a 126-85 win.
"Everybody was trying to will him early to making one of those threes. He was missing," Golden State coach Steve Kerr said. "Then once the dam broke in the third quarter …"
"It was like an avalanche," Curry said.
Snowed in were the Rockets, completely overwhelmed in their most lopsided loss in their postseason history. The Warriors scored 72 points in the second half, turning Game 3 into an absolute blowout.
And in the chaos, Curry reemerged from a two-game shooting slump as an unstoppable force capable of turning 10-point leads into 20-point ones in a blink.
Curry scored 18 of his 35 points in the third quarter, making all seven of his field-goal attempts. It started with three driving layups before Curry launched and connected on a 30-footer that sent Houston coach Mike D'Antoni in hysterics on the Rockets sideline.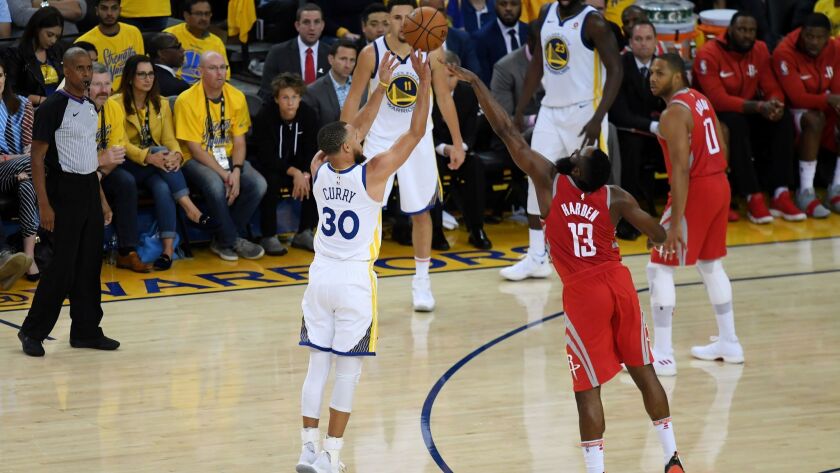 As his team walked towards the bench, Curry stopped near midcourt and flexed his muscles while the crowd roared. Two possessions later he hit another three-pointer (the first time this series he had made two shots in a row from deep) and celebrated with a shoulder shake.
Then after a Houston miss, Curry came off the three-point line to make a one-handed layup. The eight points came in 98 seconds, and the Rockets never got within 20 points again.
After the stretch, Curry, who usually speaks with a Disney-friendly vocabulary, looked into the Oracle Arena seats and shouted, "This is my (expletive) house."
That emotion he had created – he was caught up in it, too.
"His three is similar to some people's dunk. You go to certain arenas and a guy gets a dunk and it's just absurd. That's how his three ball is," Golden State forward Draymond Green said. "… I think he had a great quarter there in that third quarter. I don't mean to disappoint, but I've seen crazier from him."
It's hard to imagine anyone can see crazier from the Warriors — or from the Rockets, for that matter.
After being carved apart by the Rockets' dribble penetration in Game 2, the Warriors didn't budge when James Harden and Chris Paul tried to work their way into the paint. The two combined to shoot 12 of 32 from the field, responsible for six of Houston's 20 turnovers.
Even before Curry got hot, the Warriors controlled the game.
"We knew we were going to get a great game from them being back here at home, but we've got to be better Game 4," Paul said.
The Rockets were able to bounce back after losing the series' opening game, but that was in Houston. And, that was before Curry, fueled by his hometown fans, had gone nuclear.
"It only takes one," Kerr said.
And then he, the Warriors and their fans all woke up.
"You could feel the building shaking," Warriors guard Shaun Livingston said.
And as Curry drained shot after shot, you could feel the Rockets start to shake, too.
Twitter: @DanWoikeSports
---