Column: Russell Westbrook's 'next question' act hides his inspirational 'why not?' story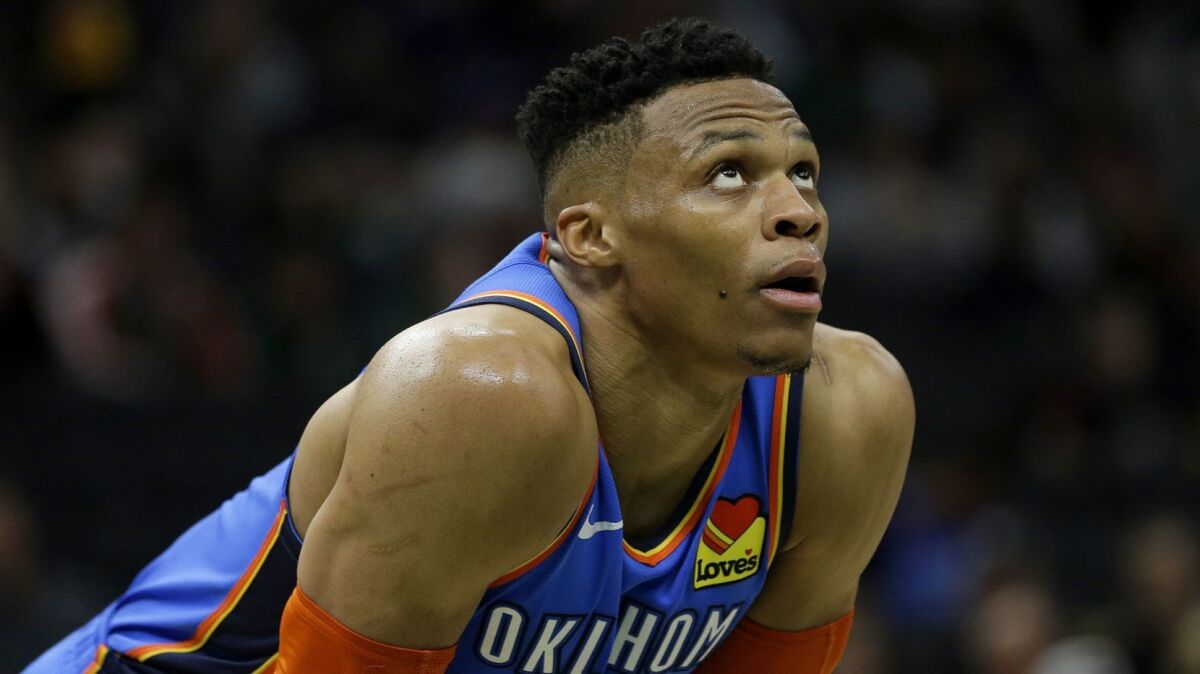 "Next question."
These two words came to define Russell Westbrook this season.
Westbrook answered every question from Berry Tramel, a sports columnist at the Oklahoman, with the same refrain. It became a trending topic after his games and when his season ended Tuesday, the Trail Blazers' official Twitter account posted the final score with those familiar two words.
It was sad.
Not because Westbrook was acting unprofessional but because that wasn't the Westbrook I knew when he played at Leuzinger High in Lawndale and later at UCLA.
Ask the two words that came to mind when I thought of Westbrook before the season it would have been, "Why not?"
It has been Westbrook's mantra since he was in high school. To this day, Westbrook wears a bracelet with "Why not?" on one wrist and "KB3" on the other.
The "KB3" represents Khelcey Barrs, who was a 6-6, 200-pound small forward at Leuzinger when Westbrook was a 5-foot-8, 140-pound freshman guard. When former UCLA coach Ben Howland first made a recruiting call to Leuzinger coach Reggie Morris, it wasn't about Westbrook, it was about Barrs.
Westbrook and Barrs lived across the street from each other and were inseparable. When they were playing pickup games, they dreamed of being teammates in college and in the NBA, although that dream always seemed more realistic for Barrs than Westbrook when they were younger.
The dream came to a sudden end when Barrs collapsed during a routine pickup game with some of their friends and teammates at Los Angeles Southwest College. Barrs, who had an enlarged heart, was later pronounced dead at Centinela Hospital Medical Center in Inglewood.
Four days later, Westbrook attended his best friend's funeral at Grace Methodist Church — down the street from where they were supposed to be playing basketball together — and was never the same. The 15-year-old kid became a man at that moment. He took on Barrs' chores and work ethic. Westbrook would take out the trash for Barrs' grandmother, just as Khelcey had done for her every week, and dedicated himself to achieving their goal of playing for a big time college basketball program and being in the NBA.
"I feel like I'm playing for him in a way," Westbrook once told me. "We were playing pickup basketball one day and he just stopped and fell and out of nowhere and that was it. I always think about him and his family and I wonder how they're doing and check on them any chance I get."
It was during this time that "Why not?" became the two words he lived by. In his mind there was no reason he couldn't get a UCLA scholarship, be an NBA lottery pick, become an All-Star, win MVP and average a triple-double in back-to-back seasons. When anyone told him he couldn't, he would simply say, "Why not?"
"It's how I think," Westbrook had told me. "It's how I play and go about things. I say, 'why not' to everything."
It's sad Westbrook allowed "next question" to overshadow a season where everyone should have been telling the story behind, "Why not?"
::
Reggie Bush is not allowed at USC games or practices because of NCAA sanctions but said that won't prevent him from trying to help his alma mater. Bush — who will be on a new college football pregame show this fall with former USC teammate Matt Leinart, former Notre Dame quarterback Brady Quinn and coaching great Urban Meyer — said he and Leinart would recruit Meyer to come out of retirement and take the USC job if Clay Helton struggles again this season.
"We'll definitely be recruiting him," Bush said. "What makes you think we won't be recruiters? Nothing is off the table."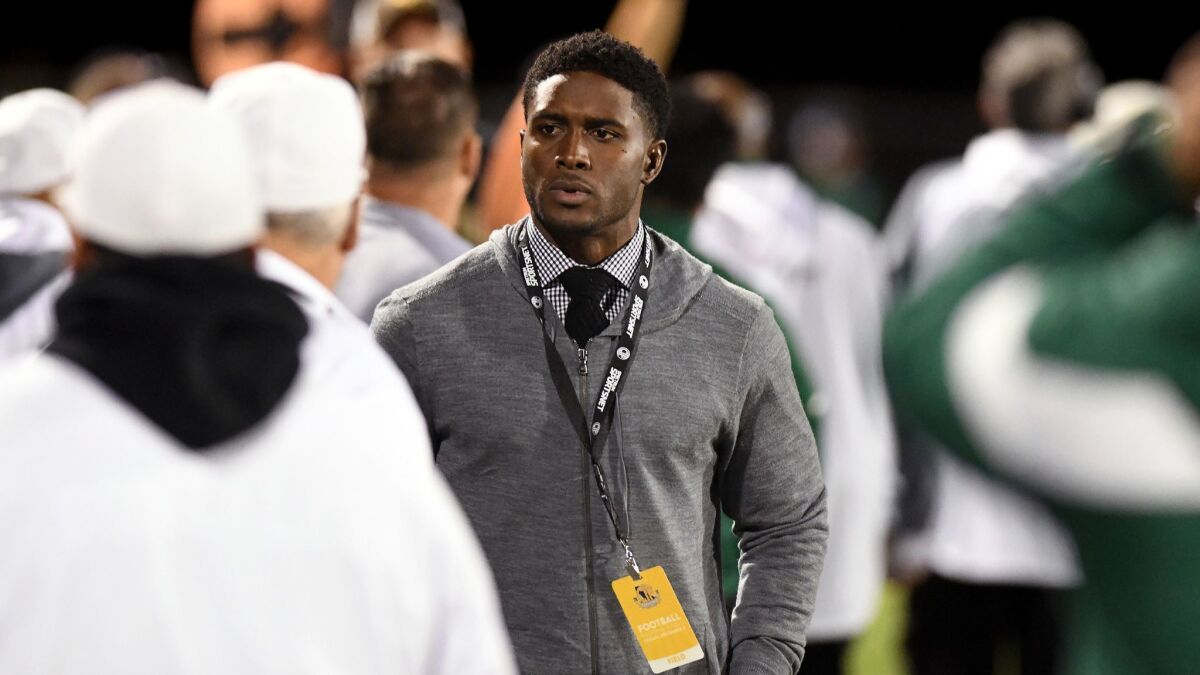 Meyer, who will be traveling to Los Angeles weekly during the college football season for the show, said he has no interest in coaching right now but certainly didn't close the door to returning in the future.
"I believe I'm done but I've also learned to just live in the moment," Meyer said. "I love what I'm doing and I hope I do this for a long time."
Bush said he believes Helton is on the hot seat after the Trojans went 5-7 last season, the program's first losing record since 2000.
"They have to win the division," Bush said. "This is a put-up-or-shut-up season for them, especially for Clay Helton. I'm looking to see drastic improvements. People have to be held accountable and players have to be held accountable. They have to create an environment there where players really understand the tradition of winning that came before them."
::
The Lakers were already the best reality show in Hollywood and now comes word that Adam McKay — who wrote, directed and produced "Vice" — will direct an HBO series on the Showtime Lakers inspired by Jeff Pearlman's book, "Showtime: Magic, Kareem, Riley, and the Los Angeles Lakers Dynasty of the 1980s."
"I can't wait to start filming," McKay said.
I can't wait to see the uncensored scenes from the Forum Club after games.
::
For the first time in five years, I'm able to watch the Dodgers on my television. That's right. I caved. I made the jump from DirecTV to Spectrum.
It wasn't an easy decision but DirecTV's stranglehold on sports has diminished under AT&T and its decision to drop the NFL Network and RedZone Channel from DirecTV Now before the NFL draft was the final straw.
I'm sure I'll have complaints but at least I'll have Spectrum SportsNet LA to watch the Dodgers, Pac-12 Networks to watch USC and UCLA, beIN Sports to watch soccer and I won't have to worry about DirecTV Now dropping Spectrum SportsNet when that contract ends and risk missing Lakers, Galaxy and Sparks games.
::
The Dodgers will celebrate the 30th anniversary of "Seinfeld" on May 29 when they take on the New York Mets. A special ticket to the game will include a commemorative ball that reads, "30 years of nothing, now that's something." It's in reference to the show, not the number of World Series titles the Dodgers have won over the past 30 years.
---
Get our high school sports newsletter
Prep Rally is devoted to the SoCal high school sports experience, bringing you scores, stories and a behind-the-scenes look at what makes prep sports so popular.
You may occasionally receive promotional content from the Los Angeles Times.