Jedd Fisch faces 'hardest challenge' as he tries to get UCLA to a bowl game and prove he's right pick for coach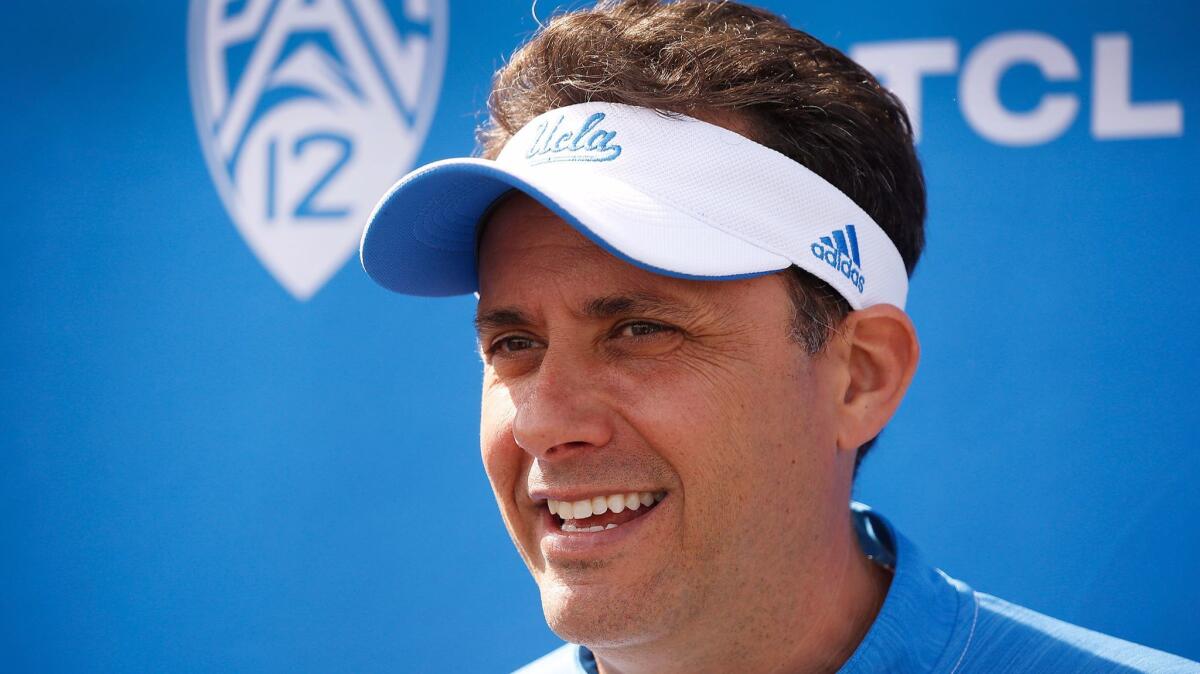 The message on the cover of Jedd Fisch's notebook took new meaning Monday.
"One day as a head coach" was no longer just an aspirational catchphrase; Fisch had been named UCLA's interim football coach following the dismissal of Jim Mora.
It was something less than a triumphant moment for the veteran offensive coordinator.
Fisch was tasked with leading the Bruins through a new, uneasy dawn after the firing of the coach who had brought him to Westwood earlier this year, a man his family had grown to love. He called it "by far the hardest challenge" of his career after guiding players through their first practice without Mora.
"It's a very, very difficult circumstance," said Fisch, who will continue to call plays for the Bruins in Friday's season finale against California.
Fisch, 41, acknowledged he would like to be considered for the head coaching job — "I think that anybody would like to be the head football coach at an extremely prominent university," he said — but noted that his focus is on the important business at hand.
UCLA, 5-6 overall and 3-5 in the Pac-12 Conference, needs a win over California (5-6, 2-6) at the Rose Bowl to secure a bowl berth that Fisch said would leave Mora's legacy as having led the Bruins to bowls in five of six seasons.
"This is not starting new," Fisch said, "this is continuing what I would call an incredible legacy here."
It's not clear how seriously UCLA is considering Fisch, who, with a two-year contract that calls for him to make $810,000 this season, is the Bruins' highest-paid assistant. The Bruins are widely believed to be among the schools that have interest in former Oregon coach Chip Kelly, who reportedly interviewed with a contingent of Florida officials on Sunday. UCLA athletic director Dan Guerrero said in a statement that school officials would not comment on their coaching search until it was completed.
Fisch said he learned of Mora's dismissal Sunday morning after arriving on campus to grade the film of UCLA's 28-23 loss to USC. Fisch spoke with Guerrero and senior associate athletic director Josh Rebholz, who asked him whether he would serve as the interim coach through this week and a possible bowl game.
Fisch then addressed the team after Mora delivered the news that stunned his players, who less than 24 hours earlier had played the No. 11 Trojans tough in perhaps their best defensive game of the season.
"We weren't expecting that at all," senior safety Adarius Pickett said. "I know I wasn't. … I just didn't think it was going to happen at all, due to the fact that I know UCLA had invested some money in [Mora]. So I thought they were going to give him a chance and stuff like that, to overcome some adversity that has hit UCLA in the last couple years."
Senior center Scott Quessenberry said he learned of Mora's fate when the coach called him; Quessenberry had driven home to San Diego that morning.
"I thought I was in trouble actually when he was calling me and then he broke the news," Quessenberry said. "It was an emotional phone call; I'll keep that between me and him, but it definitely was.
"Everyone on this team loved coach Mora, there's no denying that; everyone can see it. His time came and it was really unfortunate, so we're obviously using it as an idea to honor his legacy and to go play hard versus Cal — not to say that we haven't been playing hard all year but just kind of like, if you need to find something extra, now you have it."
A victory over the Bears would complete UCLA's first unbeaten season in its home stadium since 2005. Asked whether a victory also would send a message that school officials made a mistake in firing Mora, Quessenberry said, "Yeah. I mean, I would say yes. I think everyone on the team would say that too."
Wearing a dark grey windbreaker and his usual white visor, Fisch appeared confident and poised as he met with reporters Monday. He said coaches would continue to pitch UCLA's sterling academic reputation and new football practice facility in their recruiting. The Bruins received affirmation from top recruit Dorian Thompson-Robinson, the quarterback at Las Vegas Bishop Gorman High, when he tweeted "I'm 100000000% UCLA."
Quessenberry endorsed the candidacy of Fisch, who has bounced back and forth between the college and NFL coaching ranks since 2000, and revived a Bruins offense that ranks No. 6 nationally in passing (341 yards per game), No. 21 in total offense (466 ypg) and No. 31 in scoring offense (34.1 points).
"You guys have all seen what he's done with the offense and how we've progressed as a team and how he's made us kind of better," Quessenberry said. " … I think if they're thinking about coach Fisch as the guy, I think it would be a really wise decision. I think he would do a great job."
Fisch left Michigan earlier this year to make UCLA the 12th stop in a coaching career that has spanned two decades. Now he must wait to find out if he'll be on the move again.
Follow Ben Bolch on Twitter @latbbolch
ALSO
Bill Plaschke: UCLA breaks character and fires Jim Mora before the season ends
Get our high school sports newsletter
Prep Rally is devoted to the SoCal high school sports experience, bringing you scores, stories and a behind-the-scenes look at what makes prep sports so popular.
You may occasionally receive promotional content from the Los Angeles Times.