Column: Chris Paul is not the same player against Warriors, but that may be what Rockets need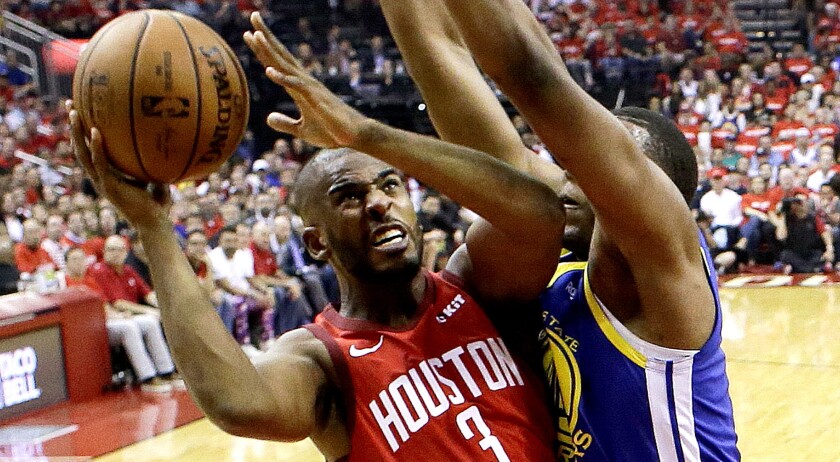 Reporting from Houston —
It's been almost a year since Chris Paul grabbed at his right hamstring in the final seconds of Game 5 of the Western Conference finals, his body on the court after a missed floater in the paint. The tendons on the back of his right thigh were too frayed to allow him to cross midcourt.
Paul pulled his jersey out of his waistband, his lower lip between his teeth, as he limped across the Toyota Center court toward the Houston Rockets' bench. Paul sat, arms across empty seats, helpless, another playoff series over because of injury.
Paul and the Rockets will get another crack at the Golden State Warriors on Monday, one win from evening the conference semifinals, but Paul has gone about his second chance in a different way, taking a backseat to James Harden and Eric Gordon.
"I just hoop," Paul told The Times on Sunday. "I've never been a guy who has been like, 'I've got to get this shot or I've got to get that shot.' I play to win. If it's there, it's there. If it's not, it's not."
In last year's conference finals, it was a lot more "there" than it has been this postseason. Before straining his right hamstring last spring, Paul had been a driving force for the Rockets, averaging nearly 20 points on 17 shots per game.
Always a willing facilitator, Paul recognized that come the postseason, an uptick in shots and points was part of "playing to win." It was almost certainly a necessity.
Sign up for our daily sports newsletter »
Now in three games against the Warriors, Paul's impact has come in other ways. He's taken only 31 shots and 17 free throws in the series. Harden has attempted 79 shots from the field and 31 free throws. Gordon has taken 52 shots. Golden State's Kevin Durant has taken 78, Stephen Curry 51 and Klay Thompson 47.
Paul has been on par with the Warriors' Draymond Green (29 shots) and Andre Iguodala (25 shots) — players with nowhere near the offensive reputation of the Rockets' point guard.
"He could take some more shots," Houston coach Mike D'Antoni said Sunday. "We keep talking about that. But Chris is unique. He sees the game. And it's easy for me to sit over there and say, 'Do this.' … We're talking about one of the smartest guys in the league. He figures it out."
D'Antoni seems committed to trying to help ignite something — the first offensive possession of Game 3 was called for Paul, who he scored on a mid-range jumper.
Standing in his way, though, has been the Warriors' perimeter defense. The Warriors said stopping Paul hasn't been a priority "We've just got Klay guarding him, and Klay is a hell of a defender," Green said.
Paul, who turns 34 on Monday, is not maneuvering as freely as he once did, when no matter who was in front of him, he could get to his favorite spots and knock down shot after shot.
Every percentage point of athletic slippage because of time matters. And with that clock ticking, Paul has to know each chance he has to play for a championship is closer to being his last, which has to make someone as competitive as Paul want to win even more. That's not always a good thing.
You can see Paul trying so hard at times, the ball squirting through his fingers. Paul had chances late in Game 3 and couldn't convert, but he was better than he'd been in Games 1 and 2 when he had a total of nine turnovers.
Paul's still leaving his thumbprint on things, though.
"Aggressiveness isn't necessarily shooting," Paul said.
He's expended tremendous amounts of energy on the defensive end, where Paul knows the Rockets have to win the series.
Curry's struggles from the field? Paul's held him to two-of-12 shooting on the 63 possessions he's guarded him this series, according to tracking data on NBA.com. Thompson is just three for nine when Paul defends him.
D'Antoni called Paul's defense "perfect," with his only struggles in the half-court scheme coming against the red-hot Iguodala and a much-bigger Green.
If Paul can do enough on that side of the court, a backseat on offense doesn't bother him. It might not be what we're used to seeing, it might not look like it did a year ago, but if it works, Houston can win.
"We won last night," Paul said Sunday. "I took eight shots. And, I'm fine with it. I guess it wasn't a problem last night."
Twitter: @DanWoikeSports
---
Get our high school sports newsletter
Prep Rally is devoted to the SoCal high school sports experience, bringing you scores, stories and a behind-the-scenes look at what makes prep sports so popular.
You may occasionally receive promotional content from the Los Angeles Times.