Prep Rally: Time for the high school basketball games fans have been anticipating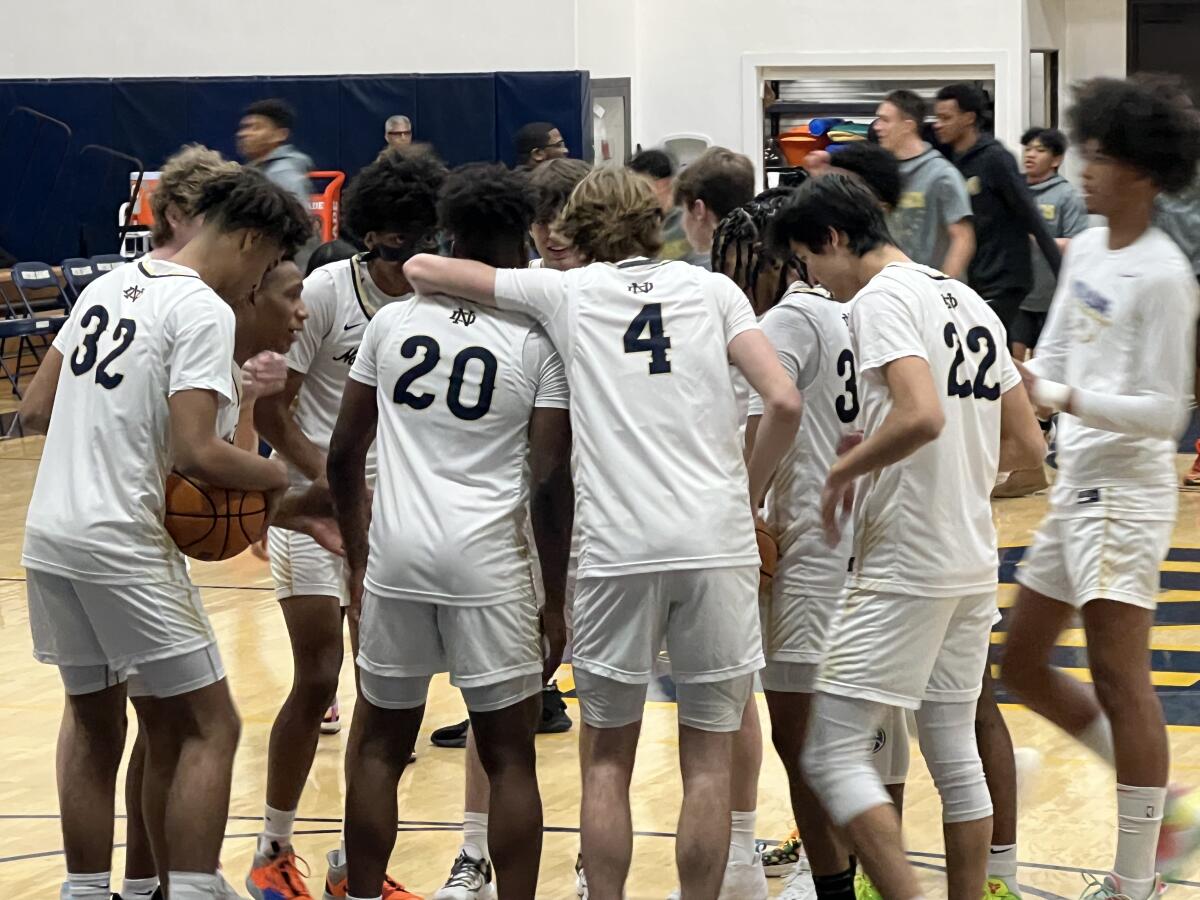 Hi, and welcome to another edition of Prep Rally. My name is Eric Sondheimer. It's time for Mission League mania. The big basketball games begin this week before large crowds with major repercussions.
Mission mania
The showdown basketball games that fans have been waiting for begin this week in the Mission League. First up is No. 1 Harvard-Westlake playing at Sherman Oaks Notre Dame on Wednesday, followed by Sierra Canyon at Harvard-Westlake on Friday and Sierra Canyon vs. Notre Dame at Pauley Pavilion on Jan. 27. There will be no public sale of tickets for the Sierra Canyon-Harvard-Westlake game.
All three are strong candidates to be included in the Southern Section Open Division playoffs but first must decide who's best in the Mission League.
Notre Dame offers the most intrigue. The Knights added a pair of guard transfers before the season in Caleb Foster (Duke commit) and Mercy Miller (Houston), joining returnee Dusty Stromer (Gonzaga). The question has always been how long it would take for the newcomers and returnees to become comfortable.
"We've figured it out," Stromer said last week. "We're continuing to practice hard. We're all comfortable. We're ready to go."
Notre Dame (14-7, 3-0) handed Harvard-Westlake its only league loss last season. Sierra Canyon is in its first season competing in the Mission League and has been making progress behind Bronny James. There will be a Mission League tournament at the end of the regular season, but these games over the next two weeks should reveal plenty where the teams stand in their development before playoffs begin.
Despite the two key new additions, Stromer is averaging almost the same amount of points as last season at 19 points and has increased his assists, showing his unselfishness in welcoming two talented scorers.
Get our high school sports newsletter
Prep Rally is devoted to the SoCal high school sports experience, bringing you scores, stories and a behind-the-scenes look at what makes prep sports so popular.
You may occasionally receive promotional content from the Los Angeles Times.
Basketball rewind
Marcus Adams Jr. of Narbonne had 50 points and 21 rebounds in a win over San Pedro.
Washington Prep and Crenshaw needed overtime before the Generals prevailed despite 37 points from AJ Robinson. Here's a report.
Corona Centennial received 27 points from Jared McCain to defeat New Jersey Camden at the Hoophall Classic.
Mater Dei was beaten by Orange Lutheran and Santa Margarita in Trinity League games, leaving the Monarchs a stunning 1-3 in league play. The Monarchs have won or shared every league title in Gary McKnight's 41 seasons except one time.
Sierra Canyon's girls' team improved to 19-0 after traveling to Springfield, Mass., and winning over Sidfield Friends from Washington D.C. despite Juju Watkins playing with an ankle injury.
Monday is a big day for one-day tournaments around the Southland.
Here's the link to this week's top 25 boys' teams from The Times.
Here's the link to the Southern California girls' rankings from CalHiSports.com.
Westchester is unbeaten in girls' basketball. Here's the girls' basketball notebook looking at the Comets' rise in the City Section.
San Pedro sharp shooter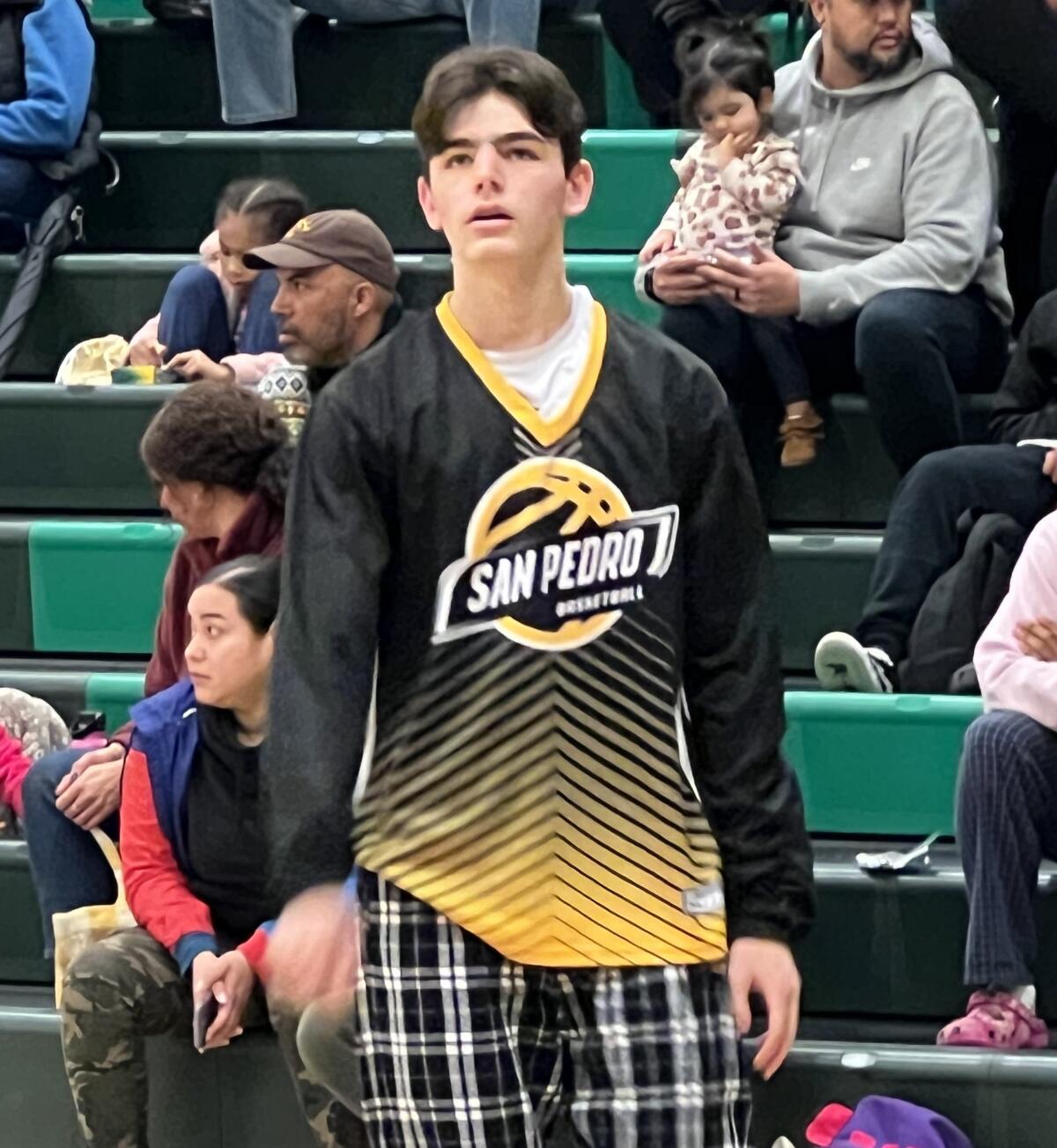 When Anthony Hrboka of San Pedro was on the basketball court as a 14-year-old freshman in 2020, he stood 5 feet 2 and weighed 92 pounds.
"When he'd get out there, some would say, 'What's your manager doing out there?' " coach John Bobich said. "He was all 92 pounds to the best of his ability."
He has grown to 5-10 and 150 pounds as a senior and became San Pedro's all-time three-point shooting leader. He made 10 threes in a game twice as a junior. This season, he has a game of nine threes and is averaging 20.1 points.
"He has a work ethic second to none," Bobich said
A profile on the best three-point shooter in the City Section.
Three-point record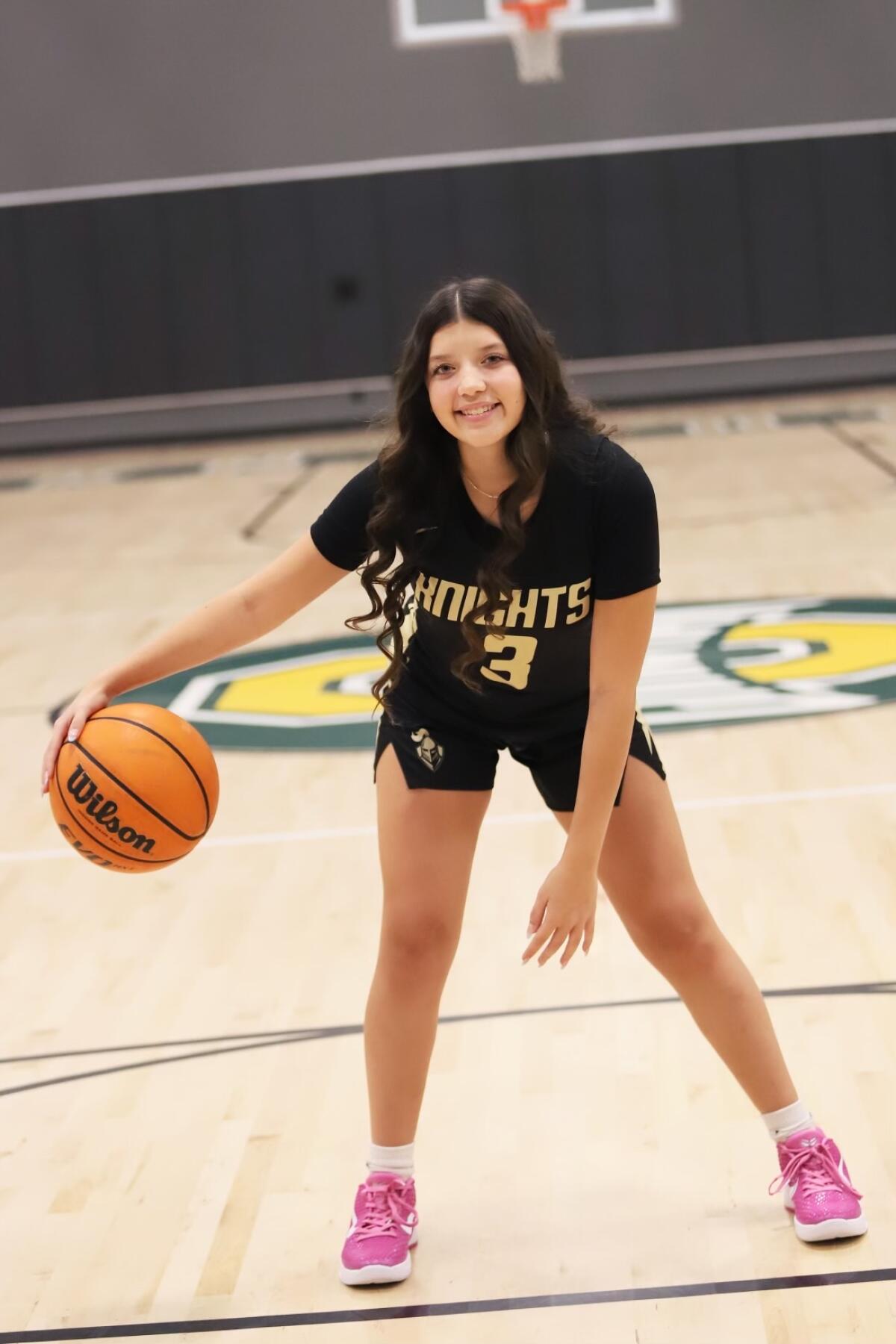 It didn't make sense.
On Thursday, the Ontario Christian (18-2) girls' basketball team had one of their worst practices of the season. No effort. Came into film late. Lazy, coach Matt Tumambing put it. He sent them running for about an hour and a half.
So heading into a Friday night matchup against Temecula's Linfield Christian, junior Dejah Saldivar's legs should've been dead. And they were, pretty much.
Except she didn't miss a single shot in warmups.
"I said, 'OK, that's a good sign,'" Tumambing said. " 'Let's fire away.' "
Saldivar did, 31 times in a 115-30 win over Linfield Christian. When the dust settled, she'd made 17 three-pointers, breaking the state girls' basketball record for most threes in a single game, according to Cal-Hi Sports. She scored 51 points on the night.
Here's a report.
Thompson goes No. 1
Alyssa Thompson, the 18-year-old soccer prodigy from Harvard-Westlake, has gone No. 1 in the women's pro soccer draft and signed a three-year deal with Angel City FC. When she was 7, she was dusting teenagers. When she was in sixth grade, she was dusting high schoolers. When she was in eighth grade, she was dusting college kids. On and on, and Thompson's legend has been built, winning the Gatorade High School player of the year in 2021 after a 48-goal season and subbing in for Megan Rapinoe at 17 to make her USWNT debut in September.
And as a senior in high school, she sat on a white couch Thursday for an NWSL draft party inside Nike's campus in Playa Vista, taking deep breaths before applauding as Angel City FC selected her with the first overall pick. It was an inevitability — Angel City tossing in picks and cash and rainbows in orchestrating a three-team deal for the No. 1 pick to select Thompson — but also unprecedented, a teenager decommitting from Stanford to turn prro.
"For her now to be the first high school athlete selected No. 1 overall — when you really think about her whole career and trajectory — is not actually that surprising," Harvard-Westlake girls' soccer coach Richard Simms said. "She's always been years ahead of everybody else ... it's just who she is."
Here's the report.
Soccer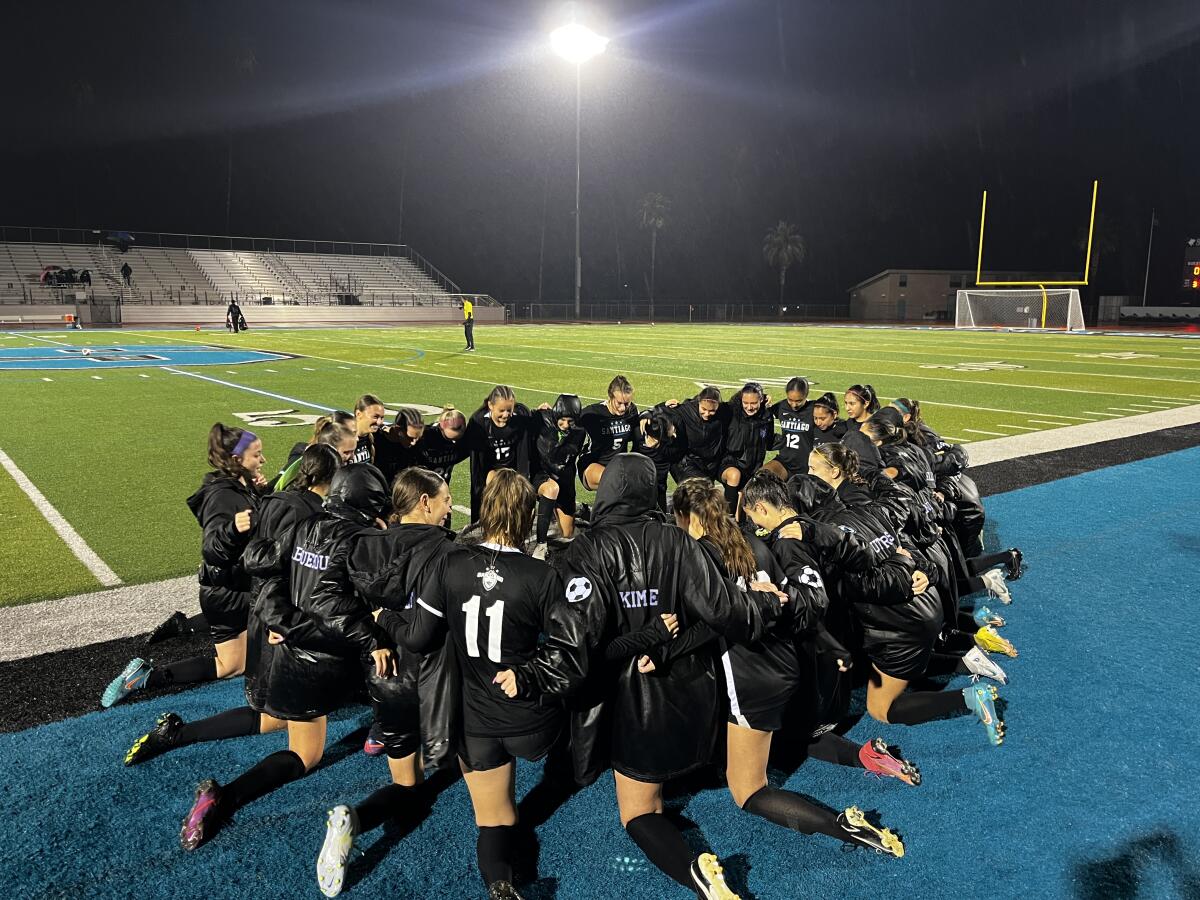 They assemble on the field, Corona Santiago girls' soccer players starting to perform the Griddy Dance amid the downpour as Kanye West's "Power" thumps over soaked loudspeakers. Coach Mike Fleming carries a large umbrella, and players on the sidelines crack up as he jogs over from a pregame meeting with officials.
"It's like a beach umbrella," one player said while laughing.
At first glance, nothing is taken too seriously. Santiago is just another public high school soccer team in an era of club dominance. The players mosh-pit in their locker room before every game to "Shots" by LMFAO. Their assistant coach tells them, "May the Force be with you."
"We're not walking around like, 'Oh, yeah, we're the best in the nation,'" sophomore forward Madelyn Saruwatari said.
Except they are with a 14-0-1 record. Here's the report on the rise of Santiago girls' soccer.
Weather challenge
Soccer teams faced the challenge of playing in pouring rain this week.
There were large puddles and balls kicked that didn't go very far.
Here's a story looking at some of those challenges.
Baseball
The South teams were announced for the Boras Classic in baseball April 11-14 at Mater Dei and JSerra, with the championship game against Northern California set for April 29 on ESPN in Northern California.
It's really as good as any section or regional championship with the teams all outstanding, including Orange Lutheran, Corona, Aquinas, Cypress, Etiwanda, Huntington Beach, Norco, Sherman Oaks Notre Dame, Santa Margarita, Villa Park, Cypress, Maranatha, San Dimas and La Mirada.
Sherman Oaks Notre Dame hosted Servite in a scrimmage doubleheader on Friday before the rain hit, bringing out the scouts to watch hard-throwing pitcher Justin Lee of Notre Dame and talented shortstop Roman Martin of Servite, both UCLA commits.
Manager gains attention
You've heard about Bronny James. You've heard about Ashton Hardaway. You've heard about Isaiah Elohim, about Sierra Canyon boys' basketball and the bevy of stars in a traveling troupe that ignites crowds wherever they go.
Friday night against Crespi, no star was brighter than Erik Ginsburg.
He brought grit. Heart. Hustle. He was perfect from the floor. He gave the Crespi gym and deafening student section a spark of energy whenever play lagged in a grimey 64-47 Trailblazers win. And then he went viral courtesy of a tweet from Ballislife.com, his blazing speed drawing a big smile from none other than LeBron James courtside.
Ginsburg is a 12-year-old team manager. Here's the report.
Perfect ACT score
It's December 17, 2022, at 9:17 a.m. at the Paris house in Westwood.
Jack Paris, wearing green pajama bottoms and a blue Loyola High T-shirt, is sitting at a granite kitchen table staring at his laptop computer as family members gather around to see if he has been accepted to MIT.
"I'm nervous," Paris says.
"We're all nervous," his dad, mom and sister respond almost in unison.
"I don't want to click it," he says.
"You got to," his mom tells him.
With his left leg twitching back and forth, Paris finally gets up the courage to click the computer mouse.
For nearly three seconds, there's silence as his jaw drops and his mouth stays wide open.
Finally, he blurts out, "I got in!"
"Oh my God," his mom cries.
A 6-foot-2, 250-pound senior offensive and defensive lineman, Paris found out earlier in the fall that he had scored a perfect 36 on the ACT.
A profile of a terrific student-athlete from Loyola.
Notes . . .
Oaks Christian has hired Cheyene Coyle to be its softball coach and replace the late Peter Ackermann. She was an All-American at Arizona State and graduated from Chatsworth High. . . .
Ryan Bateman is the new football coach at Santa Fe High. . . .
Former Ayala baseball coach Chris Vogt has taken the head coach job at Sunny Hills. . . .
Chuck Leonardis has resigned as football coach at Arroyo. The team was 10-1 and 9-4 in his two seasons. . . .
John Rice is out as football coach at Riverside Poly. . . .
Mater Dei has begun interviews to replace Bruce Rollinson as football coach. . . .
Standout Long Beach Jordan junior running back Jordan Washington has committed to Arizona. He's also one of the fastest sprinters in California. . . .
Lalo Diaz, the longtime cross-country and distance coach at Loyola, is expected to take a similar position at Sherman Oaks Notre Dame. . . .
Ray Torres is out as football coach at San Marino. . . .
Former Mater Dei and Cal football player Malik McMorris has been hired as a grad defensive assistant at Cal. . . .
Newport Harbor won the Santa Barbara Tournament of Champions in girls' water polo with a 13-11 overtime win over Laguna Beach. Here's the report . . .
Joe Torres from King/Drew and Stephen Barbee from Long Beach Poly have been nominated by the Chargers and Rams, respectively, for the Don Shula Award as the high school football coach of the year. They are among 32 nominees around the country. . . . .
From the archives: Spencer Freedman
Former Santa Ana Mater Dei point guard Spencer Freedman went to Harvard after high school, graduated and is now starring at New York University, an NCAA Division III basketball team that is 12-1. Freedman is averaging 16.5 points.
Freedman participated in the famous 2017 Southern Section Open Division semifinals at Galen Center that featured Mater Dei beating Chino Hills in overtime and Bishop Montgomery defeating Sierra Canyon.
Here's a story from that 2017 game.
Here's a story from 2017 about Freedman's ambitions.
Recommendations
From the Los Angeles Times, a story on former Downey running back Emari Demercado and his journey playing for TCU in the national championship game.
From The562.org, a story on former Long Beach Poly defensive back Alex Austin declaring for the NFL draft.
From the Los Angeles Times, a story on the life of former San Fernando, USC and Rams running back Charles White.
Tweets you might have missed
Until next time...
Have a question, comment or something you'd like to see in a future Prep Rally newsletter? Email me at eric.sondheimer@latimes.com, and follow me on Twitter at @latsondheimer.

Did you get this newsletter forwarded to you? To sign up and get it in your inbox, click here.
Get our high school sports newsletter
Prep Rally is devoted to the SoCal high school sports experience, bringing you scores, stories and a behind-the-scenes look at what makes prep sports so popular.
You may occasionally receive promotional content from the Los Angeles Times.