Column: San Pedro High's Anthony Hrboka takes three-point shooting to new level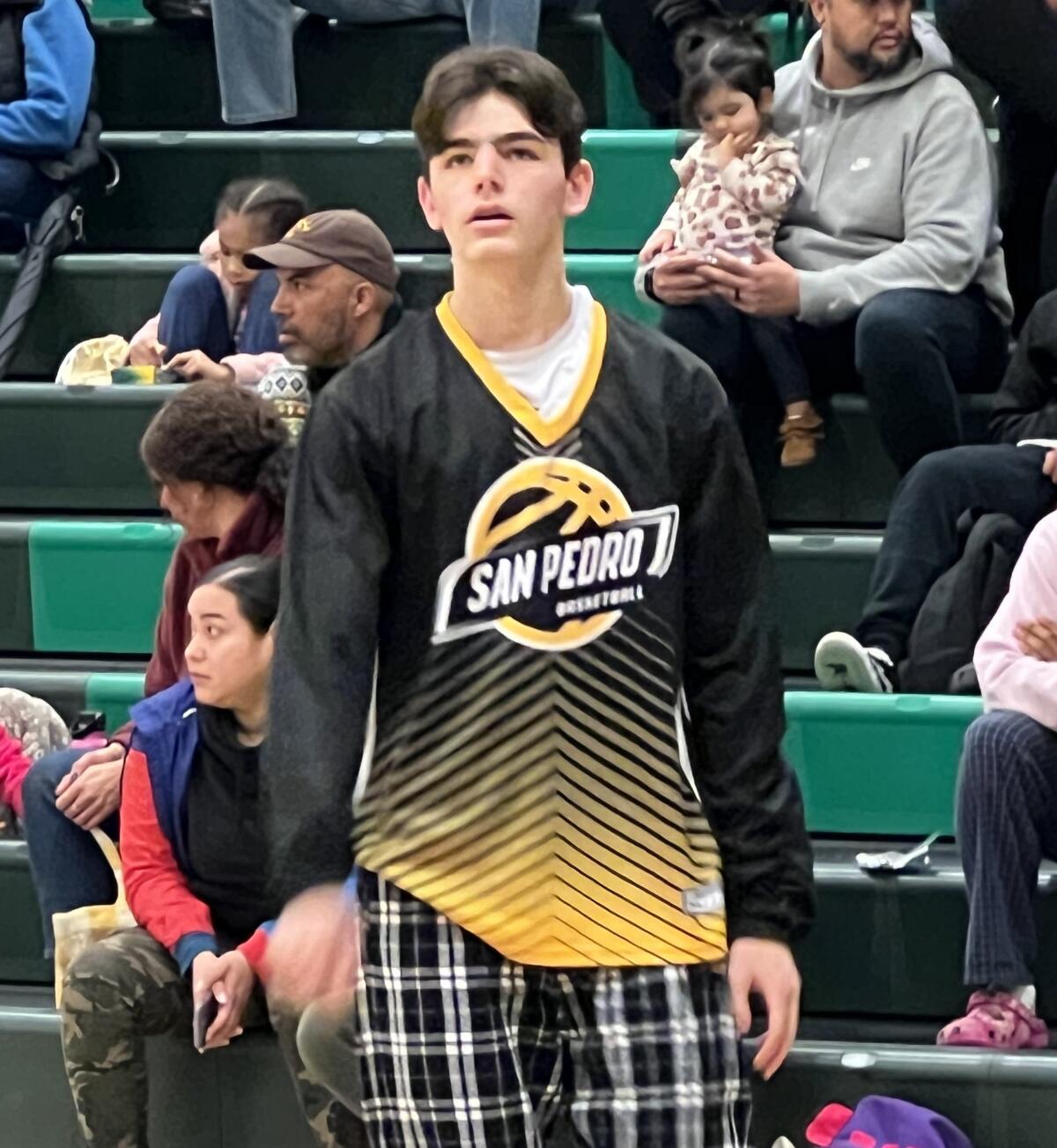 When Anthony Hrboka of San Pedro was on the basketball court as a 14-year-old freshman in 2020, he stood 5 feet 2 and weighed 92 pounds.
"When he'd get out there, some would say, 'What's your manager doing out there?' " coach John Bobich said. "He was all 92 pounds to the best of his ability."
He has grown to 5-10 and 150 pounds as a senior and became San Pedro's all-time three-point shooting leader. He made 10 threes in a game twice as a junior. This season, he has a game of nine threes and is averaging 20.1 points.
"He has a work ethic second to none," Bobich said.
That helps explain Hrboka showing up at 5:30 a.m. and finding a way to get the key to enter the San Pedro gym so he can practice 300 to 500 shots from three-point range before school. He made 101 threes last season as a junior and has 83 this season.
"It's the preparation before the season and the offseason, and even during the season, making sure you're getting a lot of reps and making sure you're comfortable with shooting those shots so when you get into the games, it's natural and in the flow," Hrboka said.
He sometimes makes sinking threes look easier than hitting a free throw, though he acknowledges, "Free throws are definitely easier because it's just you and the rim and nobody in front of you."
Leave Hrboka open at your own cost, because he made 55% of his three-point tries last season and keeps getting more accurate.
"As the years went on, he developed a quicker release and got stronger," Bobich said. "He's improved his footwork. He comes off screens much better. All the details he continues to master."
During a fast break that ended with Hrboka making a three from the baseline instead of choosing a layup, a San Pedro teammate was overheard saying, "Coach, that is a layup."
Bobich remembers Hrboka coming out to San Pedro games when he was 5 or 6 and throwing up shots at halftime. Bobich coached him in youth baseball and recognized his competitiveness.
Now San Pedro has 270-pound Arizona-bound football standout Nick Fernandez setting screens for Hrboka, and all it takes is a brief opening for Hrboka to cause damage. That's what happened at the end of a game last week against Lake Balboa Birmingham, when Hrboka got enough clearance after a screen from Fernandez to make a shot as the buzzer sounded for a San Pedro victory.
"He's a tremendous player," Birmingham coach Nick Halic said. "He's the best shooter in the City that I've seen, hands down. The whole team has so much confidence in him."
Fernandez went to the same middle school as Hrboka and remembers seeing him on the blacktop going one on one against a taller classmate and not backing down.
Hrboka is 17 and still growing — he has three cousins over 6-5. Basketball teams need shooters, and Hrboka sure can shoot, so don't look for him to stop playing after this season.
"A three is definitely a staple in the game," he said. "Being able to make threes gets the crowd excited and gets the team excited and is definitely a tool in this new-age game."
Get our high school sports newsletter
Prep Rally is devoted to the SoCal high school sports experience, bringing you scores, stories and a behind-the-scenes look at what makes prep sports so popular.
You may occasionally receive promotional content from the Los Angeles Times.