Prep Rally: Ella Parker ready to deliver the big hits this spring
Hi, and welcome to another edition of Prep Rally. My name is Eric Sondheimer. The softball season has begun and everyone should make time to see Southern California's premier power hitter, Ella Parker of Sherman Oaks Notre Dame, an Oklahoma commit who is also the niece of Dodgers manager Dave Roberts.
The Ella Parker story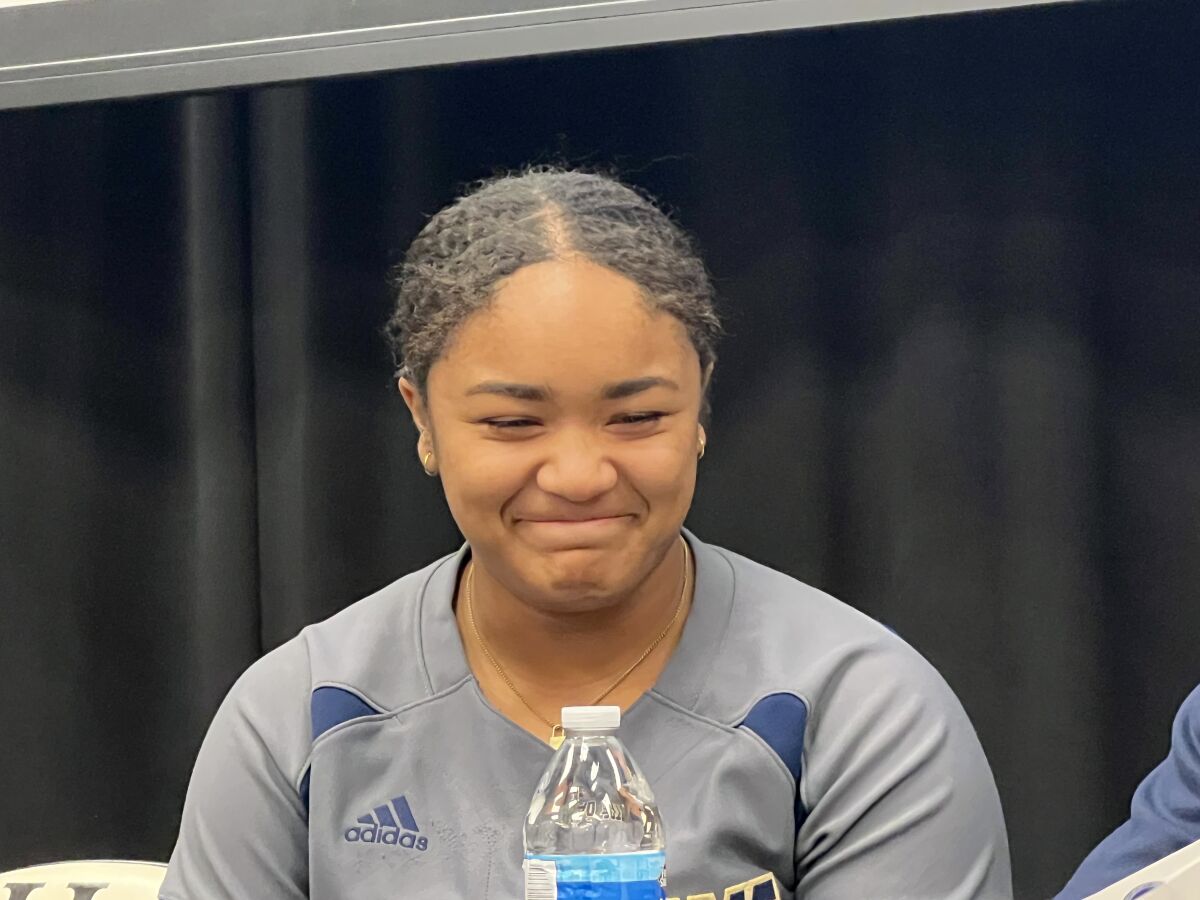 Her routine is simple. And devastating.
Parker walks to the batter's box. Most softball players run. But this slows her heart rate. Gives ample time for dread to settle into the unfortunate mortal who has to deliver her a pitch. She digs in, briefly glancing at a spot on her bat.
Then she stares directly into the eyes of whoever's in the pitching circle.
It instills fear. Just ask teammate Sarah Jacobs, who last year first faced Parker in a winter practice, a freshman pitcher simply trying to make a good impression. And there was Parker stepping up, a .600-hitting machine who deadlifts 405 pounds, gazing into her soul.
"I was so scared," Jacobs remembered.
Get our high school sports newsletter
Prep Rally is devoted to the SoCal high school sports experience, bringing you scores, stories and a behind-the-scenes look at what makes prep sports so popular.
You may occasionally receive promotional content from the Los Angeles Times.
Parker's stare has been described, by an opposing parent to her mother, Melissa, as "piercing." Her reputation precedes her every stride to the batter's box, a target aimed directly between the senior's broad shoulders. There is no eye test the center fielder can't pass. No secrets she can keep.
Bound for Oklahoma, the senior is the player to watch in high school softball. Here's the report.
Basketball rewind
Corona Centennial began its bid to repeat as CIF Southern Section and state Open Division boys' basketball champion with a close win over Chatsworth Sierra Canyon in a matchup featuring Jared McCain against Bronny James. Here's the report.
There was a shocker in the City Section Open Division, with No. 1 seed Harbor City Narbonne falling to Westchester. The semifinals are Saturday at Pasadena City College. Here's the report. Narbonne will be without Marcus Adams Jr. for the state playoffs because of a hairline fracture in his foot.
Sierra Canyon and Etiwanda continue to be on a collision course to meet for the Southern Section Open Division girls' title. Here's a look at last week's openers.
Etiwanda is 27-2 and led by Kennedy Smith. Here's a profile on the team with the best chance to hand Sierra Canyon its first defeat.
Here are updated girls' basketball pairings for the Southern Section.
Here are updated City Section boys' pairings.
Here are updated Southern Section boys' pairings.
Trent Perry stars
At the end of a triple-overtime thriller last month, when players from both teams were physically and emotionally exhausted and fans from Torrance Bishop Montgomery had expended all their energy and resourcefulness rooting against Studio City Harvard-Westlake, there stood smiling junior point guard Trent Perry offering a friendly goodbye wave to his newfound admirers.
It was a masterful reaction, all good-natured and playful, never reaching the level of taunting. It was vintage Perry, a teenager who sometimes becomes nervous giving a speech in front of 15 classmates but exudes confidence, calmness and comfort performing before hundreds on a basketball court.
"It's all real. It's all me," he said of his expressions. "Whatever you see on the court, it's coming from passion, it's coming from love."
With a curly brown afro and teeth so perfect he could receive a name, image and likeness deal for his favorite toothpaste, Perry is a charismatic court presence who lifts teammates and tests the resolve of opposing fans trying to disrupt his focus on having fun for the 29-1 Wolverines.
Here's the profile of Perry, who picked up a UCLA scholarship offer last week.
Baseball
The baseball season began Saturday with a few surprises. No. 2 Harvard-Westlake was beaten 2-0 by Santa Ana Foothill. Andrew Parker threw a three-hit shutout and the Wolverines committed four errors and will be without standout outfielder Will Gasparino (broken hand) for at least a month.
Jordan Kingston struck out 10 in 6-1/3 innings for Calabasas in a 3-1 home win over Woodland Hills El Camino Real. On his first pitch of the year, shortstop Nate Castellon of Calabasas hit the ball over the left-field fence.
Here's the complete rundown on opening day results.
Girls' water polo
The Southern Section Open Division semifinals in girls' water polo are set for Wednesday.
Here's a look at Laguna Beach from the Daily Pilot.
Wrestling
Lake Balboa Birmingham dominated the City Section wrestling finals, but there were plenty of stories to tell about individual competitors.
Here's the report from San Fernando High.
Transfer tracker
There's no end to high school transfers in football. They keep coming.
The Times has created a transfer tracker to follow the top players switching schools. There were more announced this past week.
Here's the link.
Notes
Infielder Max Contreras of Long Beach St. Anthony committed to Penn State. . . .
Outfielder Taylor Shumaker from Anaheim Esperanza committed to Florida for softball. . . .
Washington Prep opted out of the City Section boys' basketball playoffs because the school was reviewing an eligibility matter, according to the L.A. Unified School District. . . .
Point guard Carlo Billings of Foothill has committed to Chapman University. . . .
Jim Bittner, a Ventura County Hall of Fame football coach who created winning teams at Oxnard High and Moorpark College, died on Tuesday. He was 88. . . .
Dylen Smith is the new football coach at Palisades. He was an assistant at Brentwood. . . .
Chuck Chastain, the football coach at Norco for the last nine years, has left to take over the job at Eastvale Roosevelt. With the school's enrollment at close to 5,000, Chastain said he sees a big opportunity for the program to develop. . . .
Junior pitcher/infielder AJ Frausto from Placentia El Dorado committed to San Diego. . . .
Andrew Lachelt is the new football coach at Ontario Christian. He was an assistant coach. . . .
Rick Zepeda is out as football coach at Santa Fe Springs St. Paul after 10 years guiding the Swordsmen. . . .
Nate Turner, who was an assistant at West L.A. College, is the new football coach at San Marino. . . .
Former Norco football coach Gary Campbell died Friday in Arizona. He was 79. He was an influential figure in the Inland Empire, coaching Norco from 1970 to 2003 while winning three Southern Section titles.
Among the players he coached were former San Juan Capistrano JSerra coach Pat Harlow and Corona Centennial coach Matt Logan. "He was an awesome coach to play for and got a lot out of the players and preached toughness and the mindset we could beat anyone anytime," Logan said. . . .
Santa Ana Mater Dei is expected to name a replacement for Bruce Rollinson as football coach. Assistant Khaled Holmes, a former Mater Dei, USC and NFL lineman, has emerged as a leading candidate. . . .
The soccer playoffs resume this week in the Southern Section and City Section. No. 1 Corona Santiago is playing at Westlake Village Oaks Christian on Tuesday in a big girls' playoff game.
From the archives: Jarod Lucas
Former Hacienda Heights Los Altos point guard Jarod Lucas has made a huge impact in college for Nevada after transferring from Oregon State.
Lucas played for his father, Jeff, at Los Altos, where he made 384 three-pointers and scored 3,356 career points. He was a four-time All-CIF selection.
At Nevada, he leads the team in scoring at 17.4 points.
Here's a story from 2016 when Lucas was averaging 28.4 points for Los Altos. Here's a story from 2019 when he scored 52 points and became the all-time scoring leader in Southern Section history.
Recommendations
From the Union-Tribune, a story on the eighth football coach in San Diego with NFL ties.
From the Los Angeles Times, a story on former Etiwanda standout Jaylen Clark starring on defense for UCLA.
From the Union-Tribune, a story on a football player hoping to win the state title in the 400 meters.
Tweets you might have missed
Get our high school sports newsletter
Prep Rally is devoted to the SoCal high school sports experience, bringing you scores, stories and a behind-the-scenes look at what makes prep sports so popular.
You may occasionally receive promotional content from the Los Angeles Times.