Banning wrestler rides special journey of weight loss, self-love into City Section finals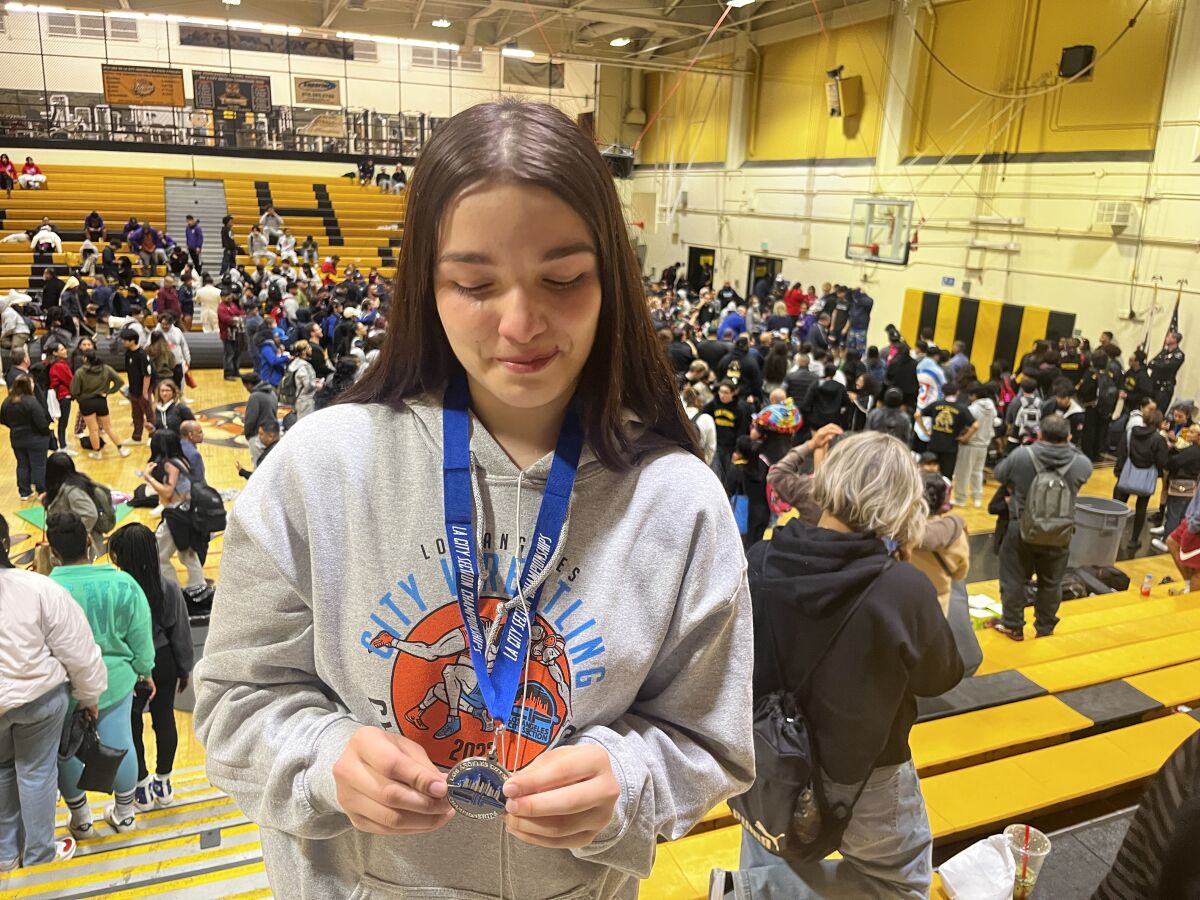 "I don't feel pretty."
It was the simplest expression of the turmoil Banning High junior Melissa Guerrero-Brown felt back then, always encasing herself in a hoodie, never looking in the mirror. She weighed 190 pounds the first time she walked into the Pilots' wrestling room as a sophomore. Never wore tights. Always baggy clothes.
That girl, coming out of COVID-19, was searching for something to grab on to, drawing that hoodie tight. Her parents were able to tell something was bugging her. But Guerrero-Brown would shut down, her mother, Melissa, just remembering her saying that one thing.
"I don't feel pretty."
But this girl standing outside San Fernando High on Saturday afternoon, eagerly anticipating her next bout in the City Section individual wrestling championships, spoke with a glint in her eye. Guerrero-Brown had zero concept of what wrestling even was — let alone touched a mat — that first time she decided to come into Banning tryouts out of sheer curiosity.
A year later, wrestling has led her down a path of dedication. Weight loss. Self-love. A year later, she has lost 40 pounds, is one of the most self-assured teenagers you will ever meet, and advanced to the City Section girls' finals Saturday.
"Man," Guerrero-Brown said with a grin, "I feel confident. Before, I was insecure about myself, and honestly I let a lot of people get into my head. … I actually feel more confident, and I'm loving myself more."
"I'm not being ashamed."
She was first interested in wrestling, despite knowing nothing about the sport, because she saw kids who looked and felt fit, Guerrero-Brown said. In middle school, she was bullied constantly for her weight. A year ago, she cracked, it was a different Melissa — just a "little chubby girl."
Just a few words of reflection turned her eyes pink, started her sniffling, apologizing for being emotional. The hurt still ran deep. She would get told she was too fat to wrestle.
"Getting made fun of," Guerrero-Brown said, eyes watery. "Getting told I couldn't do it."
She did "everything wrong," Banning coach Jose Puentes said, the first time she was taught her first takedown. But she came back the next day and started practicing the moves she was taught incessantly, shadow-wrestling in her room at home. She's the only wrestler, Puentes said, who consistently stays after practices and runs around the school's track.
One day, she was leaving the house to go work out with a friend and passed by a mirror, Guerrero-Brown remembered. She glanced, and stopped. Amazed.
"Like, 'Look at you,' " she remembered. " 'You're doing it.' "
Her clothes started to get too big. And it invigorated her. She was doing it, she kept repeating outside San Fernando. She was doing it.
The confidence is plain in her wrestling style, patient but aggressive, flipping an opponent from El Camino Real over and over again Saturday to advance to the City final in the 150-pound weight class. She leaped into Puentes' arms after the victory, beaming, the hoodie replaced by a Pilots uniform.
Puentes sees a bit of himself in Guerrero-Brown. The second-year coach came from a family of gang members, he said. Taken "out of the hood." Wrestling lit something in him and set him on a different path.
Guerrero-Brown has grown up with five siblings, a sixth on the way, at one time staying in an apartment with just one room for the kids and one living room. Her family has moved from place to place, never homeowners, now living in east Wilmington.
"We live in the ghetto," said her father, Eduardo.
College was never a thought for Guerrero-Brown. Until wrestling. The sport has become her ticket out, Puentes said.
"I'd always seen myself being somebody big," Guerrero-Brown said. "And joining this sport, it helped me a lot, I'm going to be so honest with you. … I don't want to give up. I see myself being somebody."
She lost in the final Saturday but still wept with joy over the silver medal, embracing her family with a smile. Even if she didn't win, she felt, she had another year to work 10 times harder.
"Believe in yourself," she said, when asked to give advice to other girls struggling with weight. "Don't let nobody get to you. Don't listen to nobody. … At the end of the day, they're not in your shoes. You got this."
---
Guerrero-Brown's emotion was just one of hundreds of explosions of joy in a buzzing San Fernando gym Saturday night, the school hosting a marquee event complete with a massive inflatable Tiger tunnel and strobe lights to introduce the finalists.
The first home-crowd swell of the night came as San Fernando's Jay Arana flipped and tackled and won by fall over Birmingham's Draven Lukata, the defending City champion in the boys' 126-pound division final.
"It was a shock to everybody," a wired Arana said after the bout.
Birmingham's Ethan Grubach, meanwhile, shined brightest among a Patriots roster that won the City team title Saturday, pinning his opponent in the boys' 145-pound final in a blistering 21 seconds.
San Pedro's Jerry Witty, who has committed to Western Colorado for football and wrestling, won a grueling heavyweight matchup against El Camino Real's Berkan Ranbari by a 3-0 decision.
Nova Gallegos, meanwhile, became the first wrestler in Carson program history to earn a girls' City Section title, placing first in the 189-pound division.
Get our high school sports newsletter
Prep Rally is devoted to the SoCal high school sports experience, bringing you scores, stories and a behind-the-scenes look at what makes prep sports so popular.
You may occasionally receive promotional content from the Los Angeles Times.