Prep Rally: Play of the year sets up state basketball playoffs
Hi, and welcome to another edition of Prep Rally. My name is Eric Sondheimer. The state basketball playoffs begin this week after regional pairings were released Sunday. But there's still buzz about the play of the year and the ending that was hard to believe Saturday night.
Incredible ending
The Southern Section Open Division championship game at the Honda Center on Saturday night produced an ending for the ages.
As Corona Centennial coach Josh Giles put it, "Regular season, playoffs, that's the craziest ending ever."
Aaron McBride, a Loyola Marymount commit, deflected a St. John Bosco pass as time was running out, retrieved the ball at midcourt and needed two dribbles to dunk it for a 58-56 Centennial victory as the buzzer went off.
Here's the report on game night.
McBride finished with 18 points and 11 rebounds. "He's a winner," St. John Bosco coach Matt Dunn said.
It was a night of championships.
Sierra Canyon won the Southern Section Open Division girls' title. Here's the report.
Taft defeated Fairfax to win the City Section Open Division boys' title. Westchester won the City Open Division girls' title. Grant won Division I boys in the City. Sun Valley Poly won Division I girls in the City.
Eagle Rock won Division II boys in the City. Garfield won Division III boys in the City.
Santa Ana Mater Dei defeated Etiwanda for the Southern Section Division 1 boys' title. Long Beach Jordan won the 4A title.
State playoffs
Let the state basketball playoffs begin as the path to Sacramento to play for a state championship March 10-11 at Golden 1 Center begins. It's now a single-elimination tournament. Teams that lost in the section playoffs selected for state have an opportunity for a second chance.
The big question in the toughest division is can any team defeat the Centennial boys or Sierra Canyon girls in the Open Division?
Here's a report on the challenges ahead.
Here's the rundown on regional playoff pairings.
To strengthen other divisions, the CIF took only five teams in Open Division for boys and girls. The 16-team brackets begin Tuesday. The semifinals in the Open Division will take place Saturday, followed by regional finals March 7.
Baseball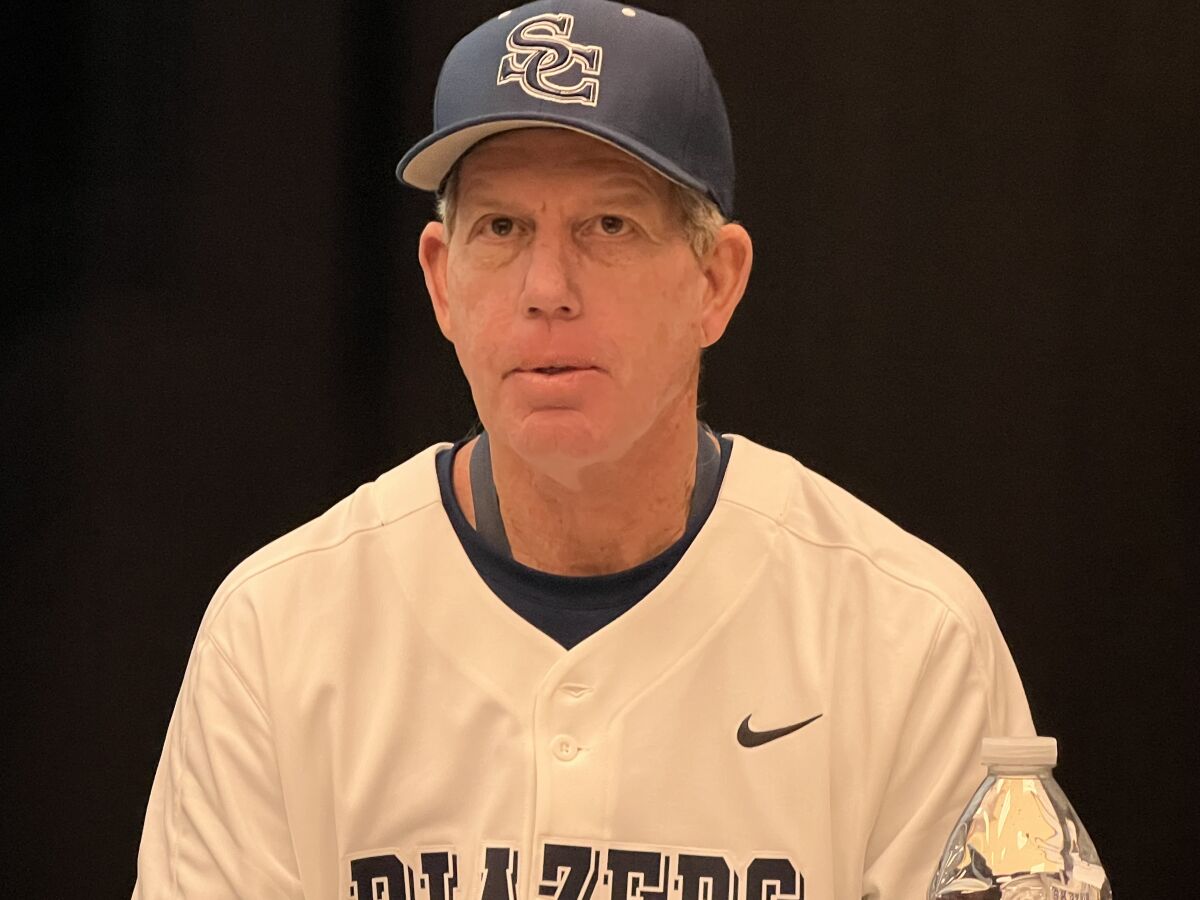 Weather permitting, the eight-team Mission League starts league play this week. There will be three-game series each week. The big matchups starting out are Sierra Canyon vs. Loyola and Chaminade vs. Crespi.
Sierra Canyon is 5-0 under former Chatsworth coach Tom Meusborn. Loyola is 1-3 under former Mira Costa coach Keith Ramsey.
"We're excited," Ramsey said. "It's going to be a challenge. We've got our three pitchers ready to go."
Chaminade (3-0) has shown excellent pitching while Crespi (5-0) won the Easton tournament championship even though its ace pitcher, Isaiah Magdaleno, has been resting a sore arm.
Harvard-Westlake (3-1) and Sherman Oaks Notre Dame (3-0) are considered the league favorites.
Here's this week's top 25 rankings by The Times.
Here's the roundup from Tuesday's games before rain washed out weekend games.
Volleyball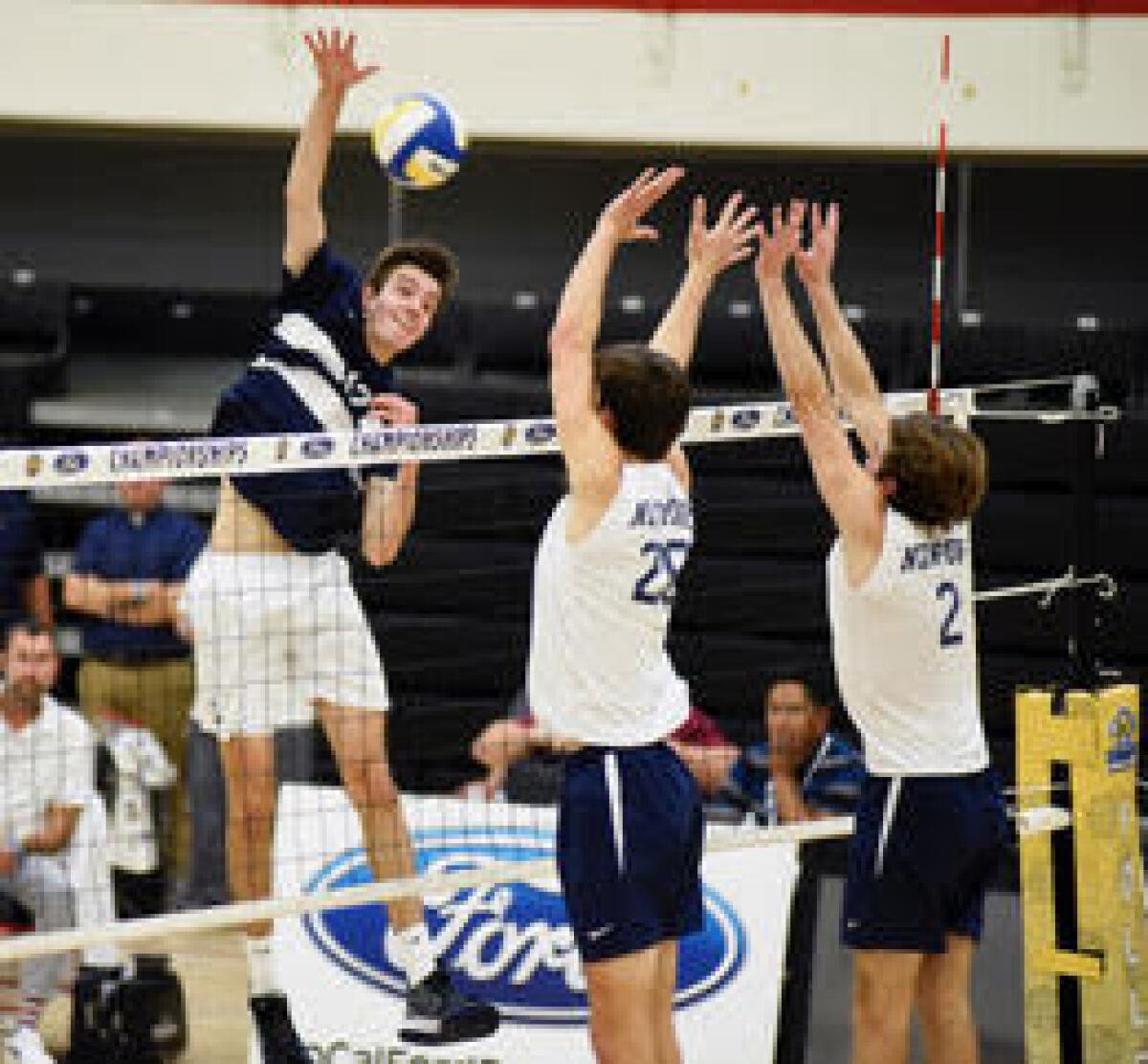 Loyola opened its volleyball season with a four-game win over Mater Dei.
Sean Kelly had 28 kills and three aces for the Cubs.
Huntington Beach needed five games to defeat Beckman. Liam Phinizy had 22 kills for Huntington Beach in an emotional opener. The Oilers then won the Redondo Union tournament championship, defeating the hosts in the final 20-18.
University won the Taft tournament.
Soccer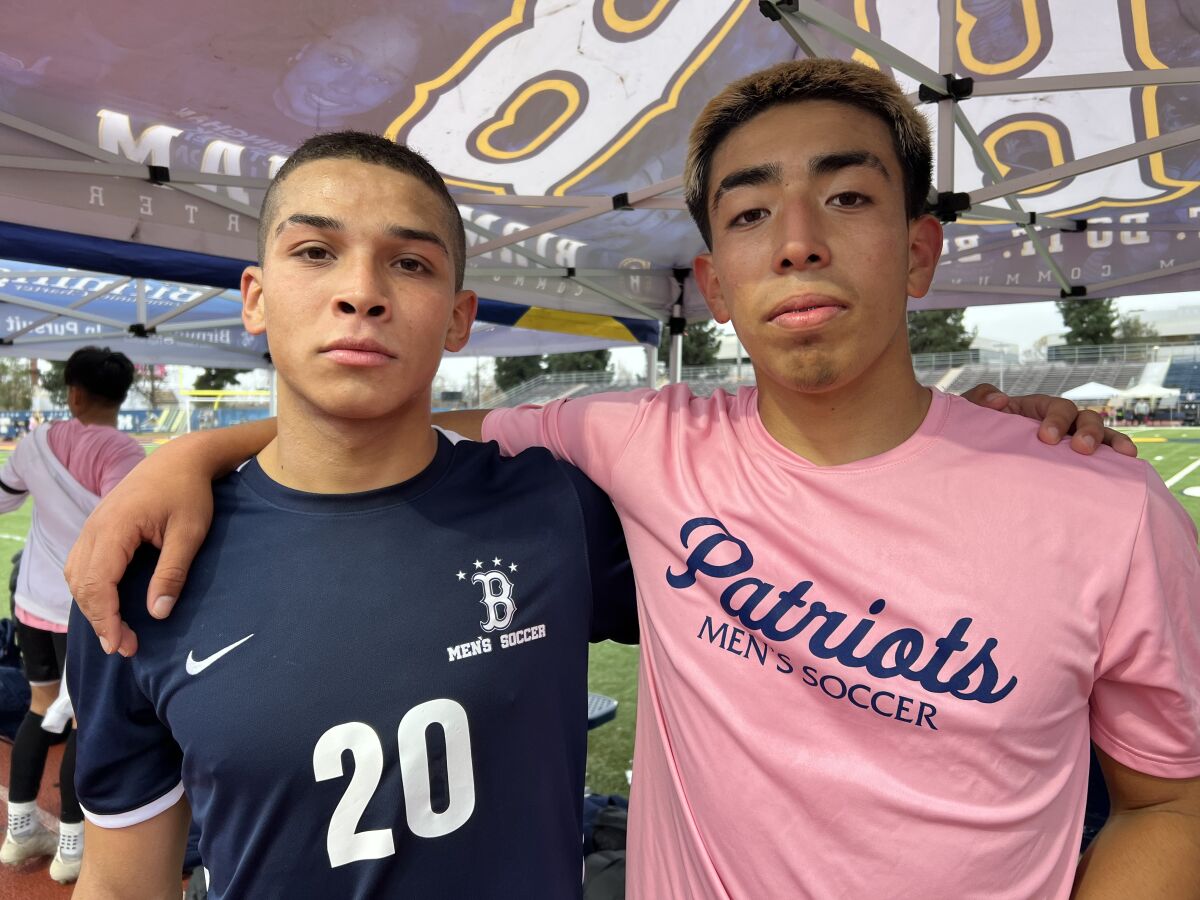 San Juan Capistrano JSerra and Birmingham won Division 1 boys soccer championships in the Southern Section and City Section and were given the No. 1 and No. 3 seeds, respectively, for the Southern California Regional playoffs.
Here's the link to regional pairings.
Here's the link to the championship results.
Santa Margarita and El Camino Real won the Division 1 titles in girls in the Southern Section and City Section. El Camino Real recorded its 15th consecutive shutout in a 4-0 win over Cleveland.
One of the most intriguing finals was Harvard-Westlake vs. Hart for the Division 2 girls' title that ended up being played on a water-logged field at College of the Canyons during pouring rain. Hart won 1-0 but the question was whether the game should have been played since the damp field was so bad the ball wouldn't roll on the ground.
"I did not think the conditions of the game were unsafe," Harvard-Westlake coach Richard Simms said. "Nobody was slipping and sliding and the players were very respectful in that environment. In my professional opinion, that was not a playable field. In standing water, you don't play because the ball won't roll and soccer is a game requiring the ball to roll."
QBs settle in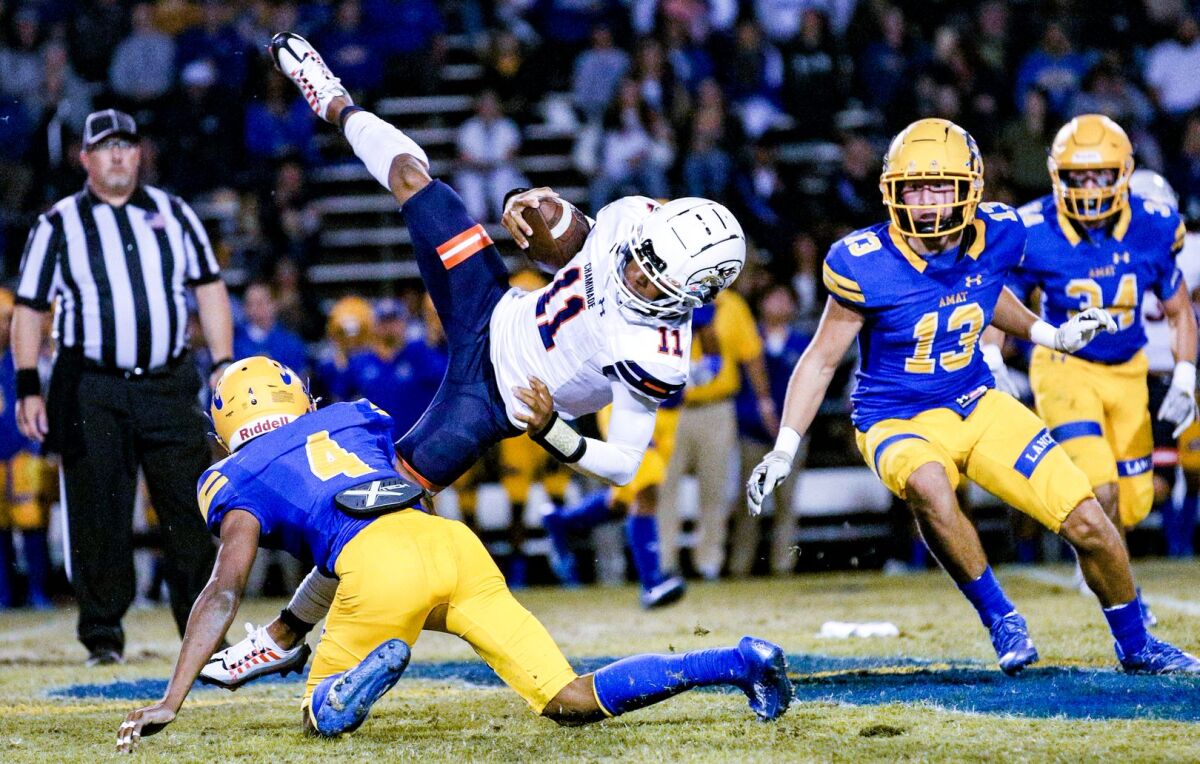 Spring football practice is only weeks away, and it appears that the highly competitive Mission League has finalized the six quarterbacks who will start in the fall after the inevitable transfer period.
Of course, don't tell that to the coaches who want competition at quarterback. But players wouldn't have transferred if they didn't expect to start, so we're not going to play any games. This is how matters stand:
Sierra Canyon lost three quarterbacks who transferred but picked up the best transfer of all in the class of 2025 in Wyatt Becker, who passed for 2,192 yards and 23 touchdowns as a sophomore at Sherman Oaks Notre Dame.
Here's a look at the other five starters from around the league.
Here's the high school football transfers tracker.
Notes . . .
Junior swimmer Teia Salvino of Santa Margarita committed to Alabama. . . .
The Battle of the Valley All-Star basketball game will take place March 18 at Sierra Canyon. . . .
Mitch Kallick, a club coach and former college coach, is the new girls' volleyball coach at Harvard-Westlake. . . .
Windward soccer standout Michael Blevins committed to Cal State Northridge. . . .
Three-year quarterback starter Bryan Wilson of Ayala checked out of school and intends to transfer. Eastvale Roosevelt is a possibility. . . .
Todd Quinsey is the new football coach at Whittier. He was head coach at Bassett. . . .
Former Trabuco Hills and Long Beach Poly football coach Jim Barnett died. He won three Southern Section titles at Trabuco Hills. . . .
Pitcher Kalani Santos of Mater Dei committed to USC. He is back pitching after being sidelined with injury. . . .
Oak Park guard Trey McDonald committed to George Fox University. . . .
Foothill and JSerra won Southern California regional girls' water polo championships in Division I and II, respectively. . . .
The state wrestling championships were completed in Bakersfield, and St. John Bosco had two individual winners.
From the archives: Max Fried
Former Harvard-Westlake star Max Fried, 29, will begin the major league season with the Atlanta Braves as one of the best left-handed pitchers in baseball. He made his major league debut in 2017.
He was a first-round pick of the San Diego Padres in 2012. He had Tommy John surgery in 2014. He'll soon be a free agent, and if that happens, he'll be one of the most sought-after pitchers in baseball
Here's a 2010 story on Fried choosing Sandy Koufax's curveball to be his inspiration.
Recommendations
From The Los Angeles Times, an opinion piece on why it's important to add women coaches for youth sports teams.
From SCGA.org, a story on a Sherman Oaks Notre Dame junior golfer attracting the attention of Tiger Woods.
From the New York Times, a story on a high school basketball player, COVID and the rule book.
From The Los Angeles Times, a story on former Sierra Canyon star Amari Bailey of UCLA.
Tweets you might have missed
Until next time...
Have a question, comment or something you'd like to see in a future Prep Rally newsletter? Email me at eric.sondheimer@latimes.com, and follow me on Twitter at @latsondheimer.

Did you get this newsletter forwarded to you? To sign up and get it in your inbox, click here.
Get our high school sports newsletter
Prep Rally is devoted to the SoCal high school sports experience, bringing you scores, stories and a behind-the-scenes look at what makes prep sports so popular.
You may occasionally receive promotional content from the Los Angeles Times.