Prep Rally: Steve Young, Andrew Luck among ex-NFL players giving back to high school football
Hi, and welcome to another edition of Prep Rally. My name is Eric Sondheimer. It's great to see former NFL players giving back by helping coach at local high schools. High-profile former quarterbacks are offering words of wisdom around the state.
Star power in coaching ranks
Former NFL players are helping coach high school teams, and none are more noteworthy than the former quarterbacks who used to be under intense pressure to deliver.
There's Hall of Famer Steve Young coaching his daughters in flag football at Menlo High in Atherton.
There's former Colts quarterback Andrew Luck coaching at Palo Alto High.
And there's Matt Moore coaching at St. Francis in La Canada. Moore was a standout quarterback at Hart High and Oregon State and a key backup quarterback during his NFL days. He has known St. Francis coach Dean Herrington since his high school days. He's helping coach receivers and aiding Herrington with occasional quarterback pointers for junior John Sanders.
There's many former NFL players who played other positions now coaching. The San Diego area added this season as head coaches All-Pro linebacker Nick Barnett at Del Norte, former Chargers Eric Weddle (Rancho Bernardo) and Nick Novak (Maranatha Christian) and former Ram Shane Walton (Bishop's). There's eight head coaches with NFL ties in the San Diego area.
Around the country, former Chargers quarterback Philip Rivers is head coach at St. Michael Catholic in Alabama. Hall of Famer Kurt Warner was a volunteer coach last season at Brophy Prep in Arizona. Let's see if Tom Brady ever decides to help coach at his alma mater, Serra High in San Mateo.
Get our high school sports newsletter
Prep Rally is devoted to the SoCal high school sports experience, bringing you scores, stories and a behind-the-scenes look at what makes prep sports so popular.
You may occasionally receive promotional content from the Los Angeles Times.
Football rewind
St. John Bosco suffered its first defeat in a nonleague game since 2017 by falling to Kahuku in Hawaii 30-23. The Braves fought back from a 22-3 deficit to take a 23-22 lead before giving up the winning touchdown with 14 seconds left. Penalties and turnovers were St. John Bosco's undoing, A week earlier, Kahuku made six turnovers and lost to Mater Dei 55-8 in Santa Ana.
Here's a stat from CalPreps' Eric Maddy: St. John Bosco and Mater Dei had combined to win 133 of their last 134 games on the field when not playing each other. Kahuku is the first public school to beat St. John Bosco or Mater Dei since Corona Centennial beat both in the 2015 playoffs.
Sierra Canyon has established itself as one of the top four teams in the Southland and a definite candidate to make its first appearance in the Southern Section Division 1 playoffs after a 40-6 win over Orange Lutheran. Here's the report.
Etiwanda improved to 5-0 by defeating previously unbeaten Glendora 34-14. Dermaricus Davis, a Washington commit, passed for 336 yards and two touchdowns.
Sophomore Brandon Lockhart of Loyola had a 90-yard interception return for a touchdown against Chaminade.
Let's hear it for the neighborhood schools. Among the unbeatens are Agoura (5-0), Santa Monica (5-0), Glendale (5-0), Palos Verdes (5-0), San Juan Hills (5-0), Oxnard Pacifica (5-0), Beaumont (5-0), Capistrano Valley (5-0), Vista Murrieta (4-0), Rancho Cucamonga (5-0), San Clemente (5-0), Tustin (5-0), Bonita (5-0), Etiwanda (5-0), Tahquitz (5-0), Legacy (5-0), Gardena (5-0), Dymally (4-0), San Fernando (5-0), Carson (5-0), Angelou (5-0), Panorama (5-0) and Diamond Ranch (5-0).
Some have had big turnarounds without transfers. Agoura and Glendale were 1-9 last season. Santa Monica was 2-8. San Fernando was 2-9.
San Pedro avenged a playoff loss last season to Eagle Rock by routing the Eagles 54-7. Here's the report.
Here's the top individual performances for Week 4.
Here's the complete score list.
Here's this week's top 10 City Section rankings.
Here's The Times' top 25 rankings.
Here's this week's football schedule.
Championship schedule
The Southern Section Division 1 football championship game will be Friday, Nov. 24, at a site to be finalized. The Coliseum, Veterans Stadium and Cerritos College are under consideration.
The City Section finals will be Nov. 24 and 25. Birmingham will be the site on Nov. 24 and several junior colleges are under consideration for the Open Division final on Nov. 25.
The City Section flag football finals will be held Nov. 18 at Birmingham at 3 p.m. and 4:30 p.m., followed by the eight-man final. That's also the same date for the City Section cross-country final at Pierce College in the morning.
Freshmen phenom
Richard Wesley turned 15 on Sept. 8. He's a 6-foot-5, 235-pound freshman defensive end at Sierra Canyon High. It's scary to think what kind of football player he might be when he's 18 or even 21.
"Oh, man, just an impressive player," JSerra coach Victor Santa Cruz said after his team was the victim of three sacks by Wesley.
"I thought he was a great athlete and can really run," Oaks Christian coach Charlie Collins said after his team gave up three sacks to Wesley.
For those who know the story of Dr. Frankenstein, who created a monster in a laboratory, get ready for a new monster of the football field. Wesley wants to be a combination of Aaron Donald and Von Miller, two future Hall of Famers.
Get ready for the football monster named VonDonald.
Here's the profile on Wesley.
Surfer dude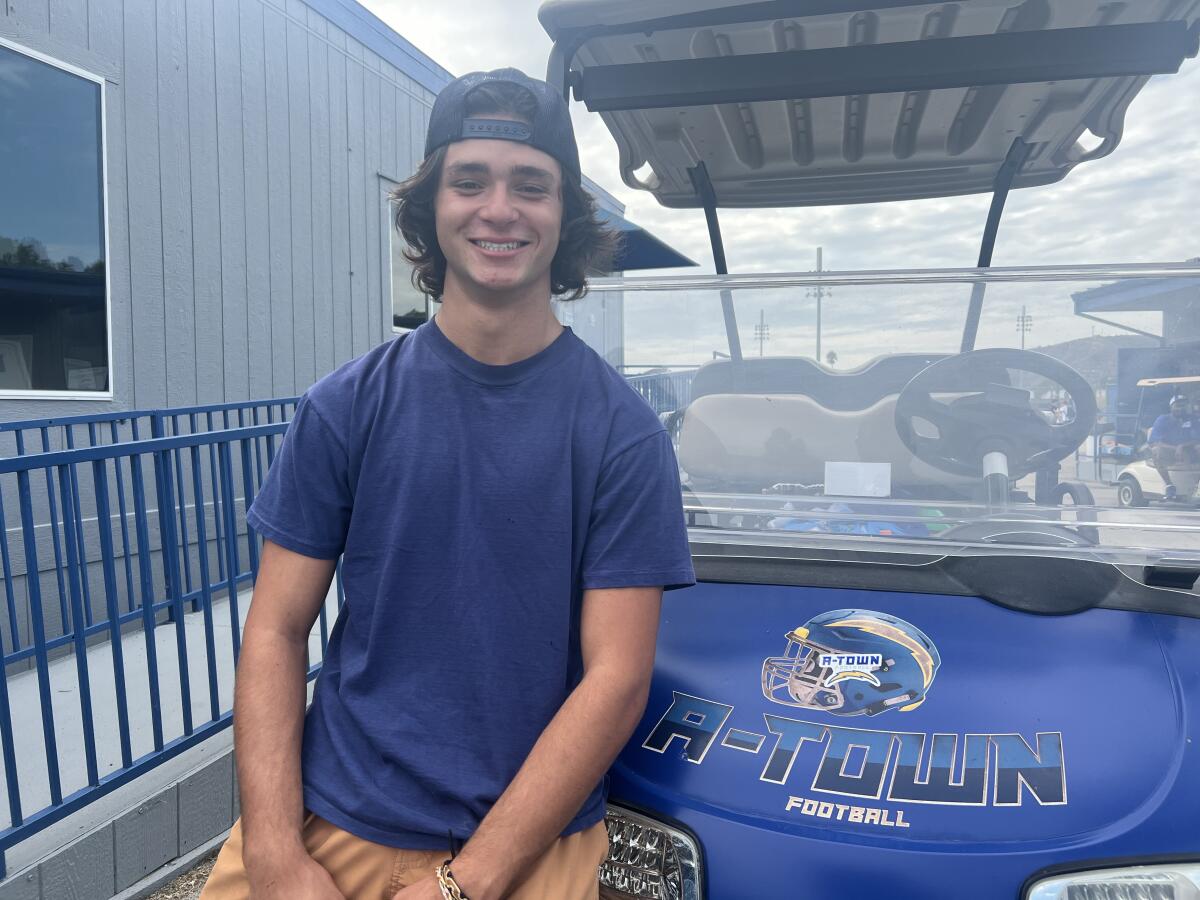 Jeff Spicoli is alive and well, playing quarterback for Agoura High.
Wearing his baseball cap backward atop his long hair and possessing a vocabulary that includes saying "dude" multiple times, Harrison Novak could be the stunt double for Sean Penn, who played the lead character in the 1982 movie classic "Fast Times at Ridgemont High."
"I definitely look the part of the stereotype," Novak said.
Novak confirms he is a surfer dude but so much more.
"I'm the big opposite of the stereotype," he said.
With a 4.1 grade-point average, Novak is the star quarterback for Agoura's 5-0 football team despite being 5 feet 7 and 150 pounds. He also starts for the soccer team and is a key member of the defending Southern Section Division 3 champion golf team.
His story is what makes high school sports so special. Here's a report.
Probation for Cathedral
Cathedral High's football team has been banned from the 2023 playoffs because of rules violations, the Southern Section announced Friday.
It's the first major decision by new Southern Section commissioner Mike West. The football program was placed on probation for violating bylaws involving valid residential change, administrative oversight and playoff eligibility.
"We're working to try to enforce the rules the best we can," West said.
Here's the report.
Flag football success
When Teagan Burrus took a knee to run the final seconds off the clock at Beckman High, she and her Woodbridge teammates celebrated as if they had just won the Super Bowl.
The Warriors avenged a 13-12 defeat on their home field 12 days earlier by beating Newport Harbor by an identical score to win the inaugural Beckman SoCal Flag Football Showcase in Irvine. Coach Mark Thompson's unit could be the best in Orange County, and a big reason is the contributions of four senior basketball players — Burrus, Hana Watanabe, Tori Zebko and Milan Heisdorf — who are excited to have another sport to play together.
"In the last game against them we went for two [points] but didn't get it, and this time it was the reverse — they went for two and missed," said Burrus, who plays power forward and center on the basketball team. "Last year we didn't have Hana in football, but she adds so much to our team. We're all athletic so we can do both sports."
A look at Woodbridge's success.
Also rivals Edison and Huntington Beach met in their first flag football game. Here's the report.
JSerra defeated Santa Margarita to win the El Toro tournament championship.
Cross-country
Dana Hills High junior Evan Noonan won the boys' sweepstakes race at the 42nd Woodbridge Cross-Country Classic on Saturday night at Great Park in Irvine.
Noonan clocked 13:41.3 to kick past runner-up Anthony Fast Horse (13:48.1) of Ventura and Emmanuel Perez (13:50.7) from L.A. Cathedral.
Here's the report.
Sadie Engelhardt of Ventura ran a personal best but finished third in her sweepstakes race. Here's a report.
Girls' volleyball
No. 1-ranked Mira Costa is 15-1 and tunes up for next week's Bay League showdown with Redondo Union by playing matches this week against Santa Monica and Culver City.
Taft finished runner-up in the Bellflower tournament.
Here's a look at the CIF state girls' volleyball notebook.
Water polo
JSerra stayed unbeaten and reinforced its hold on No. 1 in water polo this season by winning the South Coast tournament championship with a 14-7 win over Harvard-Westlake in the final.
Ryder Dodd, rather than relying on his shot, hurt the Wolverines with his passing. JSerra improved to 7-0.
Earlier, Harvard-Westlake avenged a loss to Newport Harbor by beating the Sailors 12-9 in the semifinals behind four goals from Dean Strauser. Newport Harbor ended up finishing in third place in the tournament with a win over Corona del Mar.
Girls' golf
Palisades High junior and reigning City Section individual champion Anna Song is one of 12 girls traveling to Benahavis, Spain, to represent the United States in the PING Junior Solheim Cup, to be held Monday and Tuesday at La Zagaleta Golf Club.
Song, who fired a record six-under par 67 to win the City title at Balboa Golf Course in November while leading the Dolphins to their second straight team championship, is one of three Southland representatives on the team. The other two are Santa Margarita senior Leigh Chien and Cerritos senior Jasmine Koo.
Here's the report.
Notes . . .
Corona Centennial will unveil new LED lights and a new scoreboard for its football field for a home game on Friday night against Arizona Liberty. . . .
Standout outfielder Quentin Young from Oaks Christian has reclassified from the 2026 class to 2025. He figures to be a top pro prospect. . . .
Sean Lindsey has resigned after coaching lacrosse at Agoura. . . .
Junior girls' basketball player Zion Belcher-Arill has transferred from Michigan to Campbell Hall. . . .
Jonathan Wills, who was an assistant at Windward last season and has been a college assistant, is the new basketball coach at Taft. . . .
Softball coach Megan Kauffman has taken over for Mark Drucker as athletic director at Taft. . . .
Jonathan Dean has resigned as basketball coach at South Hills. . . .
Softball pitcher Peyton May has transferred from Orange Lutheran to Norco. . . .
Water polo player Cole Francisco of Los Alamitos has committed to UC Irvine. . . .
Girls' basketball standout Mykelle Richards from Etiwanda has committed to Long Beach State. . . .
Outfielder Finnegan Stewart of Orange Lutheran has committed to Utah Tech. . . .
Standout junior softball pitcher Kai Minor of Orange Lutheran has committed to defending NCAA champion Oklahoma. . . .
Sit-out period athletes are nearing a return for football. On Sept. 25, they can play in the Southern Section and Sept. 22 in the City Section. . . .
Rick Pontious has resigned as football coach at Riverside Notre Dame. JV coach Cameron Abts will become the interim coach. . . .
Pitcher Jaden McNeely from Corona Centennial has committed to St. Mary's. . . .
From the archives: Romeo Doubs
The latest former City Section football player to make it to the NFL and do well is receiver Romeo Doubs, a Jefferson High grad who caught two touchdown passes for the Green Bay Packers in their season opener.
Doubs was a double-wing T quarterback during his days at Jefferson before moving on to become a top receiver at Nevada. His athleticism and versatility were much admired. He was a fourth-round draft pick of the Packers.
Here's a story from 2022 after being drafted by the Packers.
Recommendations
From the Washington Post, a look at the nerves and preparation of a new football coach before the first game.
From the Los Angeles Times, a story on the promotion to the major leagues of former Harvard-Westlake outfielder Pete Crow-Armstrong.
From highschool.si.com, a look at the former California high school players on NFL rosters.
From Burlisononbasketball, a story on top teams at the Ron Massey tournament.
Tweets you might have missed
Until next time...
Have a question, comment or something you'd like to see in a future Prep Rally newsletter? Email me at eric.sondheimer@latimes.com, and follow me on Twitter at @latsondheimer.

Did you get this newsletter forwarded to you? To sign up and get it in your inbox, click here.
Get our high school sports newsletter
Prep Rally is devoted to the SoCal high school sports experience, bringing you scores, stories and a behind-the-scenes look at what makes prep sports so popular.
You may occasionally receive promotional content from the Los Angeles Times.