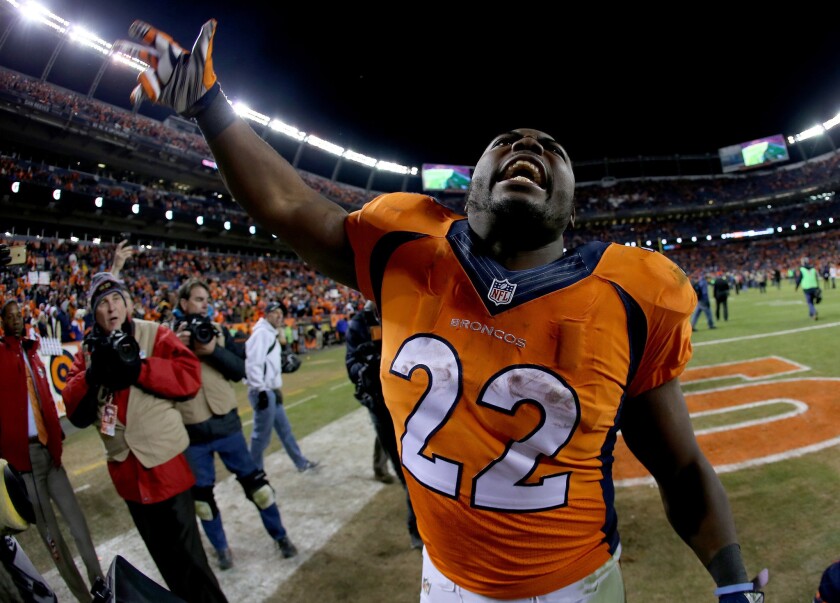 Reporting from San Francisco —
As a running back for Denver Broncos teams that featured a Hall of Fame-bound quarterback, Terrell Davis adopted a specific attitude for Super Bowls.
"You have to believe that this game and everything around it relies, or is based, on your performance," Davis said. "I was like, 'You know what? It's unique. I have a chance to do something where the game is going to be on me. If I play well, we're going to win.'"
Davis starred in Super Bowls XXXII and XXXIII and helped Broncos quarterback John Elway finish his career with two championships.
On Sunday, Broncos running backs Ronnie Hillman and C.J. Anderson have a similar opportunity in Super 50, which could be Peyton Manning's final game.
In a matchup that also features Carolina Panthers quarterback Cam Newton and the Broncos' top-ranked defense, the outcome could rest on Denver's ability to control the clock with its running game and keep Newton on the sideline.
The speedy Hillman and powerful Anderson have been a productive combination for a Denver franchise making its eighth Super Bowl appearance.
"They're going to try and come at you running the ball first," Panthers defensive lineman Charles Johnson said. "They put two good backs out there and they do a lot of work."
Hillman started 11 games and has rushed for 863 yards and seven touchdowns. Anderson started five games and rushed for 720 yards and five touchdowns.
In the Broncos' 20-18 AFC championship game victory over the New England Patriots, Anderson rushed for 72 yards in 16 carries, including a 30-yard run early in the fourth quarter that set up what proved to be the game-winning field goal. Hillman was held to 16 yards in 11 carries.
"They get those defenses off a little bit with a change of pace and style of running," Broncos offensive lineman Louis Vasquez said. "It helps give us an advantage."
The 5-foot-9, 200-pound Hillman grew up in Compton and played at La Habra High and San Diego State before he was chosen by the Broncos in the third round of the 2012 draft.
Two years ago, Hillman suffered a foot injury and was sidelined for four games. He accompanied the team to New York for the Super Bowl against the Seattle Seahawks, but he was not activated for the game. Knowshon Moreno, Montee Ball and Anderson were on the roster for the 43-8 loss.
"Of course you want to play in those games, but you understand the way the business works," he said. "It's come full circle."
Hillman, 24, started in the conference title game against Patriots and is expected to be in the starting lineup Sunday.
"I don't care if I get 10 or 300 yards," he said. "As long as we get this win."
Anderson, 24, played at Vallejo Bethel High in the Bay Area, Laney College in Oakland and at California before joining the Broncos as an undrafted free agent in 2013. He got two late carries for nine yards in the Super Bowl two years ago.
"I'm a smarter player, I think I'm a better player and I'm going to get more chances to make plays on Super Sunday than I did two years ago sitting on the sideline," he said.
Anderson said that he and Hillman complement each other — "He believes he's a starter somewhere in this league, just as I do," Anderson said — but the back with the "hot hand" will have more carries Sunday.
Both must take advantage of opportunities and relieve pressure on the offensive line and Manning.
"Sometimes we'll leave some runs out there throughout the season, but Sunday is not one of those times," Anderson said. "If we've got a chance to make a big play and change the game, then that's something that we have to do."
That's what Davis, now an analyst for the NFL Network, would like to see.
Davis rushed for 157 yards and three touchdowns in 30 carries en route to being named most valuable player of Super Bowl XXXII. He rushed for 102 yards in 25 carries in Super Bowl XXXIII.
He said he wants Hillman and Anderson "to have the same mentality" he did on Super Bowl Sundays.
"Because I really believe the running game has to be there," he said. "They have to run the ball well for them to win this game."
Twitter: @latimesklein
---