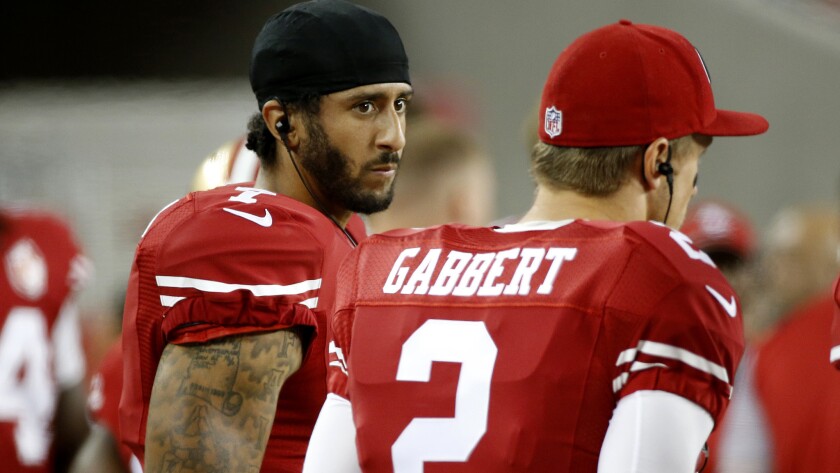 The San Francisco 49ers announced Thursday that they have pledged $1 million to two Bay Area organizations that focus on the type of racial and social inequities that quarterback Colin Kaepernick has discussed in the aftermath of his refusal to stand during the national anthem in protest of such injustices.
The commitment to donate the money to the Silicon Valley Community Foundation and the San Francisco Foundation was preceded by Kaepernick saying he would donate the first $1 million of his $11.9-million base salary this season to groups that deal with those issues.
Kaepernick, who is currently the backup to Blaine Gabbert, is also donating his portion of the proceeds from the sales of his jersey to those causes. He currently has the No. 1 selling jersey in the NFL.
"I've been very blessed to be in this position and to be able to make the kind of money I do," Kaepernick said earlier about his decision to make the donations. "I have to help these people. I have to help these communities. It's not right that they're not put in a position to succeed or given those opportunities to succeed."
Jed York, the chief executive of the 49ers, released the following statement:
"Today, I am committing that the 49ers Foundation will contribute $1 million to the cause of improving racial and economic inequality and fostering communication and collaboration between law enforcement and the communities they serve here in the Bay Area.
We are partnering with the Silicon Valley Community Foundation and the San Francisco Foundation in this effort. We have chosen to work with these two organizations because they have proven track records of affecting change in the face of challenging problems and have the collective reach to make the greatest impact. Silicon Valley Community Foundation is the largest community foundation in the world, managing $7.3 billion in assets and more than 1,800 philanthropic funds globally. The San Francisco Foundation has served the people of the Bay Area since 1948, almost as long as the 49ers franchise. We are excited to work with these two renowned foundations over the coming months to develop a giving plan to help our community find unifying solutions to these pressing issues."
MORE NFL NEWS
Broncos linebacker kneels during national anthem in season opener
Denver Broncos win Super Bowl 50 rematch with Carolina Panthers, 21-20
Sean Mannion will open the season as Rams' backup QB, and he's ready if needed
---