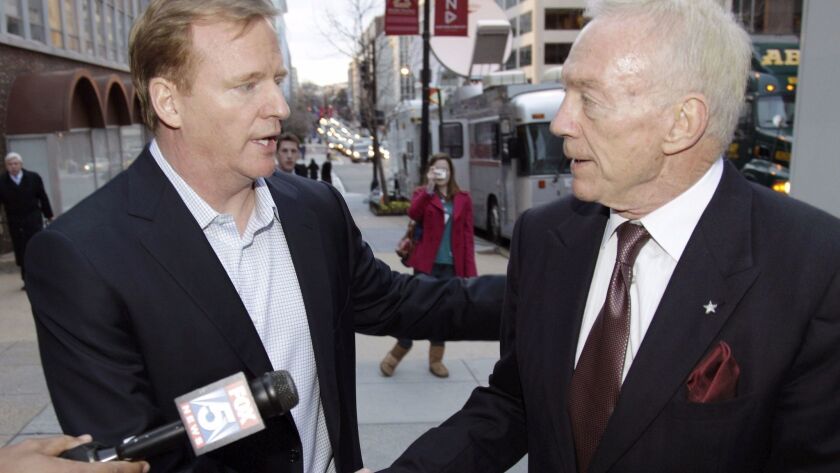 An already turbulent NFL season could get a lot bumpier.
Dallas Cowboys owner Jerry Jones, angry about the impending suspension of Ezekiel Elliott, reportedly has hired a high-profile attorney to fight a contract extension for Commissioner Roger Goodell.
Jones, among the league's most powerful owners, informed the six owners on the compensation committee that he has hired attorney David Boies and is prepared to sue if the group votes to extend Goodell's deal, according to two individuals speaking on condition of anonymity because of the sensitivity of the topic. Goodell's contract expires March 31, 2019.
The New York Times was the first to report Jones' actions.
In May, the league's 32 team owners voted unanimously to extend Goodell's contract, authorizing the compensation committee to work out the details.
Jones is not a member of that committee. He has expressed frustration about the handling of the Elliott case, in which the star running back was handed a six-game suspension after a year-long league investigation into allegations of domestic abuse. Various back-and-forth legal victories by Elliott's representatives and the NFL have delayed the actual suspension
Atlanta Falcons owner Arthur Blank chairs the compensation committee, which also includes Tom Benson (New Orleans Saints), Pat Bowlen (Denver Broncos), Robert Kraft (New England Patriots), Jerry Richardson (Carolina Panthers) and Steven Ross (Miami Dolphins).
The Elliott suspension is one of multiple off-the-field difficulties the NFL is facing this season, including the fallout from players protesting the national anthem, and sagging TV numbers.
---