NFL sets new penalties on domestic violence, sexual assault violations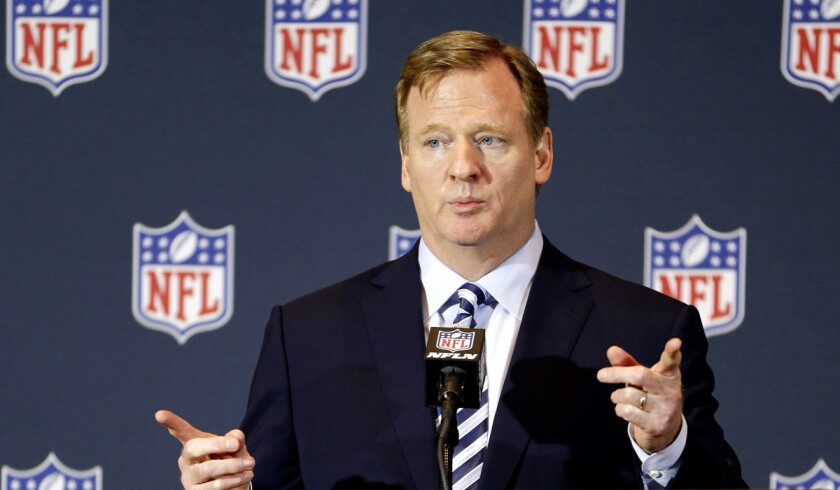 The penalty was underwhelming. The angry public fallout was not.
A month after the NFL suspended Baltimore Ravens running back Ray Rice two games after he allegedly knocked out his soon-to-be wife at an Atlantic City hotel, the league admitted its error and significantly ramped up its penalties for domestic violence.
In a letter to team owners Thursday that was obtained by The Times, NFL Commissioner Roger Goodell announced a first offense will draw a six-game penalty, and at least a year for a second.
"At times… despite our best efforts, we fall short of our goals," Goodell wrote. "We clearly did so in response to a recent incident of domestic violence. We allowed our standards to fall below where they should be and lost an important opportunity to emphasize our strong stance on a critical issue and the effective programs we have in place."
Goodell said that in the last few weeks, he has reviewed all aspects of the personal conduct policy, which applies to all league personnel. He consulted with a wide range of experts, team owners and representatives of the NFL Players Assn.
According to the NFL's new rules, if someone is charged with domestic violence or sexual assault, there will be mandatory evaluation and counseling or other specialized services, when professionally indicated.
"Effective immediately, violations of the Personal Conduct Policy regarding assault, battery, domestic violence or sexual assault that involve physical force will be subject to a suspension without pay of six games for a first offense, with consideration given to mitigating factors, as well as a longer suspension when circumstances warrant," Goodell letter states.
A second offense would trigger an indefinite suspension of at least a year, although a player could apply for reinstatement.
Of the country's four major professional sports leagues, the NFL now has the strictest mandatory punishment for first-time domestic violence offenders.
"Fans can be very forgiving when it comes to sports heroes," said Patti Giggans, executive director of Peace Over Violence, a Los Angeles-based sexual assault, domestic violence and youth violence prevention center. "Those of us who work in the field of domestic violence and sexual violence can be really disheartened and upset when sports heroes who are also abusers are forgiven right out of the gate by their fans.
"I feel like the commissioner is on the right path. This is an opportunity for the NFL to make a statement and a stand, have guidelines and consequences. Who knows if that's enough? But it's an opening. I don't want him to stop here."
Goodell, who doesn't name Rice specifically in the letter, said that two-game suspension led the public to "question our sincerity, our commitment, and whether we understood the toll that domestic violence inflicts on so many families."
The public outcry only intensified this week when Josh Gordon, All-Pro receiver for the Cleveland Browns, received full-season suspension for testing positive for marijuana use. Gordon has tested positive multiple times in college and pros.
By comparison with the Gordon case, the Rice punishment looked even more insignificant.
"Survivors of domestic violence were calling us" in the wake of the Rice suspension, Giggans said. "That really struck a nerve. Here we are, 20 years since O.J. [Simpson], and all the stuff in between with high-profile athletes abusing people off the field… So when the public got wind of it, they were very upset and so were we. Now to see that there's a change coming from a major sports enterprise, I was very pleased that the commissioner was taking responsibility."
Referring to the Rice case, Goodell said: "I take responsibility both for the decision and for ensuring that our actions in the future properly reflect our values. I didn't get it right."
The final decision on punishment guidelines was made unilaterally by the league. The personal conduct policy is not subject to collective bargaining with the players' union.
"We were informed today of the NFL's decision to increase penalties on domestic violence offenders under the Personal Conduct Policy for all NFL employees," the NFLPA said in a written statement. "As we do in all disciplinary matters, if we believe that players' due process rights are infringed upon during the course of discipline, we will assert and defend our members' rights."
In his letter Thursday, Goodell outlined a six-step plan for dealing with such incidents in the league, including prompt and confidential assistance to anyone at risk of domestic violence or sexual assault, whether as a victim or potential aggressor.
"With very few exceptions, NFL personnel conduct themselves in an exemplary way," he wrote. "But even one case of domestic violence or sexual assault is unacceptable. The reality is that domestic violence and sexual assault are often hidden crimes, ones that are under-reported and under-acknowledged. The steps we are taking will reinforce our commitment to address this issue constructively."
Follow Sam Farmer Twitter @LATimesfarmer
---
Get our high school sports newsletter
Prep Rally is devoted to the SoCal high school sports experience, bringing you scores, stories and a behind-the-scenes look at what makes prep sports so popular.
You may occasionally receive promotional content from the Los Angeles Times.