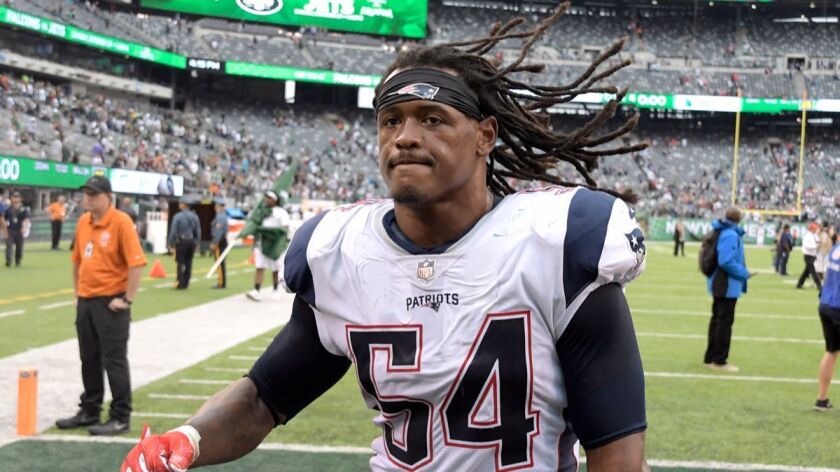 Linebacker and defensive captain Dont'a Hightower was put on injured reserve by the New England Patriots, who announced the move Tuesday.
Hightower left in the second half of New England's victory over Atlanta on Oct. 22 because of a right shoulder injury.
A person familiar with the situation said last month that Hightower would need season-ending surgery on his shoulder. The surgery was for a torn pectoral muscle, the person told the Associated Press on condition of anonymity because it had not yet been announced by the team.
Hightower had 14 tackles and two sacks this season. In March, he signed a four-year deal worth $35.5 million.
Jenkins is back
Cornerback Janoris Jenkins was reinstated from suspension by the New York Giants.
Jenkins was suspended last week for not attending a workout and not informing coach Ben McAdoo that he would be absent.
Jenkins has 24 tackles and an interception he returned 43 yards for a touchdown.
Texans add Johnson
The Houston Texans signed free-agent quarterback Josh Johnson and released Matt McGloin.
The moves come a day after coach Bill O'Brien said the team had discussed the possibility of adding Colin Kaepernick in the wake of a season-ending knee injury to rookie Deshaun Watson.
Johnson, 31, has been with several teams over the last three seasons, but hasn't appeared in a game since playing with the Cincinnati Bengals in 2013. He spent his first four seasons with Tampa Bay.
McGloin was signed Friday to be Houston's third quarterback behind Tom Savage and T.J. Yates.
Bears' Miller on IR
Tight end Zach Miller, recovering from surgery to save his left leg, was put on injured reserve by the Chicago Bears.
Miller had surgery in New Orleans for a torn artery suffered while dislocating his knee during the Bears' loss to the Saints on Oct. 29.
He was released from a hospital Monday.
Mathis is charged
Robert Mathis, a former Indianapolis Colts defensive star and current assistant, was charged with a misdemeanor for operating a vehicle while intoxicated.
Police in the Indianapolis suburb of Carmel say Mathis was arrested Oct. 24 after driving the wrong way on a one-way street and not signaling a turn.
---