Sam Farmer's NFL Week 12 picks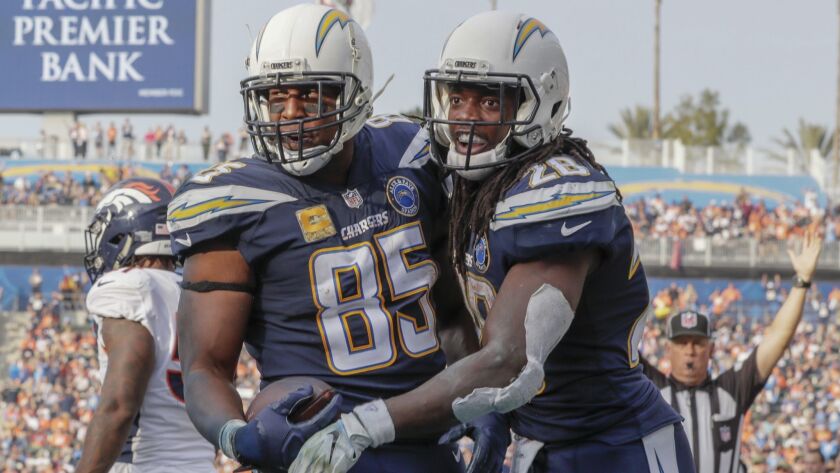 The Times' NFL writer, Sam Farmer, examines this week's matchups. Lines according to Pregame.com (O/U = over/under). Last week's record 8-5 (.615); season 105-54-2 (.660). Using point spreads with the scores Farmer predicted, the record against the spread last week would have been 7-6 (.539); season 75-79-7 (.487). The Rams and Kansas City have the week off. Times are Pacific.
Chicago (7-3) at Detorit (4-6)
Today, 9:30 a.m.
Bears 28, Lions 17
TV: Channel 2.
Line: Bears by 21/2 . O/U: 441/2.
Matthew Stafford has been sacked 29 times and misses Golden Tate. Not good news with Khalil Mack and crew coming to town. Bears have forced six fumbles during four-game win streak.
Washington (6-4) at Dallas (5-5)
Today, 1:30 p.m.
Cowboys 23, Redskins 21
TV: Channel 11.
Line: Cowboys by 7. O/U: 401/2.
Redskins might not have a big dropoff going from Alex Smith to Colt McCoy, and their defense can cause problems. Dallas has gotten Ezekiel Elliott going, and has a smothering defense of its own.
Atlanta (4-6) at New Orleans (9-1)
Today, 5:15 p.m.
Saints 38, Falcons 24
TV: Channel 4.
Line: Saints by 13. O/U: 591/2.
The Saints are playing like the best team in football, especially when they're in the Superdome. Atlanta has problems and is especially vulnerable on defense. Drew Brees to Michael Thomas, over and over.
Oakland (2-8) at Baltimore (5-5)
Sunday, 10 a.m.
Ravens 24, Raiders 13
TV: None. DirecTV: 705.
Line: Ravens by 11. O/U: 431/2.
Lamar Jackson gives Ravens a spark at quarterback, especially with his ability to run. Raiders are so-so on defense and have no pass rush. Baltimore has time to construct a game plan for Jackson.
Jacksonville (3-7) at Buffalo (3-7)
Sunday, 10 a.m.
Jaguars 27, Bills 14
TV: None. DirecTV: 706.
Line: Jaguars by 3. O/U: 371/2.
With Leonard Fournette back, Jacksonville can play the ball-control offense it was built to play and take pressure off Blake Bortles. Matt Barkley has a tough task against that Jaguars defense.
Cleveland (3-6-1) at Cincinnati (5-5)
Sunday, 10 a.m.
Browns 27, Bengals 21
TV: None. DirecTV: 707.
Line: Bengals by 3. O/U: 471/2.
Cleveland is playing better than it had been on both sides of the ball, and the Browns have had their off week to get healthy and draw up a game plan. The Bengals are wounded and vulnerable.
New England (7-3) at N.Y. Jets (3-7)
Sunday, 10 a.m.
Patriots 30, Jets 20
TV: Channel 2. DirecTV: 708.
Line: Patriots by 91/2. O/U: 46.
Both teams are coming off a bye, so both should be a little healthier. This is the time of year the Patriots turn on the afterburners and the Jets start thinking about the offseason.
Seattle (5-5) at Carolina (6-4)
Sunday, 10 a.m.
Seahawks 24, Panthers 20
TV: None. DirecTV: 709.
Line: Panthers by 31/2. O/U: 47.
These teams are similar, and they both want to run the ball. Game should go by quickly. Carolina's defense isn't as good as it has been — ranked 13th overall — but Russell Wilson is still as good as ever.
N.Y. Giants (3-7) at Philadelphia (4-6)
Sunday, 10 a.m.
Eagles 24, Giants 20
TV: None. DirecTV: 710.
Line: Eagles by 51/2. O/U: 46.
The Eagles have lost three in a row at home and are grasping for answers. The Giants have righted the ship a bit with back-to-back wins. Thing is, that Giants offensive line is so bad.
San Francisco (2-8) at Tampa Bay (3-7)
Sunday, 10 a.m.
Buccaneers 27, 49ers 23
TV: None. DirecTV: 711.
Line: Buccaneers by 31/2. O/U: 54.
Four losses in a row and it's back to Jameis Winston for the Buccaneers, who are capable of putting up numbers on teams but give away touchdowns in bushels. Here, they hold serve at home.
Arizona (2-8) at Chargers (7-3)
Sunday, 1 p.m.
Chargers 34, Cardinals 16
TV: Channel 11. DirecTV: 712.
Line: Chargers by 13. O/U: 441/2.
Both are coming off horrendous losses — how did Denver wind up winning that game at StubHub? — but the Chargers are the ones with big bounce-back potential. That's what will happen Sunday.
Pittsburgh (7-2-1) at Denver (4-6)
Sunday, 1:15 p.m.
Steelers 31, Broncos 20
TV: Channel 2. DirecTV: 713.
Line: Steelers by 3. O/U: 47.
The Steelers pulling out the win at Jacksonville could be the catalyst to make a serious run at the Super Bowl. Denver can be tough, especially at home, but Pittsburgh is a better team right now.
Miami (5-5) at Indianapolis (5-5)
Sunday, 1:15 p.m.
Colts 28, Dolphins 20
TV: None. DirecTV: 714.
Line: Colts by 71/2. O/U: 51.
The Colts are protecting Andrew Luck, and they're getting healthier around him. On defense, the front seven has been stingy all season. Miami's secondary is solid, but the Colts can run it too.
Green Bay (4-5-1) at Minnesota (5-4-1)
Sunday, 5:15 p.m.
Vikings 24, Packers 20
TV: Channel 4.
Line: Vikings by 31/2. O/U: 471/2.
Both these teams are desperate. Aaron Rodgers and Aaron Jones will keep the Packers in the game, but the Vikings are at home and are primed to bounce back from a painful division loss at Chicago.
Tennessee (5-5) at Houston (7-3)
Monday, 5:15 p.m.
Texans 27, Titans 21
TV: ESPN.
Line: Texans by 61/2.. O/U: 41.
Teams don't win seven in a row by accident. Houston's Bill O'Brien has done a nice job playing to the strengths of Deshaun Watson. Texans are vulnerable in the secondary but that won't matter.
---
Get the latest on L.A.'s teams in the daily Sports Report newsletter.
You may occasionally receive promotional content from the Los Angeles Times.