Sam Farmer's NFL Week 9 picks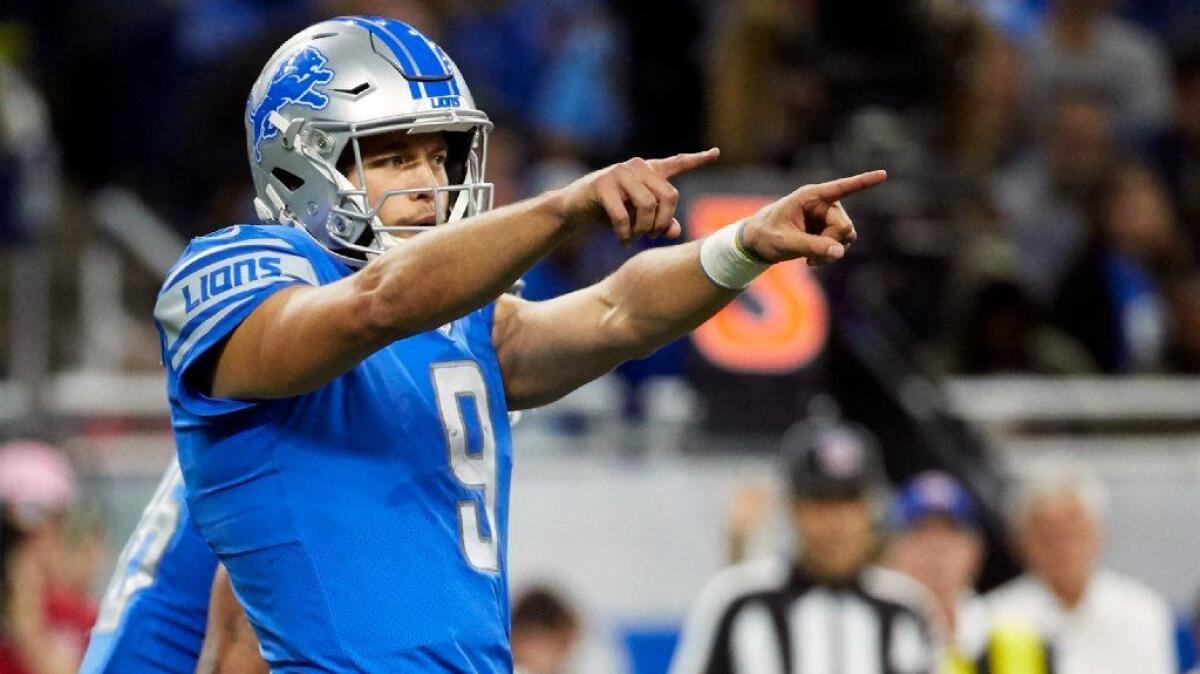 The Times' NFL writer, Sam Farmer, examines this week's matchups. Lines according to Pregame.com (O/U = over/under). Last week's record 10-3 (.769); season 73-46 (.614). Using point spreads with the scores Farmer predicted, the record against the spread last week would have been 6-6-1 (.500); season 51-63-5 (.447).
DENVER BRONCOS (3-4) at PHILADELPHIA EAGLES (7-1)
Sunday, 10 a.m.
TV: Channel 2. DirecTV: 705.
Line: Eagles by 7 1/2. O/U: 43.
Eagles add Jay Ajayi, and the rich get richer. NFL's best team at this point. Broncos have a great defense, but even after switching to Brock Osweiler at quarterback, that offense …
Eagles 34, Broncos 16
INDIANAPOLIS COLTS (2-6) at HOUSTON TEXANS (3-4)
Sunday, 10 a.m.
TV: None. DirecTV: 706.
Line: Texans by 11. O/U: 50.
The Colts' front seven has played pretty well, and with Deshaun Watson out for the season (torn ACL) and Tom Savage taking over at QB, this game should end up being closer than anticipated.
Texans 21, Colts 17
CINNCINATTI BENGALS (3-4) at JACKSONVILLE JAGUARS (4-3)
Sunday, 10 a.m.
TV: None. DirecTV: 707.
Line: Jaguars by 6. O/U: 39.
The Jaguars already have an outstanding defense, and now they've added defensive tackle Marcell Dareus into the mix. Tough for the Bengals to contend with on the road.
Jaguars 24, Bengals 17
BALTIMORE RAVENS (4-4) at TENNESSEE TITANS (4-3)
Sunday, 10 a.m.
TV: None. DirecTV: 708.
Line: Titans by 3. O/U: 43.
Tennessee quarterback Marcus Mariota is healthier and the Titans are more reliable at home. Spin the wheel of randomness and see which Ravens team shows up this week.
Titans 24, Ravens 17
RAMS (5-2) at NEW YORK GIANTS (1-6)
Sunday, 10 a.m.
TV: Channel 11. DirecTV: 709.
Line: Rams by 3 1/2. O/U: 42.
The Rams have proven they can win difficult games on the road, and they're rested after taking their week off . The one-win Giants, overwhelmed by injury, are overmatched.
Rams 31, Giants 17
ATLANTA FALCONS (4-3) at CAROLINA PANTHERS (5-3)
Sunday, 10 a.m.
TV: None. DirecTV: 710.
Line: Falcons by 1. O/U: 43 1/2.
Middle linebacker Luke Kuechly makes all the difference for Carolina's defense. Falcons are still trying to get back in the offensive groove since the departure of coordinator Kyle Shanahan.
Panthers 24, Falcons 20
TAMPA BAY BUCCANEERS (2-5) at NEW ORLEANS SAINTS (5-2)
Sunday, 10 a.m.
TV: None. DirecTV: 711.
Line: Saints by 6 1/2. O/U: 51.
The Saints finally have a defense that can hold up its end of the deal. The Buccaneers have all the makings of an emerging team, but there is something amiss.
Saints 28, Buccaneers 17
ARIZONA CARDINALS (3-4) at SAN FRANCISCO 49ERS (0-8)
Sunday, 1 p.m.
TV: None. DirecTV: 712.
Line: Cardinals by 2 1/2. O/U: 391/2.
Playing in place of injured quarterback Carson Palmer (broken arm), Drew Stanton is capable of winning for the Cardinals. After lots of close games, 49ers are getting blown out lately.
Cardinals 18, 49ers 13
WASHINGTON REDSKINS (3-4) at SEATTLE SEAHAWKS (5-2)
Sunday, 1 p.m.
TV: None. DirecTV: 713.
Line: Seahawks by 7. O/U: 45.
It could be a bit of an emotional come-down for the Seahawks after that huge victory over Houston in a shootout, but they'll hold serve at home against the depleted Redskins.
Seahawks 28, Redskins 21
KANSAS CITY CHIEFS (6-2) at DALLAS COWBOYS (4-3)
Sunday, 1:15 p.m.
TV: Channel 2. DirecTV: 714.
Line: Cowboys by 1. O/U: 51 1/2.
With or without running back Ezekiel Elliott (suspended), the Cowboys are not the same team as last season when they finished the regular season 13-3. Chiefs are rolling and have too much speed.
Chiefs 31, Cowboys 23
OAKLAND RAIDERS (3-5) at MIAMI DOLPHINS (4-3)
Sunday, 5:30 p.m.
TV: Channel 4.
Line: Raiders by 3. O/U: 44.
The time change shouldn't bother the Raiders, who stayed in Florida, but they're struggling anyway. The Dolphins should have Jay Cutler (cracked ribs) back at quarterback.
Dolphins 27, Raiders 24
DETRIOT LIONS (3-4) at GREEN BAY PACKERS (4-3)
Monday, 5:30 p.m.
TV: ESPN.
Line: Lions by 2 1/2. O/U: 43 1/2.
Lions don't play great at Lambeau Field, and have their issues. But best to take Matthew Stafford over Brett Hundley, who has replaced injured quarterback Aaron Rodgers (broken collarbone).
Lions 24, Packers 17
Follow Sam Farmer on Twitter @LATimesfarmer
Get our high school sports newsletter
Prep Rally is devoted to the SoCal high school sports experience, bringing you scores, stories and a behind-the-scenes look at what makes prep sports so popular.
You may occasionally receive promotional content from the Los Angeles Times.