Beth Mowins will take her place in history behind the mike on 'Monday Night Football'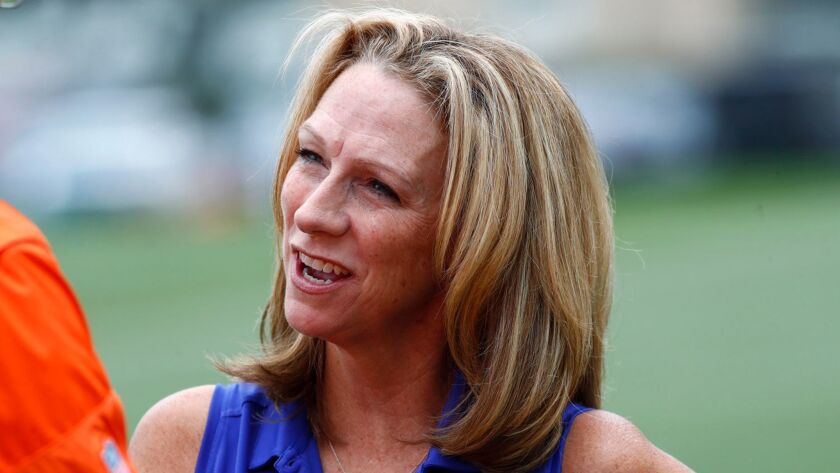 Beth Mowins didn't set out to make history. She just wanted to call a football game.
Monday night, she will do both.
Mowins will be ESPN's play-by-play announcer for the "Monday Night Football" game between the Chargers and Denver Broncos, which will mark the first regular-season NFL game called by a woman in 30 years, and only the second time it has happened.
"I understand and appreciate the significance of the moment," said Mowins, who has called Oakland's exhibition games since 2016. "I think it's a wonderful opportunity. I've always considered myself a play-by-play announcer first and foremost. In that regard, you work hard at your job every day and hope for bigger and better assignments. I was happy I was able to work my way into a position to get the call to do this."
Week 1 of the NFL season began Thursday night with Kansas City's victory over New England, continues with 12 games Sunday (except the postponed Tampa Bay-Miami matchup), and finishes with a Monday night doubleheader.
In the bigger picture, the milestone by Mowins is another step forward for a league that in recent years has seen the profile of women rise significantly. That includes dozens of women working as executives at the NFL or with individual teams, an on-field official, an offensive assistant coach for San Francisco, multiple full-time trainers, as well as several coaching and scouting interns.
"There's a lot of work to do, we're certainly not hanging our hat on that success, but we're excited about the progress, and the NFL is getting more and more diversified by the year," said Samantha Rapoport, the NFL's director of football development.
Since joining ESPN in 1994, Mowins has called a wide array of sports, including college football since 2005. She will be teamed with coach-turned-analyst Rex Ryan, and will also call multiple games for CBS this season.
"She's so qualified," said NBC's Mike Tirico, who formerly did ESPN play-by-play for Monday night games. "This isn't about somebody getting an opportunity because of gender. It's about somebody getting an opportunity because of body of work. She's done phenomenal work, and she's probably called 150 college football games.
"The stage may be bigger. The name 'Monday Night' may be bigger than doing a Big Ten game on a Saturday. But doing so much college football, she's as experienced as anyone getting a chance to do it. She's going to kill it."
To this point, the only woman to work as an NFL play-by-play announcer was Gayle Sierens, who called the Seahawks-Chiefs game for NBC in the final week of the 1987 season. Although Sierens had worked sports earlier in her career, she was essentially a news anchor whom the network asked to participate in an experiment of sorts.
"With Beth, this is a whole different animal," said Sierens, who has become friends with Mowins over the years. "Because Beth is fabulous. She is well-trained, she's experienced with college football. There's no question she's going to hit it out of the park, because she already does."
Sierens said she got boxloads of mail after the game she called, and most of it was positive and encouraging. Not all of it, though.
"Then there would be the one that says, basically, the Bible says that women should never do football," she said. "There was a little mixed bag of that. But I would say the overwhelming sentiment was that people were just very sensitive and kind."
Mowins, who lives in San Diego, grew up in Syracuse, N.Y., both playing and talking sports. She later went to college there and pursued her dream of becoming a broadcaster.
"I give so much credit to my parents and my hometown," she said. "Growing up, everybody was so encouraging and thought it was kind of cool that it was different and out of the norm. I had great support and encouragement and mentors.
"When this first hit on social media, there was a lot of negativity out there. But you just learn to deal with it. There are still so many people that want to have a conversation, or have questions, or legitimate critiques. You've just got to look a little harder to find those folks."
From Jano to Gio
It will look strange Sunday when Oakland trots out a kicker at Tennessee, because Sebastian Janikowski, the longest-tenured Raider, is out of the lineup.
Former California kicker Giorgio Tavecchio will finally get his chance in a regular-season game after bouncing around NFL training camps for the last five summers. He replaces Janikowski, who was placed on Oakland's reserved/injured list Saturday with a bad back.
That means Janikowski will miss at least eight games, which is pretty significant considering he's the Raiders' record holder for games (268) and seasons (17).
For Tavecchio, who was in Raiders camp the past three years, it's a lesson in persistence. He was on the verge of calling it a career when Oakland contacted him in the spring to sign him again. He was heading to London to take a marketing job. That's when he called his longtime friend, Michael Husted, a kicking guru who had a nine-year NFL career of his own.
"I told him, 'They want to sign you, and the last thing you want to do is to be working behind a desk two or three years from now going, 'what if?'" said Husted, who played for the Raiders in 1999. "He was thinking about hanging it up. I told him to think about it for a night or two, and he said, `No, I agree. I think I should sign.' And now look."
This exhibition season, Tavecchio made three of four field goal attempts and five of six extra points.
"He deserves this chance. He's an NFL kicker," said Husted, who calls Tavecchio "the nicest guy in the world, maybe even too nice."
In that case, this is one nice guy who didn't finish last.
We're No. 1
There are nine active quarterbacks who were selected No. 1 overall in the draft, and two are playing each other Sunday when Arizona (Carson Palmer) opens at Detroit (Matthew Stafford).
The Lions recently made Stafford the NFL's highest-paid player at $27 million per year. At 37, Palmer is nearing the end of his career.
Although the Cardinals are coming off a disappointing 7-8-1 season, a year after reaching the NFC title game, Palmer put up some impressive numbers down the stretch. He had 16 touchdown passes in the final eight games, second only to the 20 of Green Bay's Aaron Rodgers.
Palmer is 4-1 against the Lions, and when he played them in 2015, he posted a rating of 154.2 with three touchdowns and no interceptions.
Follow Sam Farmer on Twitter @LATimesfarmer
---
Get our high school sports newsletter
Prep Rally is devoted to the SoCal high school sports experience, bringing you scores, stories and a behind-the-scenes look at what makes prep sports so popular.
You may occasionally receive promotional content from the Los Angeles Times.