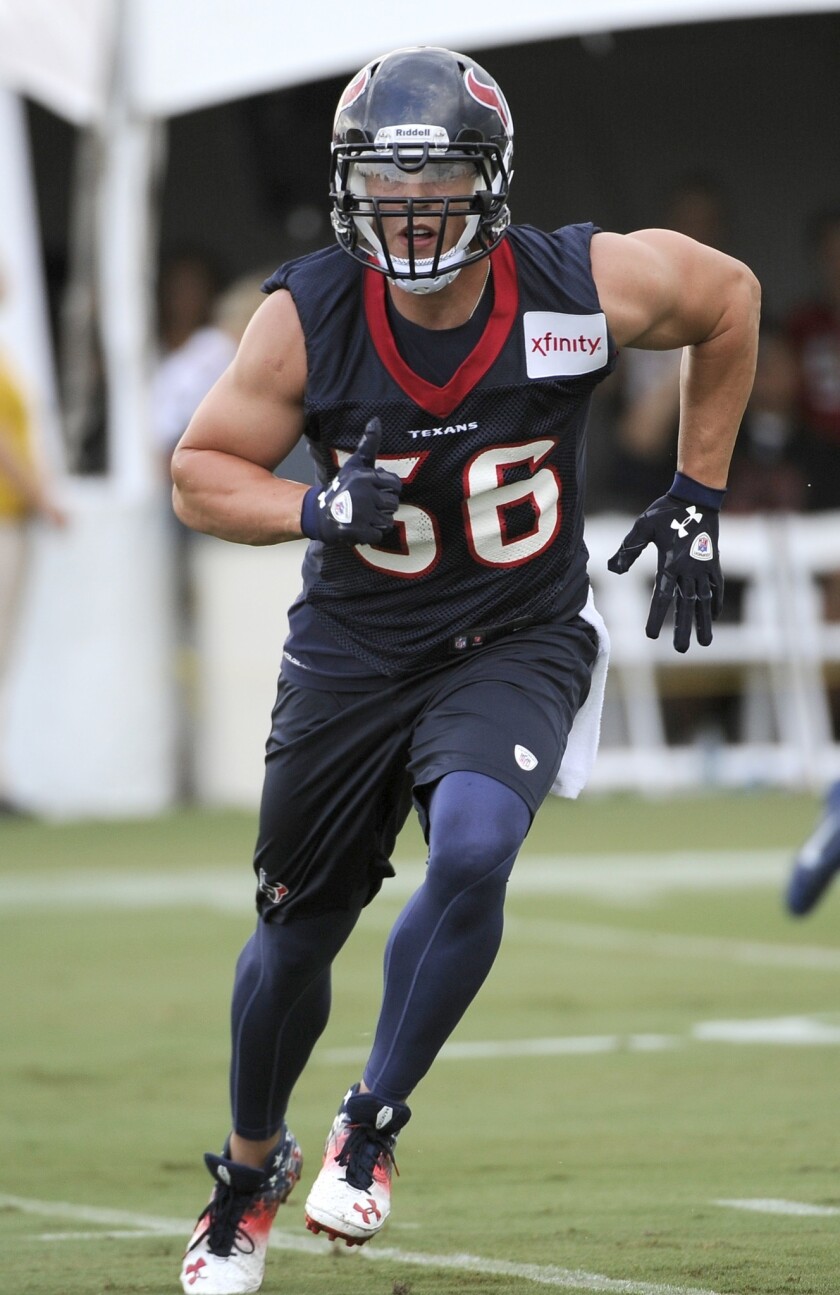 Houston Texans linebacker Brian Cushing has signed a six-year contract extension, reportedly worth more than $55 million.
Cushing was in the last year of the deal he signed as a rookie in 2009. The 26-year-old from USC returned to the field this summer after sustaining a season-ending knee injury in Week 5 of last season.
The defensive rookie of the year in 2009, Cushing has had more than 110 tackles in the two seasons when he played each game.
Saints add Meachem
The New Orleans Saints brought back receiver Robert Meachem, shortly after his release by the San Diego Chargers, then put linebacker Jonathan Vilma on injured reserve, designated to return this season.
Vilma can't practice for the first six weeks of the schedule and can't be activated for the first eight weeks. Vilma has been rehabbing after August knee surgery.
Vilma, a central figure in the Saints bounty scandal, initially received a full-season suspension, which banned him from Saints facilities during much of the off-season and training camp. During a lengthy appeal, he was reinstated in Week 1 of the regular season, but placed on the physically unable to perform list before finally playing on Oct. 21. He also filed a defamation lawsuit against NFL Commissioner Roger Goodell, which eventually was dismissed.
Meachem was the Saints' first-round draft choice in 2007 and left for San Diego as a free agent last season.
His best season in New Orleans was 2009, when he had 45 catches for 722 yards and nine touchdowns in helping the Saints win their only Super Bowl title.
Last season, Meachem caught 14 passes for 207 yards and two touchdowns, both against the Saints.
Browns get a kicker
The Browns have reached agreement with former Pro Bowl kicker Billy Cundiff, who has just a few days to prepare for the season opener.
Cundiff, who previously kicked for Cleveland, auditioned Tuesday for the Browns. The team needed a kicker just four days before playing Miami after terminating veteran Shayne Graham's contract and releasing rookie Brandon Bogotay.
Cundiff made all six field-goal tries for the Browns in 2009, when he filled in for an injured Phil Dawson. Cundiff was cut last month by the New York Jets.
Etc.
Pittsburgh Steelers running back Isaac Redman spent most of the preseason on the bench as a precaution after tweaking his neck during practice, but that didn't stop Coach Mike Tomlin from making Redman the starter for Sunday's season opener against Tennessee. The Steelers cut Jonathan Dwyer — their leading rusher last season — and handed the starting job to Redman while second-round pick Le'Veon Bell recovers from a sprained right foot. ... The Dallas Cowboys acquired defensive end Caesar Rayford from the Indianapolis Colts for an undisclosed draft pick. Rayford, 27, a veteran of the Arena and Canadian leagues, signed with the Colts in May. He had five sacks and 11 tackles in the preseason. ... The Atlanta Falcons have signed offensive tackle Jeremy Trueblood, who started 84 games in seven seasons with Tampa Bay.
---