Kaepernick leads 49ers past Packers; Saints turn back Falcons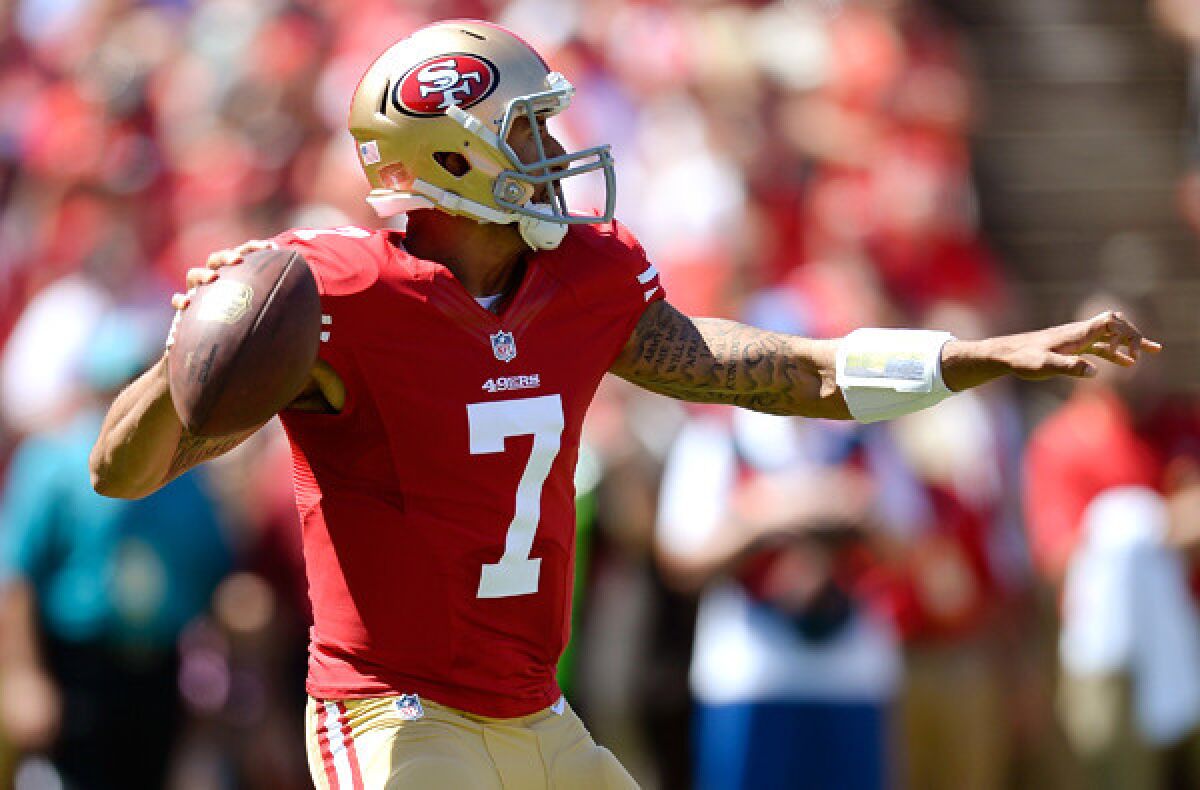 SAN FRANCISCO -- Anquan Boldin's sensational San Francisco debut helped keep the 49ers on quite a roll against Green Bay.
And Vernon Davis did his part in a prolific passing game led by Colin Kaepernick in a 34-28 victory over the Packers on Sunday.
From Super Bowl champion Baltimore to contender again with another coach named Harbaugh, Boldin was unstoppable. He caught 13 passes for 208 yards and a touchdown.
Davis made a pair of TD catches as Kaepernick threw for a career-high 412 yards for the NFC champion Niners.
Boldin sure showed he is a reliable replacement for injured 2012 top wideout Michael Crabtree.
Frank Gore scored a go-ahead, 1-yard touchdown with 5:47 remaining as the 49ers made it three straight against Aaron Rodgers and Co., after beating Green Bay last September to open the season and then 45-31 in the NFC divisional playoffs.
Boldin sure has a knack for season openers, delivering with 10 catches for 217 yards in his first career game with Arizona, seven catches for 110 yards in his first outing for the Ravens in 2010 — then this fine outing.
Kaepernick marched his team 80 yards on five plays to take the lead. The 49ers answered after Packers rookie Eddie Lacy put Green Bay ahead on a 2-yard run with 8:26 left.
Rodgers threw for 333 yards and three touchdowns, but the Packers departed from Candlestick Park with another defeat eight months after that embarrassing postseason game.
Saints 23, Falcons 17
NEW ORLEANS -- Drew Brees passed for 357 yards and two scores and the New Orleans held on for a 23-17 victory over the Atlanta Falcons to give Saints Coach Sean Payton a triumphant return from his bounty ban.
Roman Harper intercepted a tipped fourth down pass in the end zone with under a minute left.
Brees connected with Marques Colston for a 25-yard touchdown pass during which the receiver also set a franchise mark for catches with 533. Brees also hit tight end Jimmy Graham for a 7-yard score in the third quarter.
Matt Ryan passed for 304 yards and touchdown passes to Tony Gonzalez and Julio Jones. He also drove Atlanta to the Saints 3 in the final minute before falling just short.
Patriots 23, Bills 21ORCHARD PARK, N.Y. -- Stephen Gostkowski hit a 35-yard field goal with 5 seconds left to send the New England Patriots to a season-opening 23-21 win over the Buffalo Bills.
Tom Brady set up the decisive score by leading a 49-yard, 12-play drive during which he twice completed passes to convert third downs. It was Brady's 36th career victory in which the Patriots were tied or trailed in the fourth quarter.
Brady finished 29 of 52 for 288 yards passing and two touchdowns in helping the Patriots win their season opener for the 10th straight season.
The new-look Bills nearly pulled off a stunning upset in the first game under coach Doug Marrone and rookie quarterback EJ Manuel. The rookie first-round pick completed 18 of 27 passes for 150 yards and two touchdowns.
It was an all-too-familiar outcome for the Bills against their AFC East rivals. They dropped to 1-19 in their past 20 meetings.
Jets 18, Buccaneers 17
EAST RUTHERFORD, N.J. -- Nick Folk kicked a 48-yard field goal with 2 seconds remaining after Lavonte David's personal foul penalty kept New York's drive alive, and the Jets pulled out an improbable 18-17 victory over the Tampa Bay Buccaneers in the season opener for both teams.
With the Jets trailing 17-15 and time running out, rookie Geno Smith scrambled for 10 yards — and was shoved while he was out of bounds by David.
The 15-yard penalty gave the Jets the ball at the Buccaneers 30 and set up the winning field goal by Folk on the next play.
Things appeared dim for the Jets just moments earlier when Rian Lindell kicked a 37-yard field goal with 34 seconds left.
Smith, making his first NFL start with Mark Sanchez out with a shoulder injury, made some mistakes — a fumble that led to a score and an interception — but was mostly solid while going 24 of 38 for 256 yards with a touchdown.
Colts 21, Raiders 17
INDIANAPOLIS -- Andrew Luck ran 19 yards for the winning touchdown Sunday, giving Indianapolis a 21-17 season-opening victory over Oakland.
Luck was 18 of 23 for 178 yards with two touchdown passes, but earned his eighth career fourth-quarter comeback by scrambling for a score with 5:20 to go in the game.
It was Indianapolis' first opening-day win since 2009.
Oakland started Terrelle Pryor at quarterback. He was 19 of 29 for 217 yards and one TD, and he broke the Raiders rushing record for a quarterback with 13 carries for 112 yards.
But he also threw two interceptions in the red zone, the second coming with 25 seconds left in the game to seal Indy's victory.
Luck led the Colts to TD drives on their first two possessions, but didn't score again until Luck's go-ahead score.
Rams 27, Cardinals 24
ST. LOUIS -- Greg Zuerlein kicked a 48-yard field goal with 40 seconds left and the St. Louis Rams completed a fourth-quarter comeback with a 27-24 victory over the Arizona Cardinals.
It was Zuerlein's fourth field goal of the game.
Larry Fitzgerald caught two touchdown passes from new quarterback Carson Palmer and the Arizona defense scored one touchdown.
The Cardinals, under new coach Bruce Arians, had an 11-point lead after Fitzgerald's 24-yarder late in the third quarter.
Jared Cook had two touchdown catches in his Rams debut. The tight end fumbled a potential third TD, a 55-yarder that would have opened the scoring, when rookie Tyrann Mathieu punched the ball free at the 8 and the play resulted in a touchback.
Seahawks 12, Panthers 7
CHARLOTTE, N.C. -- Russell Wilson threw for 320 yards, including a 43-yard fourth-quarter touchdown pass to Jermaine Kearse to lift the Seattle Seahawks to a 12-7 win Sover the Carolina Panthers.
The Seahawks managed just two field goals before Kearse beat cornerback Josh Thomas down the right sideline for the go-ahead score with 10:13 left.
The Panthers held Marshawn Lynch to 43 yards rushing, but Wilson picked up the slack by completing 25 of 33 passes.
The Panthers threatened to take the lead late, but safety Earl Thomas forced DeAngelo Williams to fumble at the Seattle 8. Defensive tackle Tony McDaniel recovered with 5:25 left. The Seahawks ran out the clock from there.
Cam Newton was held to 125 yards passing and one touchdown, a 3-yard strike to Steve Smith in the first half.
Bears 24, Bengals 21
CHICAGO -- Jay Cutler passed to Brandon Marshall for the go-ahead touchdown in the fourth quarter, helping the Chicago Bears rally for a 24-21 victory over the sloppy Cincinnati Bengals to give Marc Trestman a victory in his coaching debut.
It wasn't quite the display the Bears were looking for after making some big changes in the offseason. But it was good enough.
The Bengals led by 11 in the third quarter and were up 21-17 early in the fourth when Tim Jennings jarred the ball from Mohamed Sanu following a reception and made the recovery.
Chicago took over at its 19 and got an 8-yard run from Matt Forte on fourth-and-inches at the Bengals 27 to keep the drive going. Cutler then found Marshall in the front corner of the end zone for a 19-yard touchdown, giving Chicago a 24-21 lead with 7:58 remaining.
Lions 34, Vikings 24
DETROIT -- Reggie Bush turned a short pass into a 77-yard touchdown in the third quarter and finished with 191 yards of offense to help the Detroit Lions pull away to beat the Minnesota Vikings, 34-24.
The Lions overcame a slew of miscues on offense, defense and special teams.
The Vikings also made their share of mistakes, especially Christian Ponder, who threw three interceptions and fumbled.
Adrian Peterson ran for a 78-yard TD on his first carry and scored on a 4-yard run to give Minnesota a 14-6 lead in the second. He ended up with 93 yards rushing.
Bush, in his Detroit debut, gave the franchise what it has been missing since speedy running back Jahvid Best had his career ended by concussions.
Titans 16, Steelers 9
PITTSBURGH -- Tennessee's revamped defense sacked Ben Roethlisberger five times and the Titans shut down the Pittsburgh Steelers, 16-9.
Chris Johnson ran for 70 clock-chewing yards, Jackie Battle bulled his way to a 3-yard touchdown in the second quarter, and Rob Bironas kicked three field goals for the Titans. Tennessee's new-look defense did the rest.
Pittsburgh managed just 195 total yards and lost a series of players to injury, including Pro Bowl center Maurkice Pouncey. Pouncey left in the first quarter with a right knee injury and will likely miss an extended amount of time.
The Titans gave up more points than any team in the NFL last season and brought in Gregg Williams as an assistant. His impact was immediate. Ben Roethlisberger completed 21 of 33 passes for 191 yards and a late touchdown, but never got comfortable when the game was in doubt.
Chiefs 28, Jaguars 2
JACKSONVILLE, Fla. -- lex Smith threw two early touchdown passes, Kansas City's defense dominated all day and the Chiefs began the Andy Reid era with a 28-2 victory against the Jacksonville Jaguars.
Jamaal Charles ran for 77 yards and a touchdown before leaving the game with a quadriceps injury, but that was about the only negative for the Chiefs.
Jacksonville advanced past its own 36-yard line just once, a stunning display of offensive futility for the rebuilding franchise. The Jaguars finished with 178 yards, but for most of the game were challenging the team low of 117 yards set last year against Houston.
It wasn't even close to the start the new coach Gus Bradley wanted, but it was a clear indication of how far the team has to go.
Dolphins 23, Browns 10
CLEVELAND -- Ryan Tannehill passed for 272 yards and a touchdown, leading the Miami Dolphins to a season-opening 23-10 win over the Cleveland Browns, who fell to 1-14 in Week 1 since 1999.
Tannehill, who was given more offensive weapons for his second NFL season, threw a 34-yard TD pass to Brian Hartline in the third quarter and drove the Dolphins to a game-clinching TD in the fourth.
Daniel Thomas had a 1-yard scoring plunge with 6:48 left, putting the Dolphins up by 10.
Miami's Cameron Wake had 2 1/2 sacks and the Dolphins' defensive line sacked Cleveland quarterback Brandon Weeden six times.
Weeden threw three interceptions and the Browns never got anything going in coach Rob Chudzinski's debut.
Rookie Caleb Sturgis kicked three field goals for the Dolphins.
---
Get our high school sports newsletter
Prep Rally is devoted to the SoCal high school sports experience, bringing you scores, stories and a behind-the-scenes look at what makes prep sports so popular.
You may occasionally receive promotional content from the Los Angeles Times.