A look at NFL playoff teams and contenders ahead of Week 17 games
As the NFL heads into its final weekend of the regular season, a look at some of the strengths and weaknesses of teams that are either in the playoffs or on the verge of getting in:
AFC
NEW ENGLAND
What's gone right — Tom Brady has had an unbelievable season, even though he was suspended for the first four games. He has 25 touchdowns and only two interceptions. Seeing as Jimmy Garoppolo and Jacoby Brissett weren't picked off in the first four games, the Patriots are on track to shatter the record for fewest times intercepted in a season, which is five. Aside from tight end Rob Gronkowski's back surgery, the Patriots have been remarkably healthy.
Trouble ahead? — This defense is relatively untested. The Patriots have played relatively few elite quarterbacks. Basically, it's been Russell Wilson, Joe Flacco and a bunch of quarterbacks who aren't going to scare anyone, among them Jared Goff, Bryce Petty, Landry Jones, Colin Kaepernick and the Cleveland carousel.
OAKLAND
What's gone right — Ever since midseason, the Raiders' defense has been on the rise. Khalil Mack has been outstanding, as has Bruce Irvin. They put a lot of pressure on opposing quarterbacks. The running game has been reliably solid, and the offensive line is one of the best in the league. The Raiders might have to hit the road for the playoffs, and they're 6-1 away from home.
Trouble ahead? — Losing quarterback Derek Carr to a broken leg is devastating. He was a most-valuable-player candidate and the best Raiders quarterback since Rich Gannon. Carr's replacement, Matt McGloin, hasn't started a game in three years. Raiders receivers have had more than their share of drops this season. Not a huge issue, because they've been winning, but it could become one.
PITTSBURGH
What's gone right — Seems like old times, the way Pittsburgh's running game has been churning out yards. Le'Veon Bell has rushed for more than 100 yards in six of the past seven games, including 236 against Buffalo. The Steelers defense has improved, especially when it comes to stopping the run, something it couldn't do at midseason.
Trouble ahead — Injuries have ravaged Pittsburgh, especially at the receiver spot opposite Antonio Brown. The team is also without tight end Ladarius Green, recovering from a concussion. On the other side of the ball, the team lost a great player in Cam Heyward, and fellow defensive end Stephon Tuitt is recovering from a knee injury but should be ready for the playoffs.
KANSAS CITY
What's gone right — Tyreek Hill, a rookie receiver/return specialist, might be the most exciting player in the league. In the past two weeks, he's had runs of 68 and 70 yards. The Chiefs can get hot, and recently went on a three-game run in which they beat Denver, Atlanta and Oakland. That's a pretty good playoff simulation.
Trouble ahead — Historically, the Chiefs have had warning-track power, playing well in the regular season and gagging in the postseason. Their offense can go on hiatus with no notice. The team is 11-0 when scoring 19 or more, and 0-4 when scoring 17 or fewer.
MIAMI
What's gone right — First-year Coach Adam Gase has been tremendous, setting the tone for the entire organization. After losing Lamar Miller in free agency, the Dolphins entered the season with five running backs but wondered whether they had one good one. They found a gem in Jay Ajayi. The team has gotten some good games out of quarterback Ryan Tannehill since midseason, too.
Trouble ahead — The Dolphins have a ton of injuries, including to their center, both safeties and two of their linebackers. Last week, five players in their back seven were reserves. That's not good news when they are facing Brady and the Patriots in the finale.
HOUSTON
What's gone right — The Texans know how to win at home. They set a franchise record with a 7-1 finish there, and are 17-7 at home under Coach Bill O'Brien. Houston is No. 1 in total defense , and No. 2 against the pass. As we saw last season, great defenses tend to fare well at this time of year.
Trouble ahead — Benched is big-money quarterback Brock Osweiler. This is a scary time of year to make a quarterback change, although three of the six AFC playoff teams are down to second-stringers at the position. Starter Tom Savage was added to the injury report this week with a knee issue, but he has participated fully in practice and is slated to start against Tennessee.
NFC
DALLAS
What's gone right — Rookie quarterback Dak Prescott and running back Ezekiel Elliott are two of the best stories of the season, powering the Cowboys' seven-game home winning streak and march to the NFC's No. 1 seed. Linebacker Sean Lee has been the best aspect of the revitalized defense, but Dallas has gotten surprising production from a pair of rookies, defensive back Anthony Brown and defensive tackle Maliek Collins, and defensive lineman David Irving, who was on Kansas City's practice squad.
Trouble ahead — The Giants have been a stumbling block, sweeping the Cowboys this season. New York put the clamps on Prescott, Elliott, and All-Pro receiver Dez Bryant. Will these NFC East rivals wind up meeting for a third time?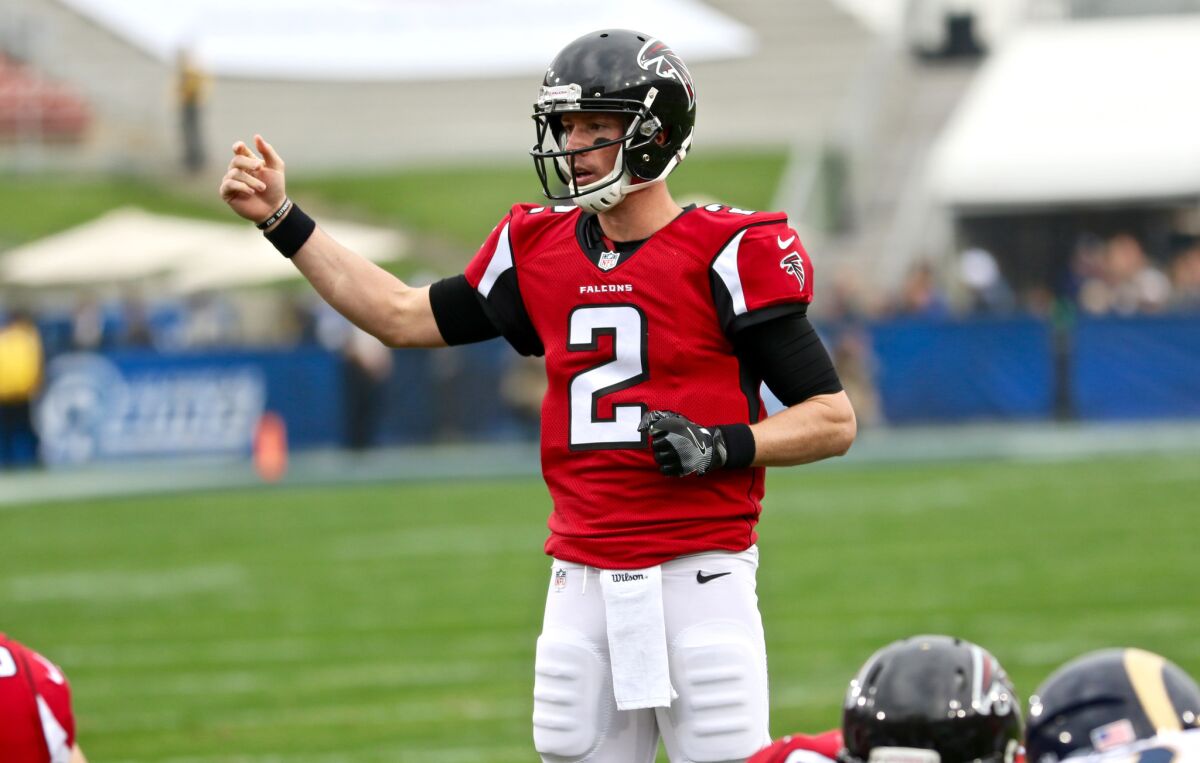 ATLANTA
What's gone right — Quarterback Matt Ryan is comfortable in the second year of Kyle Shanahan's offense, especially when it comes to adjusting to the motion. The rollouts and bootlegs have helped free up the passing game. Outside linebacker Vic Beasley has helped the Falcons generate a pass rush, and there are a lot of fresh, young legs on that side of the ball. At times, there are as many as eight first- and second-year players on the defense at the same time. The Falcons might give up a lot of yards, but they know how to cause turnovers.
Trouble ahead — Ryan is 1-4 in the playoffs, which includes two years as the No. 1 seed. Green Bay beat the Falcons in the divisional round in 2010, and San Francisco beat them in the 2012 championship game. In light of that, maybe being the second seed is the way to go.
DETROIT
What's gone right — Matthew Stafford has had an excellent season, even with five turnovers in the last 11 quarters since suffering a dislocation to the tip of the middle finger on his throwing hand. Darius Slay returned to practice this week, so the Lions are getting their best corner back at the right time. Defensive end Ziggy Ansah, who has struggled with ankle issues all season, had his first two sacks in the past two games.
Trouble ahead — The Lions can't run the ball, so that heaps a lot of pressure on Stafford's shoulders. They are good defensively, but they don't create a lot of turnovers. If Detroit loses to Green Bay on Sunday, the Lions could find themselves out in the cold.
GREEN BAY
What's gone right — The Packers have discovered a running game by moving Ty Montgomery from receiver to running back. When he's in the huddle, along with three receivers, and Jared Cook at tight end, defenses have their hands full. Green Bay is also moving receiver Jordy Nelson around, lining him up inside as opposed to always keeping him on the outside. The biggest factor is the scorching play of Aaron Rodgers, who is as hot-handed lately as he has ever been.
Trouble ahead — Green Bay has yet to recover from the loss of cornerback Sam Shields. Second-year corners Quinten Rollins and Damarious Randall have been good at times, but they have battled injuries and inconsistent play. The defense is too dependent on Clay Matthews to generate a pass rush, so when he's not 100% the drop-off is significant.
SEATTLE
What's gone right — The Seahawks will at least open the playoffs at home, and that gives them a big edge. They have a quarterback who has won a Super Bowl, and that's big. Receiver Doug Baldwin has lived up to his new contract, and linebackers Bobby Wagner and K.J. Wright are swarming playmakers.
Trouble ahead — Seattle's offensive line is young and not very good. That's part of the reason the team doesn't run the ball well, ratcheting up the pressure on Wilson. It doesn't look like there's another Marshawn Lynch waiting in the wings. The defense is missing safety Earl Thomas, and the offense just lost speedy receiver Tyler Lockett to a broken leg.
NEW YORK GIANTS
What's gone right — The Giants defense is clicking, especially with big run-stuffer Damon Harrison in the middle. With six new starters on that side of the ball, it took awhile for that unit to come together. Receiver Odell Beckham Jr. is among the best in football, catching everything in his ZIP code, and usually needing just one hand to do it. The Giants are 7-1 at home.
Trouble ahead — Offensively, this team has really struggled, even though Eli Manning has a pair of Super Bowl rings to his name. Basically, there's at least one quarter every game in which the offense is stuck in the mud. The Giants aren't a great road team, either. Their three road wins came at Dallas in the opener — which was impressive — but at Cleveland and against the Rams in London.
WASHINGTON
What's gone right — The Redskins have a lot of weapons on offense. They have one of the best receiving tight ends in football in Jordan Reed, and a game-breaking speedster in DeSean Jackson. The offensive line is solid, and quarterback Kirk Cousins has a big arm.
Trouble ahead — As good as Cousins has been in some games, he can also be a liability. Washington's pass defense has been bad, but the Redskins have faced a tough lineup of quarterbacks.
---
Get our high school sports newsletter
Prep Rally is devoted to the SoCal high school sports experience, bringing you scores, stories and a behind-the-scenes look at what makes prep sports so popular.
You may occasionally receive promotional content from the Los Angeles Times.